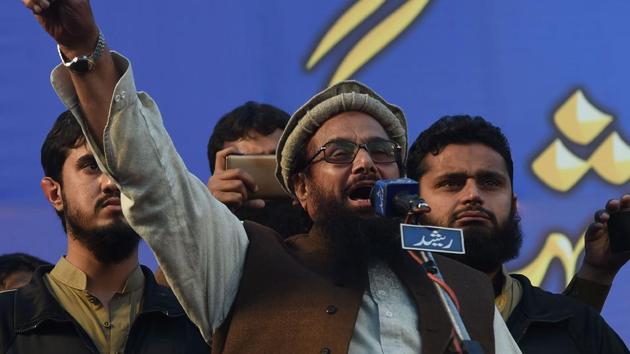 US designates LeT's political front Milli Muslim League, its officials as terrorists
Hindustan Times, New Delhi/Washington | By HT Correspondents
UPDATED ON APR 03, 2018 11:09 PM IST
The United States has declared the Milli Muslim League (MML), a political party formed by Hafiz Saeed, as a front for the Lashkar-e-Taiba and named seven of its top officials as Specially Designated Global Terrorists.
India welcomed the move, with the external affairs ministry saying in a statement that it "showed Pakistan's failure to "dismantle terror sanctuaries in that country" and vindicated India's position that Islamabad has not taken effective action against terrorist groups. India holds Saeed as mastermind of the 26/11 Mumbai terror attack that killed 166 people.
The Tehreek-e-Azadi-e Kashmir, another political body formed by Saeed, too was declared a front for the LeT, which has already been named a Foreign Terrorist Organisation. The move came against the backdrop of MML's efforts to register as a political party ahead of Pakistan's general election this year.
The US designation will deny the MML access to American financial systems and prohibit US citizens from supporting it with funds or other materials.
The officials who were sanctioned by the US treasury department are MML president Saifullah Khalid, Muzammil Iqbal Sashimi, Muhammad Harris Dar, Tabish Qayyum, Fayyaz Ahmad, Faisal Nadeem and Muhammad Ehsan. They were named for acting on behalf of LeT, a Pakistan-based terror group that was designated in December 2001.
The MML was formed in 2017 by LeT founder Saeed, the alleged mastermind of the 2008 Mumbai attacks for whom the US has offered a bounty of $10 million. He inaugurated the MML's first office in Lahore in December and has said the body will contest elections expected to be held in mid-2018.
On Monday, Pakistan's Election Commission directed the MML to get clearance from the interior ministry to be registered as a political party. A Pakistani court recently suspended the poll panel's 2017 decision not to register the MML.
"(The US) treasury is targeting the Milli Muslim League and a group of seven global terrorists who are complicit in Lashkar-e-Tayyiba's attempts to undermine Pakistan's political process," treasury undersecretary Sigal Mandelker said in a statement.
"The Milli Muslim League is not a recognised political party; further it relies on the leadership of Lashkar-e-Tayyiba for guidance and direction. We will continue to target terrorist organisations like Lashkar-e-Tayyiba, even when they attempt to cloak themselves as political parties or hide their extremism behind other facades. Those working with the Milli Muslim League, including providing financial donations, should think twice about doing so or risk exposure to US sanctions."
Ambassador Nathan A Sales, coordinator for counterterrorism at the state department, said in a separate statement that the declaration of MML and TAJK as front for LeT "take aim at Lashkar-e-Tayyiba's efforts to circumvent sanctions and deceive the public about its true character. Make no mistake: whatever LeT chooses to call itself, it remains a violent terrorist group."
Pakistan's actions will be under close scrutiny in Washington as it is already on notice from the Trump administration for continued failure to take action against terror groups based on its soil such as LeT, Jaish-e-Mohammed and the Haqqani Network.
In June, Pakistan will be added to the grey list of the Financial Action Task Force, a secretive inter-governmental body that targets money laundering and terror financing, a move pushed through by the US and its allies after it was endorsed by Saudi Arabia and China.
The US has been extremely annoyed by Islamabad's handling of Saeed and the LeT. When Saeed was released from house arrest last year, the US administration threatened "repercussions" for bilateral ties if he was not immediately re-arrested and prosecuted.
As Pakistan hemmed and hawed and blamed the judiciary, Saeed has remained free. He regularly mocks the US, challenges it to arrest him and continues to bear outsize influence on Pakistan's relations with India through public calls and threats.
India also said the US designation recognises that "terrorist individuals and entities are allowed to change names and continue to operate freely from territory under Pakistan's control". The designation is a rejection of attempts in Pakistan to "mainstream terrorist individuals and entities" and highlights the country's failure to fulfil international obligations to dismantle terrorist sanctuaries and disrupt terror financing, the spokesperson said.
Close