US President Trump defends Melania for wearing stilettos to hurricane area
Published on Sep 23, 2017 11:05 AM IST
First Lady Melania Trump faced criticism for wearing sky-high stilettos while en route to the hurricane Harvey-hit Texas state last month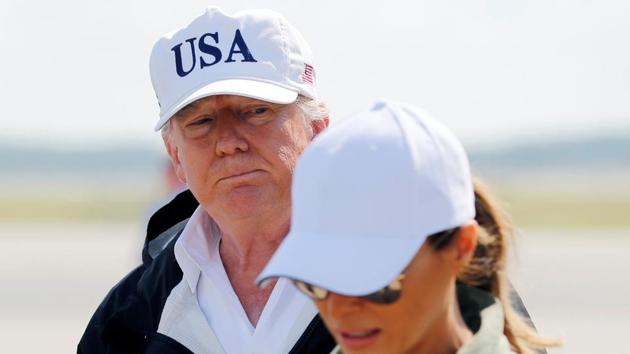 Indo Asian News Service, Washington |
Indo Asian News Service
US President Donald Trump defended his wife and First Lady Melania Trump after she faced criticism for wearing sky-high stilettos while en route to the hurricane Harvey-hit Texas state last month, the media reported.
Trump's defence of the footwear choice came while critiquing the media during a rally in Alabama on Friday night, reports The Hill magazine.
"She's wearing high-heels like many of you would do. And they went after her, but she didn't know, and then when she got off the plane in Texas she was wearing sneakers, which she had with her. And they (media) know it was dishonest," Trump said, adding sarcastically, "You know, she's going to go into the floods with her high heels."
The First Lady faced online backlash last month after she wore heels when leaving the White House to visit Texas in the aftermath of hurricane Harvey.
Melania Trump's communications director slammed the coverage of her shoes at the time, saying, "It's sad that we have an active and ongoing natural disaster in Texas, and people are worried about her shoes."
She wore stilettos again when leaving the White House for a second trip to Texas later that week.