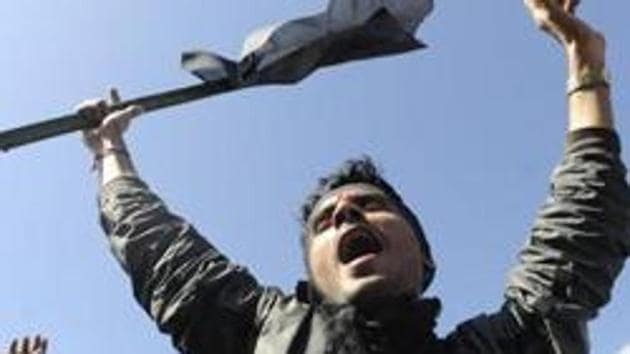 Won't accept elections till our demands are met: Madhesi Morcha
A leading Madhesi group in Nepal has said it will not join polls to local bodies if they are held without amending the Constitution.
PUBLISHED ON DEC 30, 2016 07:28 PM IST
A prominent Madhesi group said on Friday it will not participate in elections to Nepal's local bodies till its demands are met by amending the country's new Constitution.
The Madhesi Morcha issued a strongly worded statement outlining its stance after three major political parties - the ruling CPN-Maoist Center, Nepali Congress and CPN-UML - unilaterally decided to hold polls to local bodies without first amending the Constitution despite opposition from Madhes-based parties.
After a meeting of its top leaders, the Morcha said, "Any elections without fulfilling the demands of various ethnic and marginalised communities would only invite conflict. The Constitution amendment bill registered in the Parliament Secretariat should be revised and approved, which will only pave the way for elections."
The Morcha's leaders held extensive deliberations on Thursday and Friday to decide their response if the government goes ahead with the polls. The statement said the Morcha will hold demonstrations in major cities on Monday to protest against the polls.
Though holding the polls will be a tough task, the government is under pressure from the Nepali Congress and CPN-UML to announce dates for the elections.
According to constitutional provisions, Nepal needs to hold elections to local, provincial and federal bodies within the next 15 months. If any of these elections is not held on schedule, the Constitution promulgated last year will become invalid.
In order to hold polls to local bodies, the government formed a panel to give recommendations for new states. The Morcha rejected the report prepared by the Local Level Restructuring Commission (LLRC), which has been accepted by other parties.
Any demarcation of new states should be based on population ratio and the LLRC's report is unacceptable as it is unconstitutional, the Morcha said.
In a bid to address the demands of the agitating Madhes-based parties related to citizenship, language, boundaries of federal units and equal representation of Madhesis and other marginalised communities in state organs, the government registered a constitutional amendment bill in Parliament on November 29.
But obstruction of parliamentary proceedings by the main opposition parties has meant that the government could not table the bill in the House. The Morcha criticised the main opposition CPN-UML for continuously obstructing the Parliament with the intention of blocking the constitutional amendment bill.
Close