50 days of war in Gaza
Updated on Aug 25, 2014 08:35 PM IST
Key events in the Gaza war that enters its 50th day on Tuesday and has killed more than 2,100 Palestinians and 68 on the Israeli side.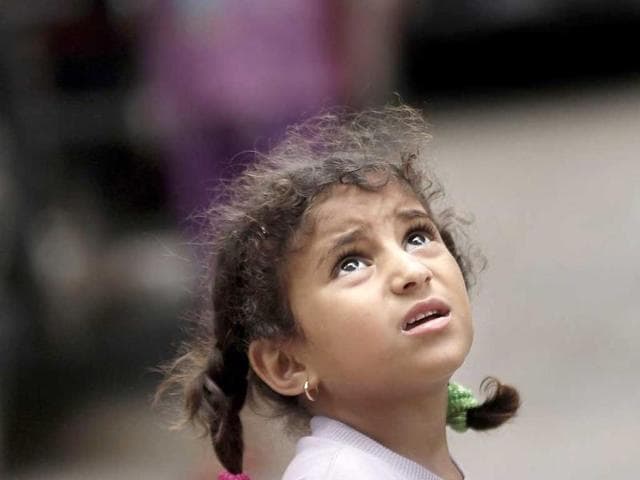 Key events in the Gaza war that enters its 50th day on Tuesday and has killed more than 2,100 Palestinians and 68 on the Israeli side.
July, 2014
8: Israel launches Operation Protective Edge with air strikes on Gaza to counter rocket fire from Palestinian militants. Hamas responds by firing rockets at Tel Aviv and Jerusalem.
13: Palestinian president Mahmud Abbas asks the UN to put the state of Palestine under "international protection".
15: Israel's security cabinet accepts an Egyptian ceasefire proposal. Hamas rejects it, and demands an end to the blockade of Gaza in effect since 2006.
17: Israel launches a ground operation preceded by an intense bombardment with the aim of destroying cross-border attack tunnels. It is the first ground assault since Operation Cast Lead over New Year 2009 in which 1,440 Palestinians and 13 Israelis were killed.
20: More than 140 Palestinians are killed, more than half of them in Shejaiya in eastern Gaza City. Heavy fighting there also kills 13 Israeli soldiers.
23: The UN calls for an investigation into possible Israeli "war crimes" in Gaza and also condemns Hamas rocket attacks.
26: A 12-hour humanitarian truce takes effect.
30: World outrage after a second strike on a UN school kills 16 homeless Palestinians and, during a four-hour lull, another shell hits a packed market in Shejaiya killing more than 20.
Around 120 Palestinians die throughout the day.
August, 2014
1: A 72-hour truce collapses after just 90 minutes following an attack that kills two Israeli soldiers with a third believed captured, triggering a major bombardment near the southern city of Rafah. Some 36 hours later, body parts from the missing soldier are found inside a tunnel, with the army pronouncing him dead.
3: A third UN school is hit triggering world outrage. "This madness must stop," UN Secretary General Ban Ki-moon says.
Washington issues a rare rebuke of Israel, calls the shelling "disgraceful".
5: Israel withdraws all ground troops from Gaza after destroying the tunnels, as a three-day truce goes into effect, allowing indirect Egyptian-brokered truce talks to take place in Cairo.
8: Attempts to extend the 72-hour ceasefire fail and the fighting resumes.
11: A new three-day lull takes effect, followed by another five-day truce, which is extended by 24 hours in the longest period of quiet since the war began.
19: Militants fire rockets at southern Israel in the last hours of the 24-hour truce extension, prompting Israel to hit back with air strikes. The Israeli team is ordered to return from Cairo, breaking off truce.
An Israeli strike kills the wife and two children of Hamas military chief Mohammed Deif, who escapes the attack, the Islamist movement says.
21: Hamas says three senior commanders, Mohammed Abu Shamala, Raed al-Atar and Mohammed Barhum, are killed in an Israeli air strike in southern Gaza.
22: A 4-year-old Israeli child is killed by rocket fire, the first minor to be killed in Israel.
Hamas publicly executes 18 alleged collaborators in Gaza City.
25: Cairo proposes a new ceasefire initiative that would open Gaza crossings to aid and reconstruction materials.
The death toll in Gaza rises above 2,130, including more than 490 children, while in Israel, the toll stands at 68 people, 64 of them soldiers.