Former Nepal prime minister Sushil Koirala dies at 78
Former Prime Minister and Nepali Congress President Sushil Koirala died on Tuesday morning on Tuesday morning at his residence after losing the battle against a chronic respiratory problem.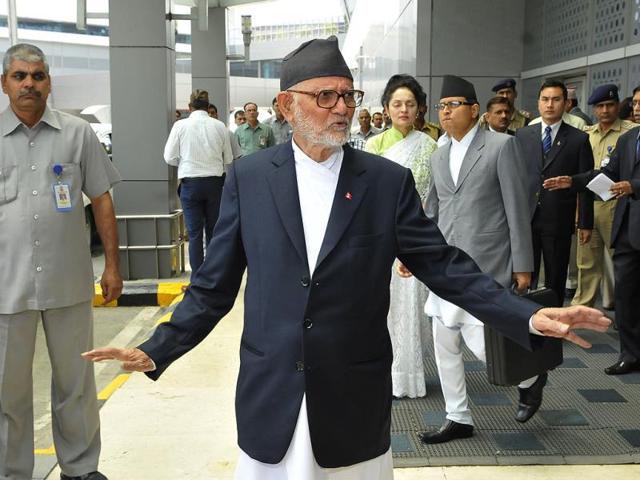 Updated on Feb 09, 2016 06:29 PM IST
Former Nepal prime minister Sushil Koirala, credited with promulgating the country's first democratically drafted constitution, died at his residence in Kathmandu early on Tuesday at the age of 78.
Koirala, the president of the Nepali Congress, was suffering from pneumonia and breathing-related ailments. His personal physician Karbirnath Yogi attributed the death to respiratory failure because of chronic obstructive pulmonary disease.
The government declared a three-day period of national mourning and an official holiday on Wednesday. A cabinet meeting decided Koirala's last rites would be performed with full state honours.
"Nepal and Nepalis will always remember him as someone who dedicated his entire life to the nation and to uphold freedom and democratic values and also his incomparable contribution towards drafting the constitution," said a statement from Prime Minister KP Sharma Oli's office.
Watch | Nepal's former PM Sushil Koirala passes away
Indian leaders, including President Pranab Mukherjee, Prime Minister Narendra Modi and Congress president Sonia Gandhi, expressed condolences.
External affairs minister Sushma Swaraj arrived here on Tuesday evening with a delegation comprising Congress leader Anand Sharma, Janata Dal-United leader Sharad Yadav, CPI's Sitaram Yechury and National Security Advisor Ajit Doval to offer her last respects.
Koirala's death came at a time when the Nepali Congress was holding its organisational polls and he was a frontrunner for the top post one more time.
The Nepali Congress announced the suspension of all activities related to the polls till February 13. No decision was made to change the dates for the party's general convention scheduled for next month.
Koirala was elected head of government in Februray 2014, soon after the second constituent assembly polls, and was instrumental in promulgating the much delayed statute in September last year.
A lifelong bachelor, he was known for his corruption-free image and simple way of living.
Koirala was at the front of the Nepali Congress's efforts to usher in democracy in Nepal from an early age, and was imprisoned for three years for his involvement in hijacking a plane to gather funds for the party.
He was elected president of the party in September 2010, and under his leadership, the Nepali Congress became the biggest party in the second constituency assembly polls held in November 2013.
Close Story
Personalise your news feed. Follow trending topics