Gangs of Lyari: Brutal tales of violence from Karachi's 'wild west'
Updated on Apr 18, 2016 11:04 AM IST
Lyari, one of the oldest neighbourhoods of Karachi, was once a sleepy lower income area known for its residents of African descent and their craze for football, but it turned into a war zone over the years.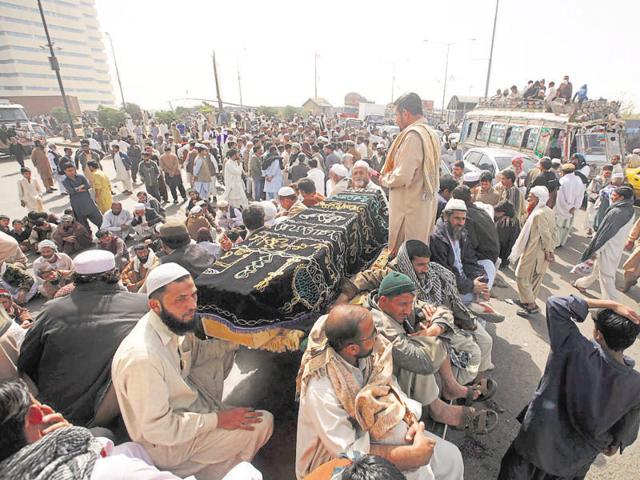 Hindustan Times |
, Islamabad
Imtiaz Ahmad
Lyari, one of the oldest neighbourhoods of Karachi, was once a sleepy lower income area known for its residents of African descent and their craze for football, but it turned into a war zone over the years.
Local residents and police tried to stay safe as criminals fought it out. The gangs of Lyari are brutal – men are shot dead on the streets in broad daylight. At the height of the gang wars in the past decade, more than 800 died in one year.
The colourfully named gang leaders sometimes met a worse fate. In 2013, gangster Arshad Pappu was kidnapped, tortured and beheaded. Rival gang members Baba Ladla and Uzair Baloch played football with his head.
The corpses of Pappu and his brother were paraded on a donkey cart before being hacked and burnt. Finally, their ashes were dumped in a sewer. This was Baloch's method of exacting because Pappu's father, Haji Lalu, killed Baloch's father, Faiz Muhammad. Pappu had also desecrated the grave of Dadal, the father of Rehman Dakait, one of the most powerful gangsters.
Challenging Rehman Dakait meant inviting swift retribution and many said it was a wonder Pappu survived so long.
Till 2009, Rehman Dakait was the king of Lyari's underworld. He was once close to former premier Benazir Bhutto and was seen as a Robin Hood. He ran schools and hospitals, while his gang sold drugs and alcohol and was involved in kidnapping and prostitution rackets.
In Lyari alone, he had 33 dens for illegal activities such as peddling drugs, gambling and trafficking in local beer. Rehman Dakait used his wealth to win over Lyari and tighten his grip on the area.
After he died in a shootout with police in 2009, his cousin Uzair Baloch took charge of the gang.
At one time Pappu's father and Rehman Dakait's father were partners. Things were different then.
Haji Lalu was the overlord of Lyari and Dadal was his associate. But Dadal broke away after a row over ransom collected from kidnapping a Memon businessman. That was when the gang split and multiplied into factions.
Gangsters have not parted ways only over money - there was power politics at play too. Rehman Dakait had the backing of the Pakistan People's Party while Arshad Pappu was supported by Karachi's main political party, the MQM.
Politics has always played a part in Lyari's crime scene. In the 1970s, Benazir Bhutto's father, then premier Zulfikar Ali Bhutto, gave land rights to Lyari residents. They never forgot his generosity.
In the 1980s, the people of Lyari were most vocal against Gen Zia-ul-Haq's regime. The military punished Lyari by patronising drug and crime. "A whole generation was lost as education was denied to residents and drugs were sold freely," recalls Khuda Bux Abro, a local resident.
When Benazir Bhutto returned to power, her government worked on the uplift of Lyari. But other political forces had encroached on its turf, most notably the MQM, which flexed its muscles through Pappu's gang. After Benazir Bhutto's death in 2007, it was her widower Asif Ali Zardari's government that supported Rehman Dakait to form the "People's Aman Committee" (PAC) to take on the MQM. The PAC had its work cut out and wars erupted between the gangs of Rahman Dakait and Arshad Pappu.
The PAC went out of control and kidnappings rose significantly in Karachi. PAC members started collecting "protection money" across the city. But its biggest mistake was when the PAC refused to endorse Zardari's half-brother as a candidate for MP from Lyari.
Relations between the PPP and the gangsters soured and the PAC was banned in 2011. A police action led to the death of Rehman Dakait in 2009. His empire was taken over by his cousin Uzair Baloch. This was contested by Baba Ladla, an ally of Rehman Dakait and Baloch, who formed his own gang.
After a particularly bloody round of violence in Lyari, Prime Minister Nawaz Sharif ordered the paramilitary Pakistan Rangers to take control. The operation started more than a year ago and more than 1,000 men were taken into custody, including Baloch, who had fled to Oman and then to Dubai.
Baloch was arrested by Interpol in December 2014 while crossing into the United Arab Emirates from Oman by road.
This was a breakthrough for the Sharif government as a special police team, which went to Dubai to seek Baloch's custody from UAE authorities, had returned empty handed. There are now hopes the gang wars will abate after the security operation in Karachi. But many fear that unless the gangs are eliminated, they will return.
Personalise your news feed. Follow trending topics