Gates Foundation has $1.4bn in fossil fuels investments
Mar 19, 2015 11:48 PM IST
The charity run by Bill and Melinda Gates, who say the threat of climate change is so serious that immediate action is needed, held at least $1.4bn (£1bn) of investments in the world's biggest fossil fuel companies, according to a Guardian analysis of the charity's most recent tax filing in 2013 .
The charity run by Bill and Melinda Gates, who say the threat of climate change is so serious that immediate action is needed, held at least $1.4bn (£1bn) of investments in the world's biggest fossil fuel companies, according to a Guardian analysis of the charity's most recent tax filing in 2013 .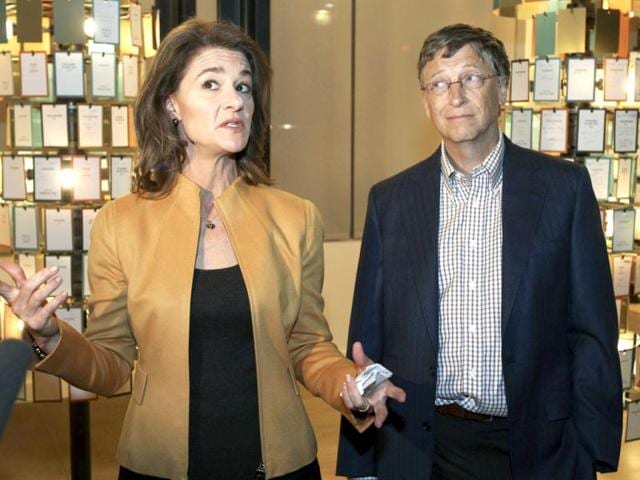 The companies include BP, responsible for the Deepwater Horizon disaster in the Gulf of Mexico, Anadarko Petroleum, which was recently forced to pay a $5bn environmental clean-up charge and Brazilian mining company Vale, voted the corporation with most "contempt for the environment and human rights" in the world clocking over 25,000 votes in the Public Eye annual awards.
The Bill and Melinda Gates Foundation and Asset Trust is the world's largest charitable foundation, with an endowment of over $43bn, and has already given out $33bn in grants to health programmes around the world, including one that helped rid India of polio in 2014.
A Guardian campaign, launched on Monday and already backed by over 95,000 people is asking the Gates to sell their fossil fuel investments. It argues: "Your organisation has made a huge contribution to human progress ... yet your investments in fossil fuels are putting this progress at great risk. It is morally and financially misguided to invest in companies dedicated to finding and burning more oil, gas and coal."
Existing fossil fuel reserves are several times greater than can be burned if the world's governments are to fulfil their pledge to keep global warming below the danger limit of 2C, but fossil fuel companies continue to spend billions on exploration. In addition to the climate risk, the Bank of England and others argue that fossil fuel assets may pose a "huge risk" to pension funds and other investors as they could be rendered worthless by action to slash carbon emissions.
A landmark report citing climate change published by the Lancet medical journal and University College London concluded that climate change is "the biggest global health threat of the 21st century".
In their annual letter in January , Bill and Melinda Gates wrote: "The long-term threat [of climate change] is so serious that the world needs to move much more aggressively – right now – to develop energy sources that are cheaper, can deliver on demand, and emit zero carbon dioxide."
The Guardian analysis of the Gates endowment revealed investments in 35 of the top 200 companies as ranked by the carbon held in their reserves. These included coal giants Anglo American, BHP Billiton, Glencore Xstrata and Peabody Energy, the oil majors Shell, ConocoPhillips, Chevron and Total and Brazilian oil company Petrobras, currently embroiled in a corruption scandal .
"This is very shocking. I never knew that they had so much of this kind of investment," said Nnimmo Bassey, a Nigerian activist who received the Right Livelihood Award in 2010 for "revealing the full ecological and human horrors of oil production" in the Niger delta where many oil majors operate. "If this is a charity that really care about the health of the people, they ought not to be investing in fossil fuel industries. They should pull back their resources from this sector completely."
Bill McKibben, who leads the fast-growing Go Fossil Free campaign, said: "The Gates Foundation has worked so hard to grapple with global poverty. But at the same time they're investing in the same companies that drive climate change, which endless studies now show is one of the key factors behind ... global poverty. The developing world deserves better than this kind of tunnel vision."
He said: "The great industrial fortune of the 20th century, the Rockefeller oil legacy, has begun aggressively divesting from fossil fuel , arguing explicitly that climate change undermines its philanthropy for a better world. It's time for the great technological fortune of the 21st century to do likewise."
Prof Hugh Montgomery, a medical doctor at University College London and one of the authors of the UCL/Lancet study said: "I am backing the Guardian divestment campaign because I support the Gates Foundation and am a great fan of their work. I just want to help them to do more good."
A spokesman for Bill Gates's private office said: "We respect the passion of advocates for action on climate change, and recognise that there are many views on how best to address it. Bill is privately investing considerable time and resources in the effort [to develop clean energy]."
The Bill and Melinda Gates Foundation declined to comment on fossil fuel divestment and said all investment decisions were taken by a separate entity, the Asset Trust, which manages the endowment but never makes public comments.
However, the Gates's charity has a track record of divestment from other sectors, having sold companies linked to the conflict in Sudan and banned tobacco investments. It also sold its stake in a security company G4S , following controversy over its prison contracts in Israel.
The Gates charity investment policy states: "When instructing the investment managers, Bill and Melinda consider issues beyond corporate profits, including the values that drive the foundation's work. They have defined areas in which the endowment will not invest, such as companies whose profit model is centrally tied to corporate activity that they find egregious. Bill and Melinda regularly re-assess the endowment's holdings."
In recent months, the Gates charity sold off its huge stake in ExxonMobil for $766m, which has in the past funded climate change deniers and now argues it is "highly unlikely " that international action on global warming will stop it selling oil and gas "far into the future". No reason was given and it is unknown whether new fossil fuel investments have been bought.
"At this critical moment in time, if you own fossil fuels, you own climate change," said Ellen Dorsey , executive director of the $168m Wallace Global Fund, which has fully divested from fossil fuels and now invests in renewables and energy efficiency.
She has worked with many of the 75 other philanthropic organisations that have followed suit. "At a minimum, our investments should not be driving the problems we ask our grantees to solve. And those who acted early avoided the collapse of coal and oil prices. They were rewarded with strong financial returns: doing well while doing good."
Dorsey said fossil fuel divestment by the Gates charity would be a huge boost for the fight against climate change: "For a foundation with such global prominence to lend its full weight – with grants and investments combined – would be game changing."