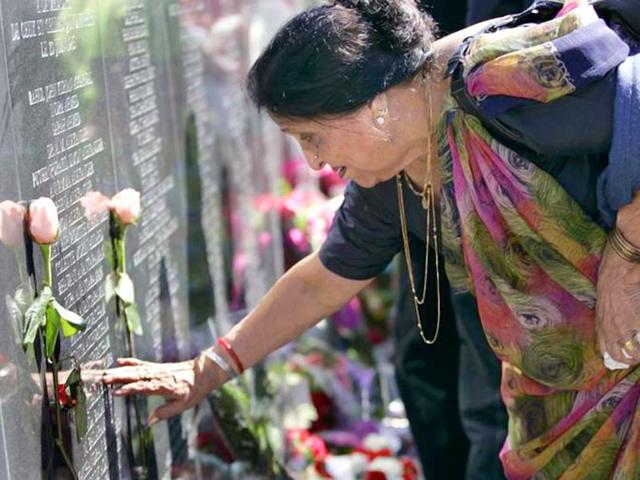 Kanishka mastermind's picture at gurdwara adds to misery for kin
As family members of the victims of the terrorist bombing of Air India flight 182 gathered at memorials around Canada and in Ireland to mark the 30th anniversary of the tragedy on Wednesday, their frustration over the lack of justice
UPDATED ON JUN 26, 2015 07:05 PM IST
As family members of the victims of the terrorist bombing of Air India flight 182 gathered at memorials around Canada and in Ireland to mark the 30th anniversary of the tragedy on Wednesday, their frustration over the lack of justice against the conspirators could only have been compounded as Canadian media reported that a portrait of the person considered the "mastermind" of that attack was placed prominently along the facade of a gurdwara in a Vancouver suburb.
About Talwinder Singh Parmar, chief of the banned Babbar Khalsa terror outfit, a Canadian Commission of Inquiry into the Kanishka bombing had stated, "It is now believed that he was the leader of the conspiracy to bomb Air India flights." Parmar was killed in an encounter by the Punjab Police in 1992. Canadian media reported that his portrait, carrying the words "Shaheed Jathedar Talwinder Singh Babbar" was placed on display outside the Dashmesh Darbar gurdwara in Surrey, a suburb of Vancouver, within the past months.
Kim Bolan, a reporter with the Vancouver Sun who has tracked the case for three decades and is the author of Loss of Faith: How the Air-India Bombers Got Away With Murder, said, "I think it's great frustration for them (the families) that it's allowed to hang in public view." Earlier, she said, the portrait was placed in a langar inside, but now it occupies a "prominent position" outside. "It's only recent," she said, about the new display.
The anguish is very real for the family members. Perviz Madon, whose husband Sam was killed in the bombing, said, "We've tried to stop that, we can only do so much." She pointed out the families considered Parmar a "terrorist" and had protested such portrayal of him as a martyr. "It hurts the families," Bal Gupta, head of the Air India 182 Victims' Families Association, added. He said similar portraits existed in gurdwaras elsewhere in Canada, including in Toronto.
In fact, Parmar's portrait had even featured in floats at the annual Vaisakhi parade in Vancouver in the past, but has subsequently been left out following protests.
Even as family members and others touched by the tragedy gathered at memorials, there seems to be a sense that the systemic failure that lead to the tragedy continues. The only person convicted with regard to Canada's worst terror incident was Inderjit Singh Reyat, on perjury charges.
Even he, Bolan pointed out, will walk free next year after completing six of the nine years of his sentence due to Canada's "statutory release" clause.
Close