Navy SEAL who wrote book on Osama raid named
Updated on Aug 24, 2012 02:17 PM IST
A former US Navy commando who authored a soon-to-be-published book about the raid in which he and fellow SEALs killed Osama bin Laden could face investigation because he failed to clear the book with the Defense Department before publication.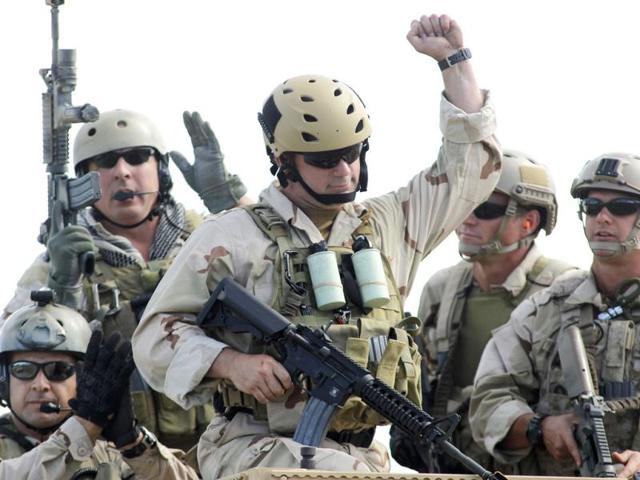 A former US Navy commando who authored a soon-to-be-published book about the raid in which he and fellow SEALs killed Osama bin Laden could face investigation because he failed to clear the book with the Defense Department before publication.
Fox News made public yesterday what it said was the real name of the former SEAL who, with a journalist co-author, wrote 'No Easy Day' under the pseudonym Mark Owen. The book is due to be released next month.
The book's publisher, Dutton, said Owen was 'one of the first men through the door on the third floor of the terrorist leader's hideout and was present at his death.'
Colonel Tim Nye, spokesman for the US Special Operations Command, or SOCOM, which directs operations by Navy SEALs and other special operations forces, said on Thursday that SOCOM did not review the book before publication, nor had the SEALs.
Nye said that because the book had not been subjected to appropriate pre-publication review, it could become a target of 'potential investigation' by government authorities. He added that any such inquiry was unlikely to be launched until after the book's publication, scheduled for the anniversary of the Sept. 11 attacks on the United States.
It is not known whether 'No Easy Day' contains details of commando operations that the US government considers secret.
But the growing controversy over the book adds new layers of complexity to an already heated election-season debate over credit for the killing of the al Qaeda leader, classified information and news leaks.
Republicans led by presumptive nominee Mitt Romney have criticized President Barack Obama and his administration for what they describe as excessive and self-serving leaks of security operations.
A group of former US intelligence and Special Forces operatives, many with Republican ties, launched an anti-Obama media campaign earlier this month along the same lines.
The White House and Obama's re-election campaign have denied compromising classified information and accused Republicans of trying to 'Swift Boat' the president, a reference to hardball smear tactics used to attack the war record of Democratic Senator John Kerry when he unsuccessfully challenged George W Bush for the White House in 2004.
The Obama administration has acknowledged providing guidance and access for the makers of a separate movie on the hunt for bin Laden, 'Zero Dark Thirty,' but denied charges it shared classified information with the film makers.
Criminal Probe Risk
On Wednesday, spokesmen for the White House, Defense Department headquarters and CIA all said they had not been consulted before learning of the planned publication of 'No Easy Day.' Laws covering CIA and military personnel require current and former personnel to seek official review before publishing material that could contain classified information.
On Wednesday, the publisher said the book had been vetted 'for tactical, technical, and procedural information as well as information that could be considered classified by compilation' by a former 'special operations attorney.'
But Nye, the SOCOM spokesman, said any such review by a non-governmental attorney was 'irrelevant.'
Mark Zaid, a Washington lawyer who has represented numerous former intelligence and military personnel in disputes and litigation relating to public disclosure, said that simply by publishing a book without having it reviewed by relevant officials, a former Special Forces member could expose himself to civil litigation and potential penalties.
If a post-publication review of the book determines that it contains classified information, Zaid said, the former SEAL could risk criminal investigation.
Yesterday morning, Fox News broadcast what it said was Owen's real name and described him as a 36-year-old former member of Navy SEAL Team 6 who now lives in Wrangell, Alaska. One person familiar with the book project, and a US official close to the Special Forces, said Fox News' information appeared accurate.
A second person close to the book project said that Fox's decision to make public the information was 'astonishing' because it could put the former SEAL's safety in jeopardy.
Fox News executive editor John Moody said, 'Once you write a book, anonymously or not, you have no reasonable expectation of privacy.'
A spokeswoman for the publisher said, 'Personal security is the sole reason the book is being published under a pseudonym.
'We respectfully request that all news organizations and all Americans consider these facts when deciding whether to pursue or publicize his real identity,' Christine Ball said in an emailed statement.
Kevin Maurer, the journalist who is the former SEAL's co-author on the project, said he was unable to comment. Elyse Cheney, a literary agent who reportedly represents the former Navy Seal, also declined to comment.
Some current and former officials connected to the Special Forces denounced Fox's publication of the former Seal's name. But others said that many in the Special Forces world were furious that a former SEAL would try to cash in on his involvement in the bin Laden raid.
Sofrep.com, a blog devoted to the Special Forces, said on Thursday that the author of the book 'most likely' received a seven-figure advance on royalties and that members of SEAL Team 6 'are extremely angry about this book and feel betrayed.'
Dutton, the book's publisher, has said the former SEAL co-author planned to donate 'a majority' of the book's proceeds to 'charities that help support the families of fallen Navy Seals.'
Personalise your news feed. Follow trending topics