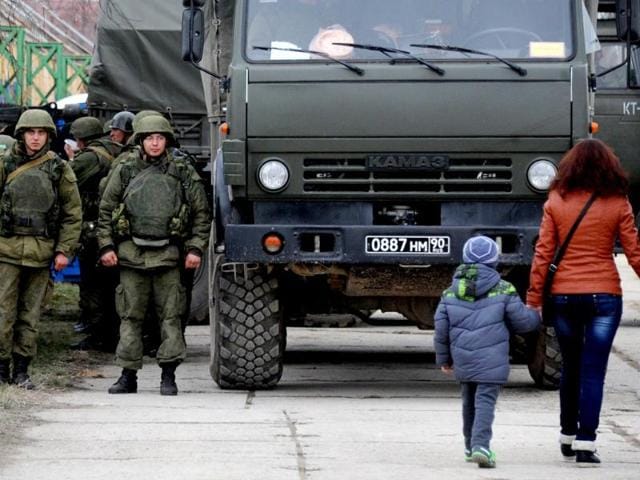 Putin builds up armour near Crimea, Russian assets plummet
Ukraine said Russia was building up armoured vehicles on its side of a narrow stretch of water near the Ukrainian region of Crimea after President Vladimir Putin said he had the right to invade his neighbour, prompting a sell-off in Russian assets.
UPDATED ON MAR 03, 2014 03:32 PM IST
Ukraine said Russia was building up armoured vehicles on its side of a narrow stretch of water near the Ukrainian region of Crimea after President Vladimir Putin said he had the right to invade his neighbour, prompting a sell-off in Russian assets.
Ukraine mobilised for war on Sunday and Washington threatened to isolate Russia economically after Putin's declaration, provoking Moscow's biggest confrontation with the West since the Cold War.
The Russian central bank raised its key lending rate 1.5 percentage points after the rouble fell 2.5 percent to an all-time against the dollar at the opening of exchange trading on Monday, while the MICEX index of Moscow stocks tumbled 10 percent to 1,294 points. Russian gas monopoly Gazprom, which supplies Europe through Ukraine, was down more than 13 percent.
Read:Putin vs Obama - who will blink first?
Analysis:Ukraine crisis gives NATO, West no good options
Ukraine's Prime Minister Arseny Yatseniuk, head of a pro-Western government that took power when former president Viktor Yanukovich, a Russian ally, fled on February 21 after three months of street protests against his rule, said Putin had effectively declared war on his country.
A Ukrainian border guard spokesman said on Monday that Russian ships had been moving in and around the Crimean port city of Sevastopol, where the Russian Black Sea Fleet has a base, and that Russian forces had blocked mobile telephone services in some parts of Crimea.
He said the build-up of Russian armour was near a ferry port on the Russian side of what is known as the Kerch Strait, which separates the eastern edge of the Crimea peninsula and the western edge of the Taman Peninsula.
The strait is 4.5 km (2.8 miles) wide at its narrowest point and up to 18 metres (59 feet) deep.
"There are armoured vehicles on the other side of the strait. We can't predict whether or not they will put any vehicles on the ferry," the spokesman said by telephone.
The border guard spokesman did not say how many armoured vehicles had gathered in Russian territory, opposite the city of Kerch on the Ukrainian side of the strait.
There was no immediate comment from the Russian Defence Ministry.
Russian flags flying
Putin secured permission from his parliament on Saturday to use military force to protect Russian citizens in Ukraine and told U.S. President Barack Obama he had the right to defend Russian interests and nationals, spurning Western pleas not to intervene.
Crimea has an ethnic Russian majority.
Russian forces have already bloodlessly seized Crimea - an isolated Black Sea peninsula where Moscow has a naval base.
Read:Ukraine mobilises army, G7 leaders slam Russia 'violation'
Read:Yanukovich still legitimate Ukraine president: Russia PM
On Sunday they surrounded several small Ukrainian military outposts there and demanded the Ukrainian troops disarm. Some refused, leading to stand-offs, although no shots were fired.
All eyes are now on whether Russia makes a military move in predominantly Russian-speaking eastern Ukraine, where pro-Moscow demonstrators have marched and raised Russian flags over public buildings in several cities in the last two days.
Russia has staged war games with 150,000 troops along the land border, but so far they have not crossed. Kiev says Moscow is orchestrating the protests to justify a wider invasion.
Ukraine's security council ordered the general staff to immediately put all armed forces on highest alert. However, Kiev's small and underequipped military is seen as no match for Russia's superpower might.
The Defence Ministry was ordered to stage a call-up of reserves - theoretically all men up to 40 in a country with universal male conscription, though Ukraine would struggle to find extra guns or uniforms for significant numbers of them.
U.S. Secretary of State John Kerry condemned Russia for what he called an "incredible act of aggression" and threatened "very serious repercussions".
"You don't just, in the 21st century, behave in 19th century fashion by invading another country on a completely trumped-up pretext," Kerry told CBS programme Face the Nation.
Read: Russian incursion an incredible act of aggression: John Kerry
Kerry said Moscow still had a "right set of choices" to defuse the crisis. Otherwise, G8 countries and other nations were prepared to "to go to the hilt to isolate Russia".
"They are prepared to isolate Russia economically. The rouble is already going down. Russia has major economic challenges," he said. He mentioned visa bans, asset freezes and trade isolation as possible steps. A Kremlin spokesman declined to comment after Kerry's remarks.
Ukraine's envoy to the United Nations said Kiev would ask for international military support if Russia expanded its military action in his country.

NATO ambassadors met in Brussels to discuss next steps. Secretary General Anders Fogh Rasmussen accused Russia of threatening peace and security in Europe.
Washington has proposed sending monitors to Ukraine under the flags of the United Nations or Organisation for Security and Cooperation in Europe, where Moscow has a veto.
So far, the Western response has been largely symbolic. Obama and others suspended preparations for a G8 summit in Sochi, where Putin has just finished staging his $50 billion winter Olympic games. Some countries recalled ambassadors. Britain said its ministers would stay away from the Paralympics due next in Sochi.
Britain's International Institute of Strategic Studies estimates Kiev has fewer than 130,000 troops under arms, with planes barely ready to fly and few spare parts for a single submarine.
Russia, by contrast, has spent billions under Putin to upgrade and modernise the capabilities of forces that were dilapidated after the breakup of the Soviet Union. Moscow's special units are now seen as equals of the best in the world.
Related Stories:All you need to know about Ukraine
It's a David-and-Goliath battle for Ukraine and Russia
How and from where will Ukraine get its bailout money?

Close