Steve Smith century powers Australia to 328/7 in World Cup semifinal against India
Mar 26, 2015 02:53 PM IST
Steve Smith scored a brilliant century to lay a solid platform but Australia lost a string of wickets in the second half of their innings to finish with 328 for seven in the World Cup semi-final against India on Thursday.
Steve Smith scored a brilliant century to lay a solid platform but Australia lost a string of wickets in the second half of their innings to finish with 328 for seven in the World Cup semi-final against India on Thursday.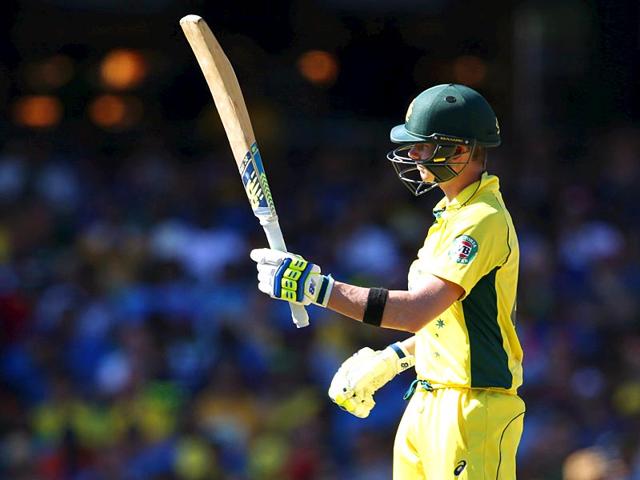 On a good Sydney Cricket Ground pitch in perfect weather conditions, the reigning champions will fancy their chances of overhauling the target of 329 and taking their place in Sunday's final against New Zealand in Melbourne.
Smith (105) came back to torment India in a partnership of 182 with opener Aaron Finch (81) to lead Australia to a comfortable position with close to 200 runs on the board, nine wickets in hand and over 15 overs to bat.
With Umesh Yadav (4-72) to the fore, however, India struck back to remove the power-hitters in Australia's middle order and disrupt their attempt to plunder runs in the later overs.
"I think it's a good total, we're going to have to bowl and field well though," said Smith.
"At the start, if you're offered 330, I reckon you take that nine times out of 10. It's going to be about squeezing and hopefully the bowlers can do a job for us.
"It's always nice getting hundreds at the SCG and hopefully the boys can back it up in the field now."
Smith had come to the crease in the fourth over after Yadav had bounced out opener David Warner for 12 and rarely looked troubled for the remainder of his 122-minute knock.
The bouncers were pulled, he called for a cap when the spinners came on and hit 11 fours and two sixes to give India a rude reminder of his prolific form in the test series around New Year, when he scored a century in all four matches.
The 25-year-old secured his fourth straight half-century at the World Cup in 53 balls and was soon surging towards his fourth ODI century, which he secured with a six and a four off successive balls.
Aaron Finch at the other end was looking less assured as he sought to end his run of poor form but he too reached the half-century mark before his partnership with Smith was broken in the 35th over.
Yadav again did the damage, his bouncer cramping Smith as he attempted the hook with the ensuing top edge flying to Rohit Sharma at deep square leg.
Glenn Maxwell came out ahead of his skipper Michael Clarke and hit a brisk 23 off 14 balls before sweeping a Ravichandran Ashwin delivery to Ajinkya Rahane at deep backward square leg.
The crowd, the majority wearing the blue of India, were roused and Finch soon departed as Yadav's third victim with Clarke (10) and James Faulkner (21) following him back to the dressing room as Australia tumbled to 284 for six.
Even the experienced partnership of Shane Watson and Brad Haddin (seven not out) was unable to steady the ship as Australia tried to balance the imperative of scoring quickly with making sure they did not run out of batsmen.
Watson departed for 28 to give Mohit Sharma his second wicket and it was left to paceman Mitchell Johnson to bolster Australia's tally closer to a par score with his 27 not out off nine balls.
It was the first time in eight matches at the World Cup that India had failed to dismiss their opponents.



Highlights of Australia innings
Australia won the toss and opted to bat

2nd over: Australian opener David Warner signals his intention to attack early, driving Umesh Yadav's first ball down the ground for four then smashing his final delivery over the square leg rope for six: 14-0.
3rd over: Aaron Finch survives a loud appeal for lbw off Mohammad Shami, who gave up just two runs from his first two overs. 15-0.
4th over: Australia lose their first wicket when Warner's (12) attempted pull off Yadav skies up to Virat Kohli at cover. Steve Smith is the new batsman. 21-1.
5th over: Finch registers his first boundary off the innings with a perfectly timed push off Shami straight down the ground. 31-1.
6th over: Yadav, bowling close to 150km/h, appeals for lbw after hitting Smith on the pads but is turned down against a referral. Replays show it was close. 32-1.
10th over: India's bowlers had done a great job slowing Australia's run rate before Smith pounds Yadav for four boundaries in the over. 56-1.
12th over: Kohli is introduced into the attack and Smith welcomes him by dispatching his fourth delivery to the midwicket fence. 64-1.
13th over: Finch, batting cautiously after a lean run during the tournament, gets a gentle bouncer from Mohit Sharma and pulls it for four. 71-1.
16th over: Finch drives Ravindra Jadeja through the covers for four as Australia go to the first drinks break after making a good start. 89-1.
19th over: Smith flicks Jadeja away for a single to reach his half-century off 53 balls and take Australia to triple figures. Smith has now scored at least 50 in each of his last four innings. 100-1.
23rd over: Finch survives a confident appeal from Jadeja for lbw. The umpire ruled not out and India's captain Mahendra Singh Dhoni calls for a review. The replays are not conclusive so the umpire's decision stands. 118-1.
25th over: Smith lofts Jadeja over midwicket for six as Australia reach the halfway point for the loss of one wicket. 132-1.
26th over: Smith drives the ball down to the non-striker's end and Ashwin gets a touch before it hits the stumps. Umpires defer to technology for the run-out appeal but the replay shows Finch easily made his ground. 135-1
27th over: Smith clips Jadeja over midwicket for his seventh four as Australia take eight off the over. 143-1
30th over: Only two singles off Ashwin's seventh over but Australia are looking comfortable and should start upping the run rate as they head into the final 20 overs of their innings. 155-1
31st over: Another big shout for lbw against Finch off Mohit but it is turned down and India have no review left. 161-1
33rd over: Smith plunders 14 runs off Shami, a six and a four off successive balls taking him to his first century of the World Cup. It came in 89 balls with 10 fours and two sixes. 181-1
35th over: Yadav returns to the attack and gets Smith for 105 with his first delivery. Smith tries to hook the bouncer but gets a top edge which Rohit Sharma takes at deep square leg. Glenn Maxwell is bumped up the order above Michael Clarke and gets off the mark with a four. 206-2
37th over: Another lbw shout against Finch, which again is correctly turned down. Maxwell picks up the pace with a six and two fours off the remainder of Yadav's over. 231-2
38th over: Ashwin wins his duel with Maxwell when the batsman sweeps the ball to Ajinkya Rahane at deep backward square leg to depart for 23 off 14 balls. Shane Watson comes in ahead of Clarke. 233-3
39th over: Yadav strikes again to remove Finch after a hardworking 81 from 116 balls. The burly opener is beaten by pace and the thick edge is well taken by Shikhar Dhawan at midwicket. Clarke finally comes to the crease. 235-4
40th over: Watson gets off the mark with a single but India have definitely pegged Australia back here and only four runs come off Jadeja's eighth over. 239-4
42nd over: Clarke clips Jadeja over mid-wicket for his first boundary. 248-4
43rd over: Australia lose captain Clarke. Mohit banged it short and Clarke pulled it straight to Rohit at midwicket. James Faulkner is the new batsman. 250-5
44th over: Watson slog-sweeps Ashwin, bowling his last over, for his first six. 258-5
45th over: Faulkner top-edges Shami for a streaky boundary and pulls the next one for a more convincing four. 271-5
46th over: Faulkner slog-sweeps Jadeja over midwicket for his first six. 279-5
47th over: Yadav ends Faulkner's cameo with a full and straight delivery that crashes onto the stumps. Brad Haddin opens scoring with a boundary. 288-6
48th over: Watson collects two boundaries off Mohit but then pulls him straight to Ajinkya Rahane at deep square leg. 299-7
49th over: Mitchell Johnson hits Shami for three successive boundaries in this 14-run yielding over. 313-7
50th over: Haddin pulls Mohit to Kohli who fumbles and drops the catch at deep midwicket. Johnson hits a four and follows it up with his first six. Fifteen runs come off the final over. 328-7