Teenage Mutant Ninja Turtles: Out of the Shadows
Director: David Green
Cast: Megan Fox, Stephen Amell, Will Arnett
Rating: 2/5
X-Men, Avengers, and everything Transformers: These were the ingredients chosen to create this unnecessary sequel but director Dave Green accidentally added an extra something to the concoction—Chemical Cliché. Thus, TMNT 2 was born. Using their ultra-super powers Leo, Donny, Raph and Mike have dedicated their lives to fighting crime and birthing a franchise that no one liked in the first place but made a lot of money anyway.
The truth is, we've seen worse superhero movies (the wounds are still fresh from a recent BATs#!t crazy debacle) and this one, if not intelligent, is at least entertaining enough to make you not look at your watch more than twice, maybe. The first movie, with all its horrible reviews, could also manage to pull out some laughs or snorts out of the nose. This one, though not as strong on humour, will get some cheers from TMNT fans - the animated series or the 1990's movies- for bringing back more characters from the originals.
Bebop and Rocksteady are hilarious if you are a fan of fart jokes. (YouTube)
Read: The Nice Guys review- Gosling & Crowe present the cult classic of 2016
Bebop and Rocksteady, the henchmen with vacuum in place of a brain, are given a believable and character-appropriate origin story. They're hilarious too if you are a fan of fart jokes and rhinos and pigs slapping each other's bellies. Krang, the villain, gets no more than ten minutes of screen time with the last movie's samurai antagonist Shredder, running his errands the entire length of TMNT 2. However, it was for the best because the slimy, mucus splashing and very cartoonish Krang wasn't a looker anyway.
Stephen Amell as Casey Jones.
Arrow's Stephen Amell makes his series debut as Casey Jones and it physically hurts to see him, the lead of a hit TV show getting thrown about in a kid's action franchise that no one even takes seriously and don't get me started on what they do to Will Arnett. They all take the backseat to Megan Fox who herself took a backseat to Hot Megan Fox.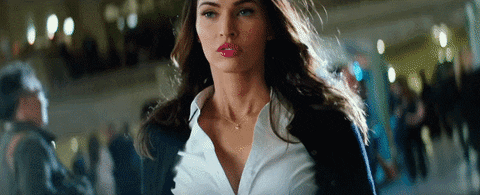 In the first scene itself she is a hot blonde nerdy chick with hot glasses, hot tight blouse and a hot miniskirt. The prayers of nerds were finally answered after getting nothing from the first movie. There is not much for her to do and if not for the above mentioned scene, you would've forgotten she was even there at all.
Read: Housefull 3 review- Akshay Kumar is the one driving it
This time, the turtles are conflicted and falling apart. The questions on their identity, the need to fit in with the rest of the world and how to work as a team are asked. But it is all resolved with a rushed conclusion and the merry band of brothers getting together again.
I may have said that you should get a pizza instead of watching TMNT 2 but I should also remind you how amazing pizza is. Of course, no movie is ever going to be as good as a 99-cheese pizza but hey, you can still watch this and later enjoy a pizza. And if things do not go so well, you'll always have pizza.
Follow the author @soumya1405