A festering fisheries crisis amid cosy Indo-Lanka ties
Hindustan Times |
Meera Srinivasan and Ahilan Kadirgamar
Jan 27, 2016 11:49 PM IST
As New Delhi consolidates its ties with Colombo it should address the fisheries issue with a sense of urgency.
Indo-Lanka relations have not looked this strong in decades, but renewed ties hold little hope for Sri Lanka's northern fishermen, whose livelihoods are in serious question because of their Indian counterparts.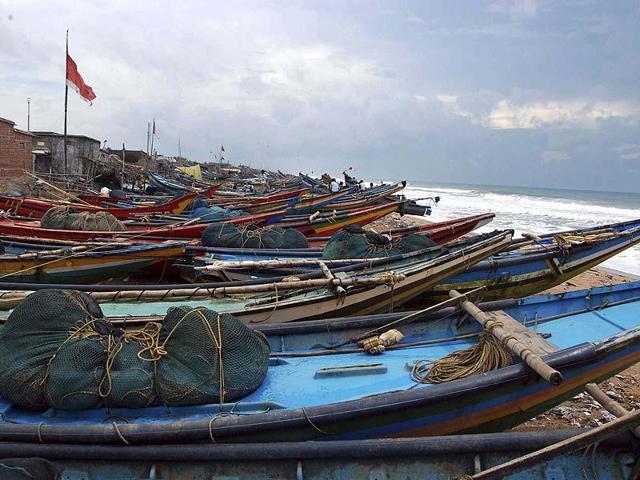 The new dynamic between the countries followed the dramatic regime change in Sri Lanka in January 2015. It was hard to miss South Block's relief over the defeat of former president Mahinda Rajapaksa, who was seen as leaning dangerously towards China. New Delhi promptly reached out to the new government in Colombo led by President Maithripala Sirisena and Prime Minister Ranil Wickremesinghe, known to be pro-West and a friend of India. President Sirisena, in turn, made New Delhi his first port of call after assuming charge.
In no time, the neighbours cemented diplomatic ties in a series of high-level visits, including Prime Minister Narendra Modi's historic visit to Sri Lanka in March 2015, the first bilateral visit to the island by an Indian Prime Minister in almost three decades. Soon after, following victory in Sri Lanka's August parliamentary elections Mr. Wickremesinghe made his customary visit to New Delhi. And now, Foreign Minister Sushma Swaraj is scheduled to visit Sri Lanka early February.
Eager to cash in on the new goodwill, India has been pushing for a Comprehensive Economic Partnership Agreement (CEPA), which New Delhi and Colombo have been discussing since 2000. India sees the pact as a breakthrough, for it would open up the Sri Lankan market for Indian goods, services and investment. The two countries already have a Free Trade Agreement but for New Delhi CEPA, or a similar new trade agreement, will be that deal-clincher that consolidates Indo-Lanka relations on the foundation of economic integration. There has been no final word from Colombo, but there are positive signals from the Sri Lankan Government with further negotiations and a likely deal in 2016.
Clearly, the political economy of Indo-Lanka relations is going through a transformation, with both governments not only aggressively pursuing neoliberal policies in their own economies, but also seeking to further liberalise ties between the two countries. Significantly, these economic and security ties are also determined by the geopolitics of proximity to the West while distancing China.
Misery for northern fishermen
All is apparently well in terms of diplomatic and trade ties. However, none of this has even remotely helped the nearly 2 lakh people in Sri Lanka's Northern Province who continue to lead miserable lives, mainly due to Indian trawlers that poach relentlessly in Sri Lankan waters. Tied to the sea and dependent on the fisheries sector for survival the fisher folk in Jaffna, Killinochchi, Mannar, Mullaitivu and the smaller islands off Jaffna peninsula are struggling to rebuild their lives after three decades of a brutal civil war.
The bottom-trawlers from Tamil Nadu not only cross the International Maritime Boundary Line (IMBL) demarcating territorial waters in the narrow Palk Bay separating the neighbours, but also systematically destroy the Indian ocean's marine ecology. They virtually scoop out fish and other marine organisms from the ocean bed.
Hundreds of trawlers charge ahead every other day, tearing apart Sri Lankan fishermen's fishing nets and boats, their primary assets. Indeed, there is a major asymmetry of power in the Sri Lankan waters of the Palk Bay; some 6,000 motorised 18-feet boats and over 5,000 kattumarams of 9 to 15 feet length on the Sri Lankan side face as many as 2,000 Indian trawlers 30 to 60-feet-long with very powerful engines. In perpetual fear of losing what remains of their modest fishing equipment, the northern Tamil fishermen do not venture out to the sea during the three days of the week when they expect the Indian trawlers. Their catch has fallen due to the repeated assault of trawlers and consequently, they are trapped in debt.
A problem that began during the war, when the Sri Lankan navy and the LTTE barred northern fishermen from going to the sea, has only become worse since it ended in 2009. The Sri Lankan Navy arrested nearly 400 Indian fishermen in 2015 on charges of poaching. The number of fishermen arrested are usually only a fraction of those actually poaching. The Sri Lankan Navy, too, has oscillated between being very stringent or lenient depending on Indo-Lanka relations at a given point.
Several rounds of talks between fisher leaders of both countries have proved futile. The arrested fishermen of Tamil Nadu, often daily wage labourers, are pawned in the diplomatic tussle between the two countries manipulated to an extent by Tamil Nadu. They are released around major bilateral meetings, just as President Sirisena released 104 Indian fishermen on Pongal Day, about a fortnight before he meets Ms. Swaraj.
Tamil Nadu's hypocrisy
As New Delhi consolidates its ties with Colombo and pursues its economic vision in Sri Lanka, it has the responsibility of addressing the fisheries issue convincingly and with a sense of urgency. Anticipating the shrill and unreasonable demands from Tamil Nadu, aimed at electoral gains, New Delhi will have to come up with a sound strategy to address this problem. More so this year as Tamil Nadu goes to polls. Considering that the fisher folk along its coast constitute a significant electoral segment, Tamil Nadu Chief Minister Jayalaithaa, eyeing another term in power, is likely to politicise the issue further, pressuring New Delhi to get the arrested Tamil fishermen released, as she usually does.
Tamil Nadu stands increasingly exposed with the Palk Bay crisis. After proclaiming political solidarity for decades to Sri Lanka's northern Tamils it has now emerged the chief culprit in this fisheries conflict. How can Tamil Nadu claim to have any sympathy towards the Tamils in Sri Lanka when it strongly backs its fishermen who so ruthlessly exploit livelihoods of the war-torn Tamil fisher-folk? The revival of the fisheries sector in Sri Lanka's north is a crucial component of post-war reconstruction.
A marked shift within Sri Lanka
As long as Rajapaksa was in power, his Government leveraged the fishing conflict to neutralise New Delhi on other fronts, amid mounting pressure on human rights and militarisation in the North. The arrested fishermen and seized trawlers were released accordingly. Virtually no one spoke for the Sri Lankan fishermen.
However, the northern fishermen have recently found the unlikely support of the Tamil National Alliance (TNA), Sri Lanka's the largest Tamil party. Its leaders, for the longest time, refrained from raising the issue, fearing they would antagonise political supporters in Tamil Nadu. With the situation of northern fisher-folk becoming worse, the TNA broke its silence last year, for the first time raising the fisheries conflict with the visiting External Affairs Minister Sushma Swaraj in February 2015. More recently in October, Sri Lanka's Opposition Leader and TNA veteran R. Sampanthan made a powerful speech in parliament on the plight of northern fishermen. He spoke at length on the hopeless condition of fishermen who were growing indebted by the day and of the serious damage being caused to Sri Lanka's marine resources.
Upon his request, President Sirisena met with the fisher leaders and the various arms of the state to heighten efforts to address the fishing conflict. He urged the foreign ministry to have discussions with both New Delhi and Tamil Nadu to find a solution. He also proposed that the Indian Navy or the Indian Coast Guard collaborate with the Sri Lankan Navy in a joint patrolling exercise. There is now a national consensus in Sri Lanka calling for strict measures to end poaching by Indian trawlers. There is growing pressure for larger fines and the permanent seizure of trawlers.
Lack of political will
If New Delhi has been trying to convince Tamil Nadu, clearly it has had little success, despite a few promising signs in discussions on alternatives. The Indian Government has been contemplating a "buy back" scheme where the central government – which along with international agencies in the 1970s incentivised trawlers under problematic fisheries policies – would now purchase the trawlers from the fishermen. It would instead, support fishermen to take up deep sea fishing methods.
However, there can be no drastic change without political will in Tamil Nadu. Furthermore, leaders in both countries have to consider the livelihoods of the Northern fishing community as well as the ecological sustainability of the ocean resources, which has to necessarily begin by ending bottom trawling.
It might be tempting for those taking forward the new vision of Indo-Lanka relations, or the shining high growth policies in New Delhi and Colombo, or the fast industrialising policies in Tamil Nadu, to turn a blind eye to the problems of downtrodden fisher-folk.
Here, it is the daily struggles of the fisher-folk that will be a powerful reminder of the social and economic realities of many citizens in both countries, whose lives get blurred in the pursuit of narrow political gains, or grand economic and foreign policies.
(Meera Srinivasan is the IWMF Elizabeth Neuffer Fellow 2015-16 and Ahilan Kadirgamar is a political economy researcher based in Jaffna)