A lament from Pakistan to India: It turned out you were just like us
Leading Pakistani feminist and poetess Fahmida Riaz is wondering whether to laugh or cry over recent events of intolerance across India.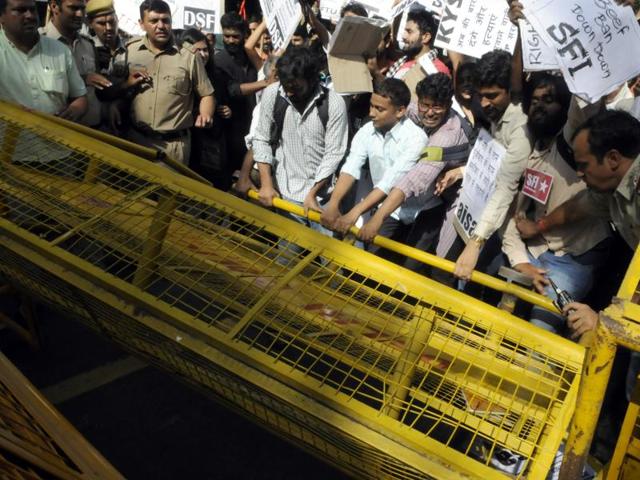 Updated on Oct 16, 2015 06:28 PM IST
Hindustan Times | By Imtiaz Ahmad
, Islamabad
Leading Pakistani feminist and poetess Fahmida Riaz is wondering whether to laugh or cry over recent events of intolerance across India. Riaz, who once took refuge in that country when she was hounded by right-wing elements in General Zia-ul Haq's time, now says India has "turned out like us" — not just intolerant, but to such a degree that it has started looking like the Pakistan that India would not like to be.
To quote Riaz's lament (which is in Urdu): "So it turned out you were just like us/Where were you hiding all this time, buddy?/That stupidity, that ignorance we wallowed in for a century/Look, it arrived at your shores too!"
The recent incidents of intolerance in India have shaken the country's small progressive lobby and given a chance for right-wing elements to gloat, say political commentators. "What we are seeing is that the incidents in India give our establishment the justification to continue their anti-India line," commented Abid Husain, a local journalist who works in the monthly Herald magazine. Husain says that the pro-military lobby, especially in the local media, amplifies the incidents as it suits their agenda.
More important, there are fears that such incidents will cause the two countries to further drift apart. Defence analyst General Talat Masood says that such incidents fit into the narrative that is being created on this side of the border. "Peace is not being seen as an alternative." The media has played its part in this too.
Over the past few months, Pakistan's media has extensively covered the incidents of intolerance in India and the activities of the RSS and BJP.
But saner voices caution over what is happening. An editorial in Daily Dawn comments that freedom is under threat in India, but adds that many of its right-thinking citizens are speaking out against the wave of right-wing violence and repression.
Dawn noted that there was genuine reason for alarm. "Some of the violence and intimidation has been Pakistan-related...but much of the intolerance and extremism is directed inwards, at India's rich cultural and religious diversity."
Columnist Ayesha Siddiqa in the daily Express Tribune wrote this week that the singer Abhijeet Bhattacharya can call the great Ghulam Ali "dengue" or applaud the cancellation of his concert as an essential sign of much-desired patriotism, "but isn't this exactly what Pakistan was historically blamed for — denying its own people the great shared history and culture of the subcontinent?"
Pakistan's broadcast media has gone to town with the incidents of intolerance. Most channels have played up the incidents and TV experts have time and again connected these incidents to the overall intolerant attitude of the Modi regime. "How can we expect tolerance from a government that is turning against its own citizens?" asked anchor Gharida Farooqi, a leading anchor and commentator.
The killing of a Muslim over suspicion of beef consumption, the attack on Sudheendra Kulkarni ahead of the Kasuri book launch and the cancellation of shows and events of Pakistani artistes have received extensive coverage and comment in the Pakistani media. Pictures of Kulkari's blackened face made it to the front page of almost all newspapers in Pakistan on that day.
Siddiqa asks how blocking writers and artists would teach the Pakistani establishment a lesson, since these people do not have the political clout to influence policies at home. "Ghulam Ali and many other classical singers, in particular, enjoy their visits to India and the fact that there is a larger audience for their kind of art. But accessing a market is not reason enough to rebel against the state."
She argues Pakistan is, in certain ways, far more consolidated today than in the 1970s or the 1980s. Perhaps, many in Pakistan ought to thank the right wing across the border for contributing tremendously to Pakistan's growing cohesion, she adds.
In the larger picture, relations between India and Pakistan continue to worsen. It is feared that growing intolerance in both countries will hinder any possible dialogue that would reduce tensions and help resolve outstanding issues. "The rise of right-wing forces which hampered any progress from the Pakistani side was usually countered by common sense from the Indian side. It is feared that the situation will now change," said one analyst.
Close Story