Pranab Mukherjee's Nepal visit fulfils personal desire, political objectives
Exactly ten years ago, in November 2006, Nepal's mainstream parliamentary parties and the country's rebels, Maoists, signed a Comprehensive Peace Agreement. The pact formally brought an end to the war, paved the way for a republic, and was a logical consequence of a movement that was waged that April against the autocratic monarch.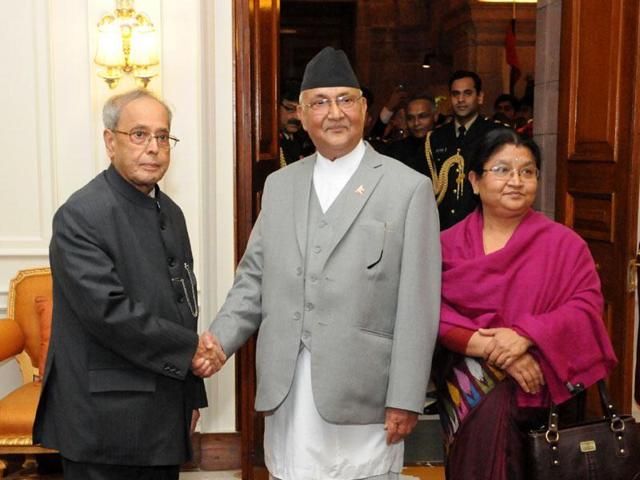 Updated on Aug 12, 2019 06:33 PM IST
Exactly ten years ago, in November 2006, Nepal's mainstream parliamentary parties and the country's rebels, Maoists, signed a Comprehensive Peace Agreement. The pact formally brought an end to the war, paved the way for a republic, and was a logical consequence of a movement that was waged that April against the autocratic monarch.
Through this period, sitting in his perch in South Block, as External Affairs Minister, was Pranab Mukherjee. In 2009, he was to tell Al Jazeera in an interview, India had played a role in persuading the former Maoist rebels to give up arms and join the political mainstream.
Mukherjee - in his various stints in government from the 70s to earlier in this decade - developed a keen interest in two neighbours in particular, Nepal and Bangladesh. He knows all Nepali politicians well, who make it a point to call on him during visits to Delhi.
And that is why it is truly fitting that as his Presidential terms ends, and as Nepal's political transition reaches its final lap, Mukherjee arrives on state visit, on Wednesday afternoon, to Kathmandu - the politics of a city he knows so well and has played a part in shaping. The visit marks the fulfilment of a personal desire of the head of state.
But like all state visits, the importance of Pranab Mukherjee's visit goes beyond the personal. What makes it special though is the way in which this visit will combine multiple objectives.
Bilateral optics
Mukherjee's visit is first aimed at restoring the bilateral goodwill that has faced a rupture over the past year. To tide over the trust deficit - which emerged when India advised Nepal's politicians to be more inclusive in their approach to constitution promulgation, advice which was disregarded - there has been a series of high level exchanges.
PM Prachanda has already visited India twice in the last four months. So has Nepali foreign minister Prakash Sharan Mahat. Former PM K P Oli too visited Delhi this February. And President Bidya Bhandari - who will be Mukherjee's host and has most enthusiastically pushed the visit - will travel to Delhi soon. PM Narendra Modi had visited Kathmandu twice in 2014.
But the last head of state visit from India was way back in May 1998, when President K R Narayanan came to Kathmandu. In fact, this seems to be a gap in Nepal's diplomatic calendar, for the last head of state to visit from anywhere was the Mongolian President back in 2001. Mukherjee's visit will address this 18 year anomaly from the Indian side. He will use the visit to emphasise the special relationship between Nepal and India, and India's own commitment to Nepal's stability, development and prosperity.
It is also inevitable that there will be a political conversation around Nepal's domestic situation. India does not want to be seen as overbearing; the President's position also does not lend itself to it; and Delhi will thus be subtle about its messaging. But it will use both the President's stature and his connections with Nepal.
Mukherjee, sources indicated, will emphasise two key issues - the need to rapidly complete Nepal's prolonged political transition so that it can move ahead with the task of economic development and growth; and the need to take all sections of society on board, which will be a reminder - even if it is not spelt out - that this has not yet happened and the constitution needs to be more inclusive and address Madhesi discontent. Mukherjee, an encyclopaedia on India's own constitutional debates and founding moment, closely tracked Nepal's hurried constitution promulgation process.
And there is an unstated geopolitical subtext to the timing of the visit. Over the past year, China's engagement in Nepali politics has grown. It was backing the former PM K P Oli even as India was keen to see his exit for his unwillingness to address constitutional issues and for propagating ultra nationalism with an anti India tilt. The Chinese President was tentatively expected to visit Kathmandu on his way to BRICS in October.
But Delhi encouraged Oli's ouster back in July-August; the Chinese tried to save him unsuccessfully and suddenly found themselves on the defensive; and they did not go ahead with Xi Jinping's visit. India was quick to ensure that the moment was not lost - and Delhi could use it its own President to send a message of its own commitment to Nepal.
Beyond Kathmandu
It is rare for the President to visit three cities in a country in a short visit. But Mukherjee will do just that. Beyond Kathmandu, on Friday morning, he will first fly to the southern Tarai town of Janakpur.
Janakpur is where, according to legend, Lord Ram married Sita. Prime Minister Modi himself was keen to visit the town two years ago - but a less than cooperative Nepal government did not reciprocate the enthusiasm. Mukherjee will go to the Janaki temple and attend a civic reception.
Official sources told HT that the significance of Janakpur visit is multi-fold. One, it emphasises the shared cultural and civilisational linkages between the two countries.
Two, it is also the de facto capital of the Tarai-Madhes region - the centre of a movement for greater rights and representation. India has urged Nepali political actors to take all sections of society on board in the constitution. Even if the President does not refer to the constitution directly, the visit is a reminder of the importance India places on the Tarai in Nepal.
Three, Janakpur is also at the southern border and the visit will highlight the centrality of cross-border relations, and the special role of the Tarai in India-Nepal ties. India sees its security as tied inextricably with the situation in this region because of an open border with heartland states of Bihar and UP.
But India's interest in Nepal goes beyond the Tarai.
And to emphasise this, Mukherjee will fly straight to the western, picturesque valley of Pokhara, with the Annapurna range in the backdrop. Here, he will spend time with former Indian army personnel.
As Modi said during his August 2014 visit, there is no war India has fought where Nepal has not shed its blood.
This is indeed a unique element of the relationship. In India's Gurkha regiments, young men from Nepal are proud soldiers, hailed for their commitment and bravery. It is a mutually beneficial relationship - for the Indian Army then takes good care of its serving men and pensioners. In Nepal itself, there are over 1.25 lakh pensioners, from some of the country's most marginalised ethnic communities. The Seventh Pay Commission and One Rank One Pension will enhance benefits for this constituency. Mukherjee will sit with this group and discuss welfare and pay respects to their commitment to India.
The goodwill visit combines the bilateral with the larger regional subtext, it combines the personal with the political, and it weaves in the state to state dynamic with the people to people to relationship. Kathmandu is waiting to welcome Pranab Mukherjee.
Close Story
Personalise your news feed. Follow trending topics