Bangladesh is in better shape than Assam
Instead of fanning fears about migrants, Assam's leaders should improve the state's health indicators, which are incidentally lot worse than Bangladesh's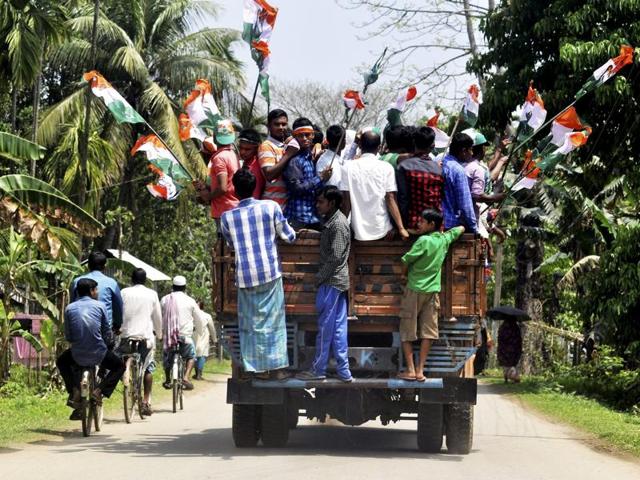 Updated on Apr 14, 2016 02:20 PM IST
In 1985, I had just come back to Delhi after a stint at the New York Times main office. One of the first dispatches I reported was India's announcement that it would build a fence to stop illegal migration from Bangladesh.
The Assam agreement on illegal migration and the state's development had been signed earlier between the All Assam Students Union, the Centre and the state government during August 14th night and 15th morning. Prime Minister Rajiv Gandhi made the announcement from the ramparts of the Red Fort in the traditional Independence Day speech. It seemed to calm nearly six years of turmoil and protests in Assam.
I still remember the reaction of the President of Bangladesh at the time to this unilateral decision. Gen. Mohammed Ershad denounced the plan to build a fence as a "hostile act" against a smaller, vulnerable neighbour.
Thirty-one years down the road, much of the fence is in place, the ability of Bangladeshis to cross into hostile neighbouring territory has been sharply reduced, India has signed a land-swap deal on the border, it has strong trade and communications protocols/agreements in place with its neighbour. In addition, Dhaka has cooperated on security issues, handing over the top leaders of militant groups from Assam and Manipur, defanging the armed factions that our own security forces had been unable to subdue.
Read | Hindutva's quiet entry in Assam
But is the border sealed, as AASU, the Asom Gana Parishad, the BJP and many of their supporters seek? The fact is that no international border can be 'sealed', not even the US-Mexico border, which is overwhelmingly dominated by a superpower with helicopter patrols, walls, fences, sophisticated weaponry and federal agents. Not even Europe can keep out the Syrians and other desperate refugees fleeing IS.
Yet, the rhetoric of railing against 'Bangladeshis' remains the same as does the strategy of using them as rationale to blame for the mess in Assam. However, the real danger is that the real targets appear to be Muslims of Bangla origin. Many of our younger generation are probably unaware that over half a century ago, this group embraced Assamese as its mother tongue to ensure that Assamese speakers remained a linguistic majority in the state. Yet, if the current bout of hostility towards them continues, I wonder how many of this group would be prepared to show Assamese as their mother tongue, thereby endangering its status as the state's official language. This needs to be understood.
Interestingly, the immigration issue isn't new: 70 years ago, in 1946, Congress won a thumping victory on the platform of blocking outsiders who were swamping the state. Its campaign attacked the Muslim League's strategy of settling Muslim migrants from East Bengal in Assam. But the League is no longer a factor in the successor state to East Bengal — now Bangladesh. Many migrants are moving on their own but also with touts on either side of the border. However, this is also how international illegal migration works.
Read | Fivefold increase in communal incidents marks run-up to Assam polls
Today, there are a range of key, critical issues for the state which go far beyond the divisive politics that is being played out by different parties. Take, for instance, the issue of health.
Although the BJP's state manifesto pledges a universal insurance scheme for people of the state, one rarely hears other serious issues being discussed during the campaign by any party.
Thus, who speaks of or discusses that at 300, Assam has the worst maternal mortality ratio (MMR) in India. MMR is the number of women who die in childbirth per 100,000 live births. While the state's MMR has improved dramatically from a horrific 490 just over a decade ago, it remains unacceptably high, way above Bihar, Uttar Pradesh and Rajasthan.
And where does the much-maligned Bangladesh figure in all this? Surprise, surprise. According to a World Bank survey in 2015, our neighbour's MMR was measured at 176. That is far better than most Indian states and almost half that of Assam! The fundamental rule of economic migrants is rooted in common sense — that they leave conditions of underdevelopment and vulnerability; they don't walk across to an area or a country which is worse off than the place they are leaving or where they will face hostility.
Read | Political slugfest in Assam continues amid Bihu festivities
No one discusses the other critical barometer of human development growth: Infant mortality ratio (IMR) or the number of children who die before they reach the age of five. While the all-India figure is 43.19 deaths per 1,000 live births, the figure for Assam is disheartening: It is 54 and the state is the worst performer along with Madhya Pradesh. Until 2013, Assam was the second-worst performing state in this sector. Thus, its record has worsened. Unsurprisingly, Kerala has the best performance with an IMR of just 12.
What about Bangladesh? It's 32.10 (in 2014) or again just under half that of Assam. Clearly, their health delivery systems, health officials and professionals do a far better job than ours.
The Congress is answerable to the public on these concerns since it has been in office in Assam for most of the past 68 years of independence. While there has been visible improvement in recent years, credit must be given to the leadership of Himanta Biswa Sarma, who was a dynamic and respected health minister during these years before switching sides to the BJP.
Development and poriborton rest on these key questions, on delivery and access to entitlements and services, not catchy slogans and rhetoric, which can sway the young and inexperienced. The 'immigration' issue has been a political question for a century. It is not going to go away. But in the meantime, let's get back to work on these life and death issues. The winning combination's plans on these concerns need to be precise and transparent.
Sanjoy Hazarika is director, Centre for North East Studies, at Jamia MIllia Islamia
The views expressed are personal
Close Story