Countdown to results begins: What would the Bihar verdict mean?
Nov 08, 2015 07:30 AM IST
A win for either side would carry enormous meaning. Here is what is at stake.
Results to this year's most important political event, the Bihar election, are moments away. The exit polls have presented contrasting outcomes. And all we know is that we do not quite know who will win. From politicians to corporates, foreign investors to psephologists, everyone is keeping a close watch on the verdict. For the Bihar result will have a huge impact on national politics.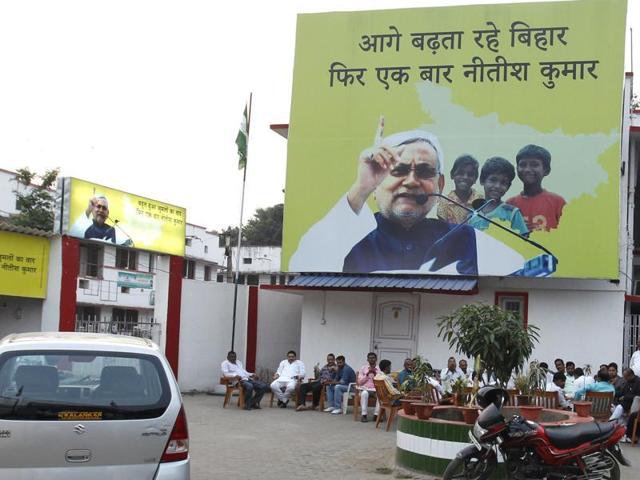 A win for either side (NDA or the grand alliance) would carry enormous meaning. Here is what is at stake:
# If the Mahagathbandhan (MGB) wins:
1. The return of the opposition
There is no doubt that since BJP's decisive 2014 win the opposition has found itself lost and unclear about how to challenge what appeared like the party's expanding hegemony. Since the Delhi elections, and the consolidation of the opposition against the amendments to the land bill, the non-NDA formations have gained in confidence. But politically, they remain weak. A win for the MGB means the opposition will roar. Parliament will witness a renewed vigor. A new model - of alliance of opposition formations - will be sought to be replicated in other states. The setback will be used to attack BJP for both its willingness to turn a blind eye to religious chauvinism, as well as its failure to meet the promises of 2014. Narendra Modi will have to do a drastic review of operations in government.
2. Brand Nitish goes national
Nitish Kumar will be seen as the only politician capable of taking on Narendra Modi. And that is because the BJP itself, by not announcing a CM candidate and making the PM the star and almost solo campaigner, pitted it as a contest between the two. Kumar's restrained and understated style, his development record and OBC background, his ideological opposition to Modi, and now his political success will all be seen as assets. And if Congress remains as weak as it is, do not be surprised if he becomes the opposition face in 2019.
Read | Slight edge to NDA over grand alliance in Bihar: NDTV exit poll
3. The rupture in 'Hindu consolidation'
Lalu Prasad has been candid in this election and said this is a contest between forwards and backwards. He has made the plank of reservations and used RSS chief's statement to suggest BJP opposition to affirmative action as a central pillar. If the 2014 win suggested a vote across Hindu castes for Modi, the 2015 win will mark a return to many voters considering caste the primary axis, and determinant for political choice. It would also signal a displeasure of the OBCs - a section where BJP has tried to make inroads - with the party.
4. A vote for 'social justice' plus development
A win would not, however, be a win for only 'empowerment of backwards' - a slogan that saw Lalu ride home in the 90s to power. It would be a combination of the social justice plank with the vikas plank of Nitish Kumar - and his model of development, which has rested on law and order, basic infrastructure and education. Bihar wants more and it would have trusted Kumar one more time to deliver it. The win would also be because of a complete Muslim consolidation, who have voted aggressively but silently to ensure there is no counter consolidation. The right mix of vikas, jaati and Muslim vote would have won the alliance Bihar.
5. Prashant Kishore becomes a star
The strategist behind the scenes for the Mahagatbandhan is Prashant Kishore , who helped conceptualise the Modi campaign in 2014, has been Nitish Kumar's closest aide for the last year. He even lives in the CM's residence. Kishore created the campaign around Brand Nitish and made it a presidential contest. He became the bridge between Lalu and Nitish after the alliance was struck. He worked out the campaign to its minutest detail, from who would speak at which rally on what day to the nature of the pamphlets and envisaged how to beat the BJP, with a fraction of its resources. Kishore would become a star and campaigning in India would change.
Read: Parties hold their breath as Bihar poll suspense nears end
If the NDA wins:
1. The political hegemony of the BJP
A win for the BJP would mark for the first time the party's arrival, on its own, to the seat of power in Patliputra. Bihar is critical both because it is the entry point for the party into the heartland (UP goes to polls in two years) and into eastern India. It will give party, on the defensive after blocked legislations, renewed confidence and the required political capital to push its way in parliament. It would reinforce the BJP as the country's pre-eminent political force. It would further weaken the morale of the opposition - 'if, despite, all non-NDA formations coming together, BJP could not be defeated in a state it has never won alone, what prospects do we have?' would become the mood among many in the political theatre. The party would also claim that it stands vindicated on ideological issues - despite the criticism it has faced from the media and civil society - and we could well see a push on the cultural agenda of Hindutva.
2. Brand Modi intact
A win in Bihar would establish that the Modi hawa is still strong in the heartland. For the PM, a rank outsider in the state, to take on two men who have dominated the state for 25 years and defeat them would be a remarkable testament to his appeal and popularity. There are anecdotal accounts of increasing disillusionment with Modi, his foreign travels, or the lack of movement on the policy front. But the verdict would mean that the electorate still has faith in Modi and is willing to give him more time. They also trust him, rather than Nitish, to take Bihar forward to the next stage of development. The message is clear: Modi can win national elections. He can win states. He already has a rather free hand and it is probably a mistake to see him as someone unable to take on an ideological 'fringe'. But if there are any constraints, Modi can overcome it if Bihar win is behind him.
Read | Bihar exit polls over but both BJP, Grand Alliance remain confident
3. The primacy of Amit Shah
Amit Shah's political stature is based on his electoral management skills. Bihar would establish him as the pre-eminent political manager in the country. It would show UP 2014 was not a fluke, that the man can get into a state, sense its political pulse, mobilise the organisation and resources, understand caste arithmetic, package a political message and do whatever is required to win elections. His presidency, if he wants to stay on, would be secure.
4. A vote for development plus Hindutva
BJP claims its central plank was vikas (growth). A win would indicate anti-incumbency after 25 years of Lalu-Nitish years. It would mean people now want jobs - Nitish's big failure. But this is not the full story, for in the last few weeks, the party has played the Hindu card. The idea was to overcome the caste divide within Hindus - and turn it into a Hindu-Muslim contest in key pockets. A Bihar win would show that communalism sells, when packaged with other elements like caste management. It would mark a win for vikas, jaati and Hindutva.
5. BJP breaks out of Brahman-Bania image
NDA cannot win Bihar only on the basis of forward consolidation. It needs the votes of other castes. Through coalition partners Jitan Ram Manjhi and Ram Vilas Paswan, the alliance has tried to get Dalit and Mahadalit votes. Through PM Modi's own caste identity, and outreach to EBCs, they have tried to win over the backwards among the backwards. In a state that is 90% rural, BJP could not have won but for massive expansion in the interiors. A win would show that BjP is no longer an upper caste, urban party but has become an umbrella formation.
Read: Exit polls frenzy only on TV screens, Patna has dream govt on mind