Framed as a terrorist: Mohammad Aamir Khan's 14 years behind the bars
Updated on Jan 26, 2016 07:32 AM IST
A harrowing story of unspeakable injustice which stole Mohammad Aamir Khan's youth is also one of endurance, love and hope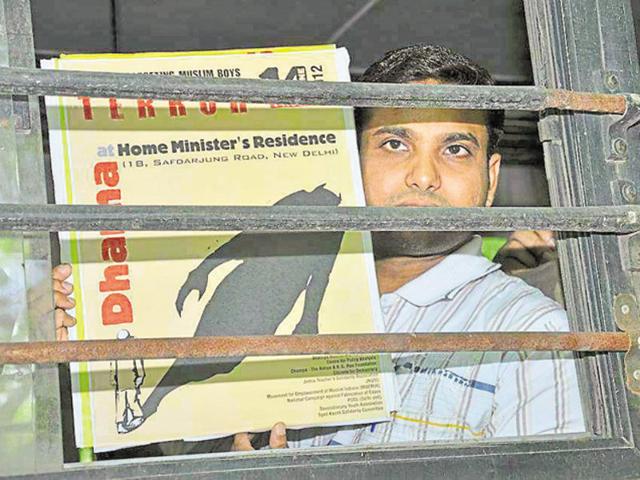 Imagine being wrongfully charged and jailed after 14 years of torture, never knowing if you will ever walk free. This is Mohammad Aamir Khan's harrowing story, of unspeakable injustice which stole from him the best years of his youth.
But his story is also one of endurance, love and hope. In two years that I have known him, I found him a gentle person, free of bitterness and anger, and convinced about justice, democracy and secular values.
In a deeply affecting book he has written with Nandita Haksar, Framed as a Terrorist: My 14-year Struggle to Prove My Innocence, he describes how when he was 20, one late-winter evening in February 1998, in a by-lane of Old Delhi, close to his home, he was picked up by plainclothes policemen, and driven to a torture chamber. He recounts his days and nights of torture: Stripped naked, his legs stretched to extremes, boxed, kicked, subject to electric shocks, anti-Muslim abuse and threats to frame his parents. He finally succumbs, and agrees to sign numerous blank sheets and diaries. As a result, he is charged in 19 cases of terror crimes.
From here begins a nightmare that lasted nearly 14 years. Housed often in solitary confinement in Tihar and Ghaziabad jails, his only encounters with the world outside are his innumerable court hearings. No judge asks him about the torture, nor do doctors record his torture wounds. He is acquitted in one terror case, only for another to begin.
What he endured would break the spirit of most men. 'I would lie awake at night and often cry myself to sleep. I just saw the lights of the tower and heard the sound of the boots of the guards and I thought my entire life would pass within these walls'.
Even more than his confinement, isolation, the brutal and dehumanised prison conditions, and the hopelessness of his tortuous court proceedings, what grieved him most was helplessly watching his parents suffer outside.
But it was also their love and faith in his innocence that sustained him through these bleak long years of suffering. He describes how his father, Hashim Khan, was present at every hearing. 'Abbu arrived before the courts opened. He went straight to the typists who sit in rows outside the lawyers chambers… He came early so he could get his applications typed… for permission to meet me in the lock up… to give me home-made food… Armed with his application Abbu made his way through the crowds to the court where my case would come up… to catch a glimpse of me'. The police continued to harass his parents, money for lawyers ran out, none came forward to help, as they were stigmatised as parents of a terrorist.
One hearing in 2001, the judge noticed that his father was absent, and the policeman explained that he was in hospital. The judge permitted him to see his father for an hour. Surrounded by tubes, Abbu's first words to him were: 'I could not come to your hearing.' Aamir recalls how much he worried for him, but was satisfied that by then he had been acquitted in 11 of the 19 cases.
It was in court weeks later that he was informed that his father had died. The judge comforted him, 'God will take care of everything'. Aamir also recalls the humanity of his fellow-convicts, who comforted him. Once when he was observing his roza fasts in solitary confinement, a Sikh convict would throw dates into his cell for him to break his fast. Some judges were fair, that is how he was finally acquitted, case by case, over 14 years. At the same time, 9/11 and the Parliament attack created a communally-charged environment through the criminal justice system, and jailers began to openly humiliate Muslim prisoners, whose numbers also swelled in jail. Judges became distant and cold.
The burden fell on his mother alone, who negotiated the unfamiliar and masculine worlds of courts, jails and lawyers' chambers for another 11 years. She would now attend court proceedings, and carry messages she barely understood to the lawyers. He was represented now by legal aid lawyers. Sometimes he was acquitted in trial courts, sometimes in high courts.
One winter evening, in January 2012, he was told that he was free to walk out of the prison. Some of the most poignant passages of the book are when Aamir describes how much the world had changed during the 14 years of his incarceration. He learned about the Internet and mobile phones. He was amazed how many channels television had; he only knew Doordarshan.
But by the time he was freed, his mother was confined to her bed. He often tells me how fortunate he feels that Allah allowed him to take care of his mother in her last years.
His childhood love, Alia, had waited for him these 14 years. 'Ours was an old-fashioned love', he says shyly. They barely spoke to each other. Her father was initially unwilling to marry his daughter to a man who had spent most of his adult life in jail. But a delegation of eminent persons of the locality went on his behalf to plead with him, and he finally conceded. They have a daughter now, the centre of their lives. He worked with the organisation Anhad to promote communal harmony and justice.
In December 2015 the National Human Rights Commission issued a show cause notice to the Delhi government asking why monetary relief of Rs 5 lakh should not be paid to Aamir. It described him as a 'victim' whose youth was destroyed due to 'wrongful confinement for 14 years as a terrorist'; he 'lost his parents, his career, his hopes, dreams and everything…'
But I wonder if anything, anything can indeed compensate Aamir for all that he has lost.
Harsh Mander is convener, Aman Biradari. The views expressed are personal
Close Story
Personalise your news feed. Follow trending topics