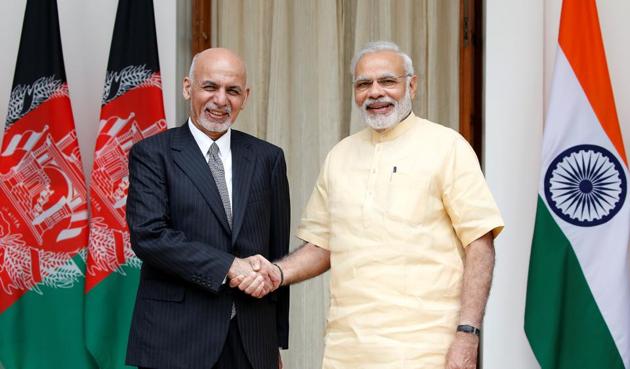 Heart of Asia summit: India, Afghanistan team to isolate Pakistan on terror
Kabul wants to fight an intransigent Islamabad with the backing of Washington and New Delhi. And the Narendra Modi government seems more than willing to lend a hand.
By Harsh V Pant
UPDATED ON DEC 02, 2016 07:42 PM IST
As Afghanistan president Ashraf Ghani arrives in India on Saturday for the Heart of Asia (HoA) ministerial conference in Amritsar, India's Afghan policy is becoming more robust. India has completed the delivery of the final Mi-24 gunship to the Afghan Air Force (AAF) as part of New Delhi's reconstruction effort with the delivery of the four gunships marking the first lethal weaponry supply to the Afghan National Defense and Security Forces (ANDSF).
With this move, India is signalling its defiance of those who have long argued that India should maintain a low profile in Afghanistan. On the sidelines of the UN general assembly's 71st annual session, India, the United States and Afghanistan had met to exchange views on the situation in Afghanistan and on "regional issues of mutual interest". The three underscored their shared interest in combating terrorism and advancing peace and security in the region.
Read | Modi is right to support Balochis, says Afghan ex-prez Karzai
India and the US decided to relaunch this trilateral engagement during the second India-US strategic and commercial dialogue in New Delhi in August. Though it was in existence even earlier, the US did not really put its weight behind the engagement for fear of annoying Pakistan. It was discontinued in 2013 largely because of this indifference.
The rejuvenation of this trilateral engagement comes at a time when India-Pakistan ties have hit their nadir and its diplomatic isolation is causing consternation in the Pakistani establishment. Pakistan's ties with Afghanistan are also at their worst ever. Speaking at the general assembly, Afghanistan's vice-president, Sarwar Danish, came down heavily on Pakistan for supporting terror groups. Slamming the country for providing safe havens to terrorists, he underlined Pakistan's "undeclared war" on its people by plotting "merciless" terror attacks and training and financing groups like the Taliban and the Haqqani network.
This is the line that India has long taken and after the Uri attack, Afghanistan's support for the Indian case has been categorical. It was the Afghan government which first suggested that South Asian states come together to boycott the South Asian Association for Regional Cooperation (Saarc) summit in Islamabad over Pakistan's role in "destabilising" the neighbourhood. And that's exactly what India decided to do.
Read | Heart of Asia meet: Bilateral thaw between India and Pakistan unlikely
There is also growing frustration in Washington at Pakistan's duplicitous role in South Asia. During his meeting with Pakistan's prime minister, outgoing US secretary of state John Kerry, widely seen as sympathetic to Pakistani concerns, made it clear that the onus is on Pakistan "to prevent all terrorists from using Pakistani territory as safe havens". More significant from the perspective of long-term US-Pakistan ties, is the Bill HR 6069 or the Pakistan State Sponsor of Terrorism Designation Act, introduced in the US Congress on September 20, aimed at designating Pakistan as a state sponsor of terror.
One of the biggest setbacks to US-Pakistan ties since the killing of Osama bin Laden in Abbottabad in a US raid was the US drone strike that killed Taliban leader Mullah Mansour on Pakistani soil. It underscored in Washington Islamabad's continuing unreliability in managing Afghanistan's security. Washington has in recent months recalibrated and taken an overtly pro-India stance on Afghanistan. It has refused to certify for the US Congress that Pakistan has taken adequate steps to fight the Haqqani network, leading to the cancellation of defence subsidies to Pakistan.
Read | Heritage Street in Amritsar gets ready for PM Modi's visit
In a remarkable shift in Washington's policy of asking New Delhi to refrain from military support to Kabul, it is now publicly asking India to help arm Afghan forces. This is in support of Afghan demands for more technical and military assistance from India. India is also considering requirements for spares and maintenance to restore the Soviet-era helicopters and transport aircraft. This will require coordination with Russia in another trilateral framework.
The Ghani government has come to recognise that Pakistan will not play ball in bringing stability to Afghanistan. The quadrilateral coordination group of Afghanistan, China, Pakistan and the US on Afghan peace and reconciliation failed to take the peace process further due to Pakistani intransigence. Now Kabul wants to fight it out with the backing of Washington and New Delhi. And the Narendra Modi government seems more than willing to lend a hand to a partner which is also facing hostility from Pakistan. This is in sync with its priorities at the moment to isolate Pakistan globally and regionally.
The renewed trilateral engagement will work only if there is a sustained momentum towards deliverable outcomes. The Pakistani military-intelligence apparatus will do its best to scupper this initiative and will lash out in response to its growing marginalisation. It will try to show its relevance by wreaking more havoc in Afghanistan and the region. The regional states should prepare for the worst even as they work towards a more coordinated response vis-à-vis Pakistan.
Read | Afghanistan defends India's surgical strikes in PoK
New Delhi and Kabul will be hoping that isolating Islamabad on terrorism at the HoA conference will allow them to send a categorical message to the international community as to where the real source of turmoil in South Asia actually lies. Whether they succeed in doing this given the Chinese presence is not very difficult to decipher.
Harsh V Pant is a distinguished fellow at Observer Research Foundation, New Delhi and professor of international relations, King's College London
The views expressed are personal
Close