Modi is right to support Balochis, says Afghan ex-prez Karzai
Narendra Modi is right to support the aspirations and other issues of the Balochistan people, said Hamid Karzai, former president of Afghanistan. Karzai, in Mumbai to present the annual Harmony Foundation prize, said "I endorse the prime minister's stand."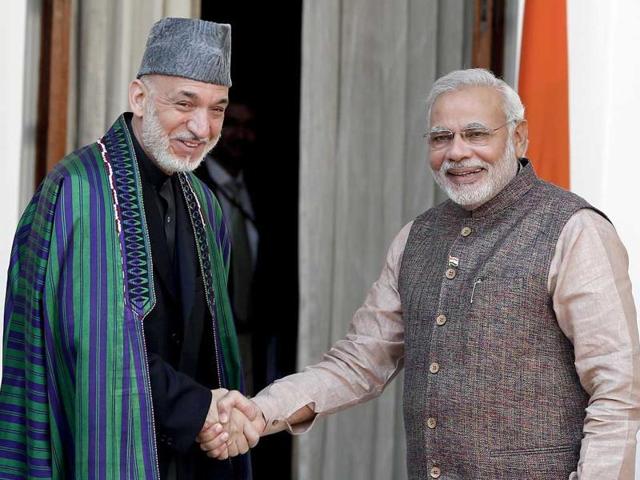 Published on Nov 20, 2016 04:37 PM IST
Hindustan Times |
, New Delhi
Pramit Pal Chaudhuri
Narendra Modi is right to support the aspirations and issues of the people of Balochistan, said Hamid Karzai, former president of Afghanistan.
"I endorse the prime minister's stand," Karzai, in Mumbai to present the annual Harmony Foundation prize, said
Karzai, speaking by phone, also said Modi "did the right thing by approaching Nawaz Sharif."
The Pakistani prime minister is a patriot and Islamabad has "good intentions" when it came to relations with India and Afghanistan, he said. "We are all neighbours so we cannot afford any other approach."
However, Karzai said, the leaders of Pakistan's military-intelligence establishment have to learn they cannot treat their neighbour "in the manner they are doing."
This establishment continues to use extremism as a tool in their relations with Afghanistan and towards India. "They must learn that there is a price for such a policy, including how such extremism is affecting their own country."
He praised India for providing helicopter gunships to the Afghan army last year, the first lethal military aid New Delhi has ever provided Kabul.
"It was a good step and we value this, along with the training of our officers," Karzai said. Asked what he would like to see from India, he said, "I would ask India to be a lot more forthcoming in raising Afghanistan's capacity to defend our country."
Karzai noted how his successor to the presidency, Ashraf Ghani, had tried the right thing by reaching out to Pakistan and trying to be a good neighbour.
The rapport he thought he had established, however, "did not give the results he wanted." Ghani's more recent hardline position toward Pakistan is "only what the people of Afghan expect from him as president," Karzai said.
He hoped the incoming Trump administration in the US would "look at the root causes of the present problem in Afghanistan" – namely, the safe havens, finance and ideological support that the Taliban were receiving from Pakistan. The war on terrorism, he warned, was not going well. "Extremism and radicalism are increasing."
He noted China was also concerned about extremism and radicalism, "having been a victim as well."
"China and Afghanistan developed close relations during my presidency," Karzai said, adding he continues to be consulted by Beijing.
"I tried to get them to see the Afghan problem from an Afghan perspective," Karzai explained. "I tried to get them to control, even stop, Pakistan and its use of extremism."
Close Story