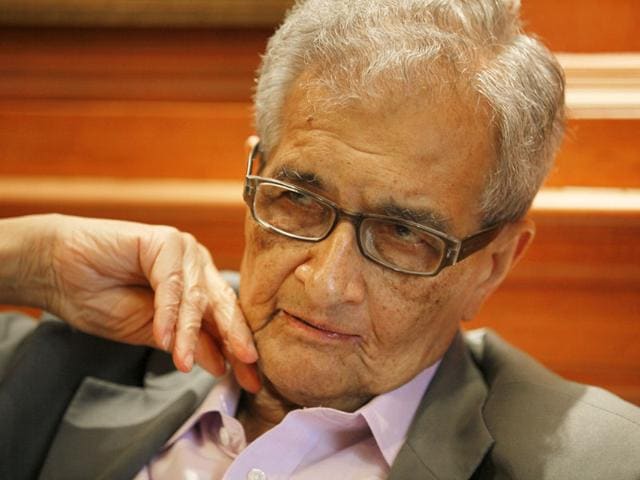 Hounding a giant: Twitter fanatics attack Amartya Sen
Nobel laureate Amartya Sen, one of the greatest living intellectuals and public thinkers of the country, is being slandered on Twitter for criticising the Narendra Modi-led government.
UPDATED ON JUL 08, 2015 11:34 PM IST
Nobel laureate Amartya Sen, one of the greatest living intellectuals and public thinkers of the country, is being slandered on Twitter for criticising the Narendra Modi-led government.

Unable to stomach Sen's recent criticism of the government, sympathisers have stepped up an all-out offensive against him. People who have perhaps never read a single book by Sen or pondered upon policy strategies suggested by him are out there on Twitter name-calling and ridiculing him.

In a recent interview with journalist Sagarika Ghose, Sen spoke about an "extraordinarily large" interference by the government in academia. On his slated step down as chancellor of Nalanda University on July 17, Sen said he was "ousted".

He further talked about how the incumbent government has been forcing changes in the leadership in educational organisations and bodies like the Tata Institute of Fundamental Research (TIFR), National Book Trust of India (NBT), Indian Council for Cultural Relations (ICCR) and Indian Council of Historical Research (ICHR).

In an interview to the Indian Express, published on Wednesday, Sen went on to criticise Modi more succinctly. He said, "I think he (Modi) has a wrong understanding of economic development. You can think of development as a process with human beings at the centre, or you can see it as a process with financial and industrial leadership (at the centre). He definitely belongs to the latter (school of thought)."

Modi-supporters on Twitter, of course, did not take all these lying down. While some wanted Sen killed, others wanted him to be investigated.

One user, tweeting under the handle @truevirathindu, wrote, "As an Indian citizen, I feel like killing @amartyasen by tearing him to pieces."
Another user, tweeting under the handle @aks_bhadauria wrote, "Shld nt Amartya sen be investigated fr his fin impropriety? learn to lv with wt u hv. U only wnt congichr to dvlp ur eco theory of loot [sic]."

Several others called Sen "hypocrite", "rascal" and "fraud".
The Harvard-educated BJP leader Subramanian Swamy, who has been at the centre of numerous controversies for supporting communal politics, wrote, "In the present Indian context he (Sen) is a nobody."
The anonymous Twitter handle Media Crooks – characterised by communal and anti-media tweets – posted a series of derogatory tweets like, "Amartya Sen also had freedom to recruit his cronies with scam-type salaries & he still failed and whines interference?"
When actor Shabana Azmi spoke up against Sen's criticism, she found herself at the receiving end of a barrage of ridicules.
An attack most unfortunate
Sen was only 10 years old when around 3 million people died in the Bengal famine of 1943, and he witnessed it first-hand. Around 40 years later he wrote a book, Poverty and Famines, to inquire as to why famines occur and why people starve to death.
In his book, Sen says famines can occur even when there is no decline in the production of food compared to the production in the concurrent years. Thus, people starve during famines not necessarily because there is not enough food available, but because their purchasing power declines. Plus, the distribution mechanism might be faulty.
Since then, Sen has written numerous books and essays on inequality, philosophy, history, and social justice with the most popular ones being The Argumentative Indian, Identity and Violence, and An Uncertain Glory: The Contradictions of Modern India.
His theories, research and writings, needless to say, have propelled the position of India in the international academic circuit and helped us understand the complex narrative of the country we inhabit. For instance, it was Sen who co-developed the United Nations' Human Development Index, perhaps the most authoritative international index of welfare comparisons between countries. Moreover, he has been a champion of democratic values and secular ideas.
An intellectual who has added so much to the social, political and economic understanding of India does not deserve such naïve commentary on social media platforms, just because he criticised the government.
But alas, Sen's contribution to the country is unlike that of those mercilessly attacking him. It is not a nationalism comprising protection of cows and building temples. His work is all about understanding the problems Indians, especially the poor and marginalised, face.
If the learned commentators knew so much about inconsistencies in the functioning of the Nalanda University, then why did they not speak up till now?
Derogatory public comments on the internet on Sen are most unfortunate. Accusing him of nepotism or mismanagement of funds as the head of the Nalanda body without any documented evidence, and making the abuse-filled hashtags a top Twitter trend is simply unacceptable.
(The views expressed are personal. He tweets as
)
Close