Kokrajhar attack: Centre's peace policy comes under cloud
Aug 06, 2016 12:59 AM IST
The Narendra Modi government's stated policy on combating terror has been one of 'zero tolerance.' Whether this comes into application in Assam after Friday's attack remains to be seen.
The quiet in Assam's Bodo heartland was shattered on Friday with rebels launching a daylight attack at a weekly roadside market at Balajan, just outside the district town of Kokrajhar, killing 13 civilians and injuring 16 others.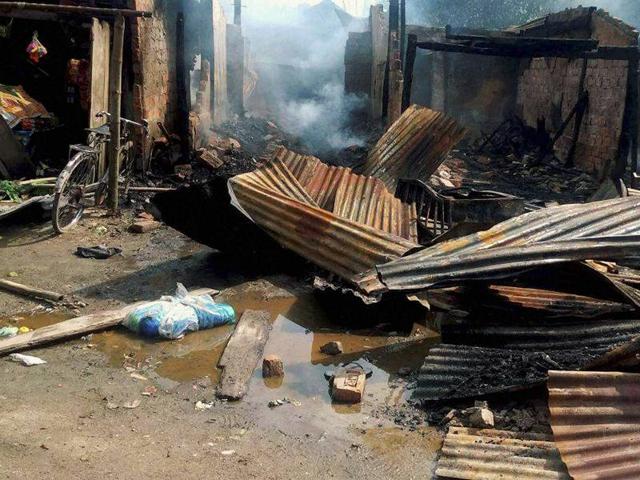 The Assam Police was quick to say the rogue Songbijit faction of the National Democratic Front of Bodoland (NDFB-S) was behind the assault.
No one is surprised at fingers being pointed at the NDFB-S because the outfit had carried out several murderous raids in the past, but the question today is whether it did it so alone or whether there were other rebel groups and terror elements providing its cadres assistance.
The deceased include seven Bodos, and, perhaps, therefore, the question has cropped up as to whether the NDFB-S could indulge in an attack on people whose interests it seeks to protect. But, the NDFB-S, like a few other rebel outfits in the region like the Garo National Liberation Army (GNLA) in Meghalaya, has degenerated into a pure terror group, killing unarmed civilians and indulging in kidnapping for ransom.
The timing, too, is critical. Independence Day is round the corner and it has been a ritual among insurgent groups in the Northeast to step up attacks ahead of key days in the national calendar or call boycott of all functions associated with the occasion.
This is the first insurgent attack in Assam after the BJP-led government of Sarbananda Sonowal assumed office in May.
One has to see whether the new government's counter-insurgency strategy will be any different from the previous Congress dispensation. Most importantly, the Narendra Modi government's stated policy on combating terror has been one of 'zero tolerance.'
Whether this comes into application in Assam after Friday's attack remains to be seen.
Chief minister Sonowal said that a clear directive has been issued to the security establishment to deal with the insurgents with a firm hand. This should not turn out to be another routine call.
The Centre's peace policy has also come under a cloud. Already, New Delhi is engaged in peace talks with two factions of the NDFB, one of them headed by Ranjan Daimary.
This despite Daimary himself being accused by the security establishment of involvement in the October 2008 serial blasts in Assam that had killed 100 people.
Now, the NDFB-S, the key suspect in Friday's raid, was involved in the 2014 Christmas-eve serial attacks in Assam that killed more than 80 people.
Prior to this, 46 people were gunned down by the same outfit in Baksa and Kokrajhar districts in May 2014. Will New Delhi at some point in the future come forward to hold so-called peace talks with the NDFB-S as well?
Can there be more than one peace agreement with different factions of the same rebel group? Can the government not declare a moratorium on peace talks with newer rebel groups or factions while carrying the ongoing talks, like the one with the NSCN-IM, NDFB etc, to their logical conclusion? Militants need a safe staging area and logistical support. This is where the nations bordering northeast India becomes critical for them.
The Modi government's neighbourhood push is notable but commerce aside, New Delhi must also work out institutional mechanisms with Thimphu, Naypyidaw and Dhaka to deal with insurgents.
Can India work out an anti-terror strategy that transcends its borders and work together with the security establishments in Myanmar, Bangladesh and Bhutan? There has been cooperation on this front but one is talking of something with standard protocols in place.
(Wasbir Hussain is executive director of the Guwahati-based Centre for Development & Peace Studies, and a former member of the National Security Advisory Board. Views are personal.)