Mufti Sayeed didn't live to see the new chapter of Indo-Pak ties
Jan 15, 2016 01:25 AM IST
A new chapter could open in India's ties with Pakistan despite Pathankot. Mufti did not live to take advantage of it.
When, on the insistence of his daughter Mehbooba, Mufti Sayeed came out of eight years of political hibernation in 1999 to form the Peoples' Democratic Party, he did so with a clear-cut purpose. This was to restore lasting peace to Kashmir and end the political disempowerment of its people. He took up this challenge in the full knowledge of the long hard road that lay ahead. Three of the four wars that India and Pakistan had fought since 1947 had been over Kashmir. Mufti knew, therefore, that Kashmiris would not know real peace until India and Pakistan arrived at a settlement of the Kashmir issue. A key purpose of his new party was therefore to "persuade the Government of India to initiate an unconditional dialogue with Kashmiris for resolution of the Kashmir problem" .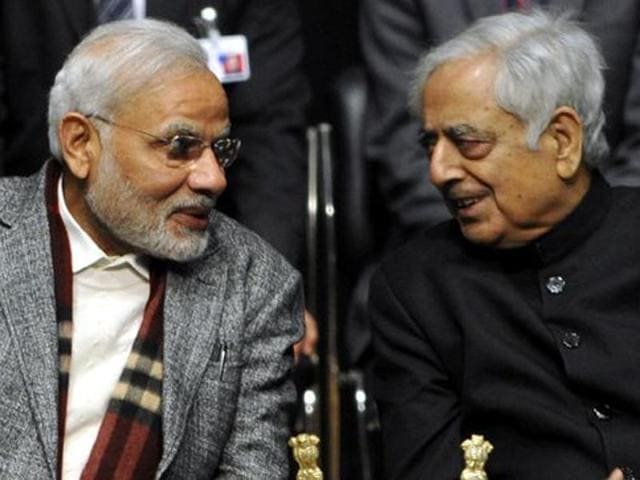 The security establishment in New Delhi greeted his announcement with undisguised hostility, labelling him a 'soft separatist' who absolutely could not be trusted. But Mufti was anything but a 'separatist'. He understood from the very beginning what the former foreign minister of Pakistan, Mian Mahmud Kasuri, had been at pains to emphasise in his memoirs, that no Pakistan government could have 'sold' an agreement on Kashmir to its people that the people of Kashmir did not accept. Thus the first requirement for peace in Kashmir was the restoration of a genuine democratically elected government in Kashmir that could be seen by all to have the backing of the majority of the Kashmiris.
In hindsight one can see how closely Mufti and then Prime Minister Atal Bihari Vajpayee must have worked in the five years that followed. It helps to understand Vajpayee's adamant insistence on a truly honest election in Kashmir in 2002. It explains why Vajpayee held out his hand of friendship to Pakistan despite the Kargil war, and did so from Srinagar.
In Dr Manmohan Singh, Mufti found a prime minister who was if anything even more keen than Vajpayee to end the dispute with Pakistan. His crowning moment came when he presided over the opening of the Srinagar-Muzaffarabad road at the Kaman post bridge over the Jhelum in April 2005. The memory of his face, suffused with pride and contentment as 10,000 Kashmiris crowded the slopes on the other side in their best clothes to watch the event, remains etched on my memory today.
Mufti would have realised his dream in 2008 had the Amarnath land scam, with its curfews, crackdowns, and killings not erupted that summer. In October the state would have held its second free and fair election since the end of the militancy, the turnout in the Valley would not have been 30% but close to the 70% of last year, the PDP would almost certainly have come back to power, and Kashmir's history would not have taken the grim turn it took in the next six years.
There would have been no stone throwing; no mowing down of unarmed youth; no filling of the jails with a new generation of 'stone throwers' ripe for training into the next crop of freedom fighters. Afzal Guru would almost certainly not have been hanged in 2013. By now the terror and repression of the 1990s would have become a distant memory for all but the families of the deceased. Instead Kashmir is once more a seething cauldron of disaffection and despair.
A lesser man would have been crushed by disappointment: so no one would have blamed Mufti if he had refused to come back into the fray in December 2014. But the desire to complete what he had so nearly achieved nine years earlier persisted. Had the PDP won 35 seats in the Valley, as most people had expected it to, he might have been able to pick up the threads more or less where he had dropped them in 2008, and sought a coalition with the Congress and some independents. But with 28 seats, only two more than the BJP, and a yawning rift between aggressively Hindu Jammu and radicalising Kashmir, he found this option closed.
To remain a single state Jammu and Kashmir had to work together. And to attain lasting peace in Kashmir Mufti had to get the government of Narendra Modi to reach out to Pakistan once more. Mufti could do neither without forming a working relationship with the BJP both in Kashmir and in New Delhi. With immense courage, knowing full well how he would be vilified by his detractors, that is what he set out to do.
The last 10 months of his life must have been the most difficult Mufti ever faced. For Modi proved not to be a Vajpayee, and the BJP proved not to be another Congress. Within weeks of signing the Agenda for Alliance, New Delhi went back on each and every commitment it had made to the PDP in it. Mufti's attempt to remind Pakistan that by not attempting to disrupt the elections Pakistan had made itself a party to its results, was immediately misrepresented as treachery by many people. His attempt to apply a healing touch in Kashmir, as he had done in 2002, also went awry because bitterness had sunk too deep into sections of the radicalised youth in Kashmir, who had been facing unrelenting police terror since 2008.
But Mufti did establish good working relations with the BJP in Jammu in a remarkably short time and, as Modi's unexpected stopover in Islamabad on his way back from Moscow showed, his faith in the moderating power of Indian pluralism was not entirely misplaced. A new chapter could well open in India's relationship with Pakistan despite the Pathankot outrage. Mufti did not live to see, and take advantage of it. That is the legacy he has bestowed to his beloved daughter Mehbooba.
Prem Shankar Jha is a senior political commentator. The views expressed are personal.