O Trump! Keep Jerusalem out of your politics
His statement might win him the applause among sections of Jews but it does little to furthering peace in West Asia, especially the Levant — and that's not a good sign of a world leader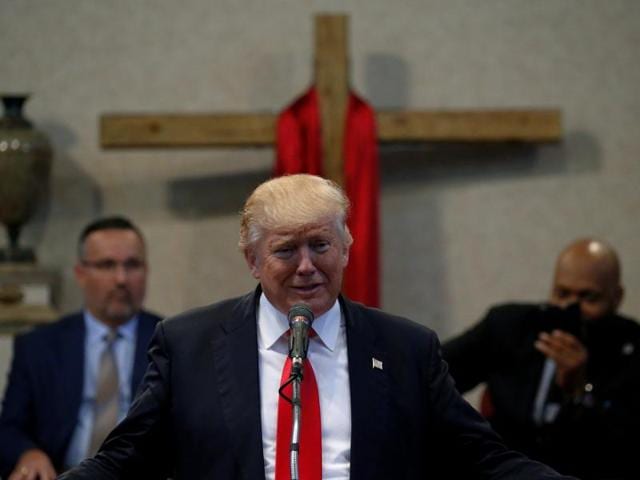 Published on Sep 26, 2016 04:48 PM IST
Trust Donald Trump to stir up a hornet's nest. On Sunday, the Republican presidential candidate met Israel's Prime Minister Benjamin Netanyahu at Trump Towers in New York and assured him that a Trump administration would recognise Jerusalem as the capital of Israel.
This adds to yet another of Trump's assurances, along with his plans for a "wall with Mexico" and "ban on Muslims". But unlike his previous suggestions, where absurdity outshines reason, here, in proposing to ratify Jerusalem as Israel's capital, Trump is touching a raw nerve.
Declaring Jerusalem as Israel's capital is problematic on many counts.
Read | 'A Republican president will tear up Iran deal'
Jerusalem has been the centre of the Israel-Palestine crisis for more than six decades with both claiming the city (or parts of the city) as their capital. Israel calls undivided Jerusalem its capital, with currently all important government offices and the Knesset situated in the city. Israeli government officials speak of Jerusalem as the capital, including East Jerusalem which has been occupied by Israeli forces since the 1967 six-day war. Tel Aviv for many Israeli officials is the "administrative capital".
On the other hand, Palestine proposes to establish East Jerusalem as its capital of a state comprising the West Bank and Gaza.
Read | Will boycotting Israel solve the Palestinian conflict?
"Trump's statement will only fuel more controversy that Washington is supporting Israel's illegal occupation, and this will enrage the Muslim world and all those who support the Palestinian cause," says Aftab Kamal Pasha, professor, Centre for West Asian Studies, JNU, Delhi.
That Jerusalem becoming the capital of Israel could create tension in the region is a fact that the United Nations acknowledged in 1947. This was why according to the United Nations General Assembly Resolution 181 Jerusalem was to be administered by an international regime. It is a different story that the proposal fell through and after several wars, today, Israel controls the city.
Read | Gaza conflict: It's not a 'waste of time', Mr Netanyahu
Jerusalem is a centre of worship for the Jews, Muslims and Christians. In addition to Israel and Palestine, in the past Jordan has also stakes its claim over parts of the city.
The US is Israel's strongest ally but Washington has always refrained from officially endorsing Israel's claim over Jerusalem. It would be counter-productive if the administration in Washington were to not take into account the sentiments of West Asian nations before taking such a step.
Declaring Jerusalem as the capital would also upset efforts to establish peace between Israel and Palestine. Netanyahu has time and again stressed on the need for a peaceful resolution of the crisis — Trump's statement goes against that.
Read | An India-Iran-Israel alliance could be Modi's legacy
Most importantly, if a Trump administration were to acknowledge undivided Jerusalem as Israel's capital, it would go against the existing UNSC resolutions, especially resolution 476 and 478.
But these nuances are beyond Trump.
His statement might win him support among sections of Jews but it does little to furthering peace in West Asia, especially the Levant, and that's not a good sign of a world leader.
@vijucherian
Close Story