Sasikala's conviction shows that those who come to serve should not serve themselves
Today's Supreme Court judgment is another wake up call to all those who aspire to a public career but instead turn it into a tool for their self-aggrandisement, amass wealth making a mockery of public service. Today's verdict is a reset button reaffirming the fundamentals of public life — that service ought to be the only motto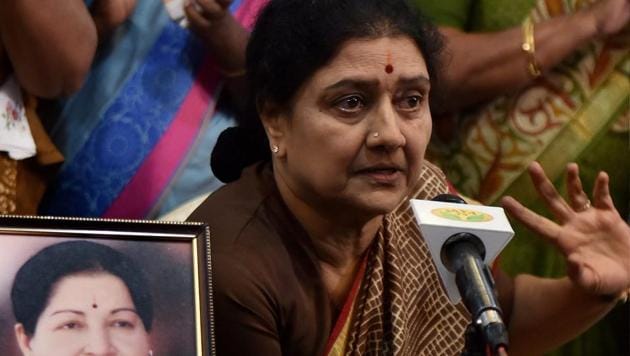 Updated on Feb 14, 2017 03:54 PM IST
"Justice shall ultimately prevail," wrote poet Subramanya Bharathi. He has been proven right today. After 21 years the country's highest court has upheld the principle that those who come to serve should serve others and not themselves.
Today's Supreme Court judgment is another wake up call to all those who aspire to a public career but instead turn it into a tool for their self-aggrandisement, amass wealth making a mockery of public service. Today's verdict is a reset button reaffirming the fundamentals of public life — that service ought to be the only motto. We ought to thank the apex court again for doing its bit to instil the fear of god or justice in our mostly selfish breed of politicians and leaders.
In a trendsetting judgment in 2013 the court laid down that MP/MLAs will be disqualified immediately on conviction in a serious offence and sentenced to two or more years imprisonment. The following year, in September, J Jayalalithaa stepped down as a sessions judge sentenced her to four years in the disproportionate assets case. She returned as chief minister after a single judge of the Karnataka high court overturned the judgment in May 2015 dealing a serious blow to justice. The Supreme Court has removed that blemish today.
Regretfully, in the last decades, India's public life has been on a slippery slope. Corrupt politicians, public servants and even judicial officials have come to be accepted as a way of life. No one is anymore surprised if MLAs and MPs and elected officials are alleged of corrupt practices or of enriching themselves. In fact many of us expect them to be so. Those who are honest, modest, accessible and service-minded are an exception. Many even consider them weird. Selflessness and service mindedness are no more the jargon of public discourse or lexicon. Instead, social mobility has become the mantra and Indians remain fatalists true to their conditioning — leaving everything to karma.
Read | Sasikala DA case: Palaniswami is AIADMK legislature party leader, Panneerselvam expelled from party
As early as 2002 the Supreme Court asked that candidates among others to furnish details of their and their family's assets. Sadly, even those who have had no need for such wealth change when they reach the dizzying heights of power. The late Jayalalithaa was a classic example. She and her 'sibling in spirit' VK Sasikala behaved as the neo-East India Company, except their fief was limited to one state — Tamil Nadu. If public life had begun degenerating soon after Independence the duo's arrival accelerated the rot and Tamil Nadu was in a free fall and was in the news for all the wrong reasons.
Much was expected of Jayalalithaa's pharaoh-like status, charisma, intelligence and the fact that she did not have a family of her own. She could have transformed the state easily making it the most prosperous. Instead, thanks to her and her sister in spirit, it soon ranked first in corruption.
Read | J Jayalalithaa: A political icon like none
Today the Supreme Court's decision has laid thread bare our own morals and values — Jayalalithaa was buried with all State honours. Yes. She was the chief minister when she died. We did not pause to consider that the nation's flag was on the woman whose morality and honesty was still in the balance. Partly our slow judicial system is to blame. But we should also hang our heads in shame for the words of eulogy and praise that we heaped on her — partly in the tradition that no ill should be spoken of the departed but also because our bar is so low and most of our leaders have become adept pretenders.
But when the AIADMK sought that the nation's highest honour should be bestowed on their late leader — what were they thinking? What are we thinking?
R Kannan is author of Anna: The Life and Times of CN Annadurai.
The views expressed are personal
Close Story