Tagore was every inch a liberal and suited to our times
Updated on May 07, 2016 08:49 PM IST
For Tagore it was humanity that was at the centre of things.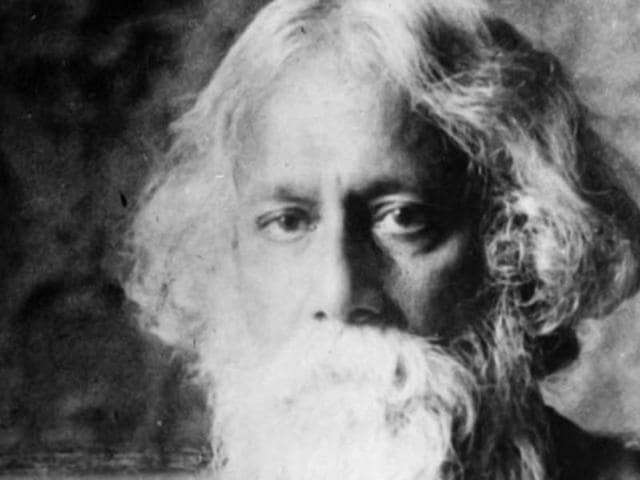 Today is Rabindranath Tagore's 155th birth anniversary, the 25th day of Baisakh (the first month of the Bengali calendar). Though Tagore was born on May 7, 1861, for some reason this day has never fallen on May 7 as far as I remember. Probably the anniversary is observed in accordance with the Bengali calendar because Tagore wrote a poem on his birthday (25th Baisakh), a strange thing for him to do because he had said elsewhere he never understood how that day was different from all other days of the year.
Still Tagore gave himself that birthday present in the form of a poem. And this gives somewhat of a glimpse into the man's beliefs. For him nothing was to be rejected, not even the subject of his birthday, if some meaning could be derived from it for people to live and breathe. For that if one were to live with some contradictions in the approach to life, he was comfortable with them. Contradictions, after all, are different ways of looking at the same thing. So what if such contradictions came from the same person over time? Doesn't 'one man in his time play many parts'?
Read | Tagore's novels, plays translated into 16 million Chinese characters
Tagore was a believer in god, and the belief expressed itself in many forms, including his abiding faith in humanity. He lived 80 years. And the output of the last 30 years (more particularly the last 20) was such that it seems almost like yesterday's in terms of thought. His Bengali prose still remained a bit florid, though shorn of its earlier artificiality. In the first decade of the 20th century, his ideas on society and nationalism were fashioned more by the demands of the day. Those were the heady days of the swadeshi movement in Bengal and the wellspring of nationalism was Hinduism and its symbolism. This gripped Tagore to an extent that he uncritically extolled all that was there in India's past and the practices of Hinduism. To show how smooth life moved in ancient India, Tagore wrote that the widow got on to the funeral pyre of the husband "effortlessly". To show how the caste system imparted orderliness to society, he praised the lower castes for accepting their subjugation unquestioningly. This was Tagore in 1905-06. The practice of Sati had been outlawed 75 years earlier and in different parts of India there were movements against the rigidities of the caste system. But within four years the change came and was evident in the novel Gora, in which two streams of thought are discernible. The first is 'Sanatan Hinduism', represented by Gora himself, and the other that sees the ways in which the religion did not work towards taking humanity towards higher levels. In fact it had 'insulted humanity'. Towards the end Gora undergoes a transformation and discovers a different India that is not trapped in his 'Sanatan Hinduism'. This was Tagore's first step towards universal humanism.
Read | Gulzar to teach for Tagore Chair, announces Panjab University
In Gora's passage from one worldview to another do we not see something contemporary that is being played out in terms much more crass? While praising Japan, Tagore castigated the erection of war memorials to glorify the country's military success against Korea. For him war was evil and should not be fought. In this, was he not one of the early pacifists who spoke in favour of world peace much before Bertrand Russell and Albert Einstein did? Behind his tremendous appreciation of Russia's socialist experiment lay the dark side of India — its poverty, disease, homelessness… When Swami Shraddhananda was killed by a Muslim fanatic, Tagore saw it as an outcome of the enormous gap that separated the Muslims from the Hindus and for this, he said, the Hindus were largely to blame. Along with Gandhi, he, too, believed this gap had to be closed if India was to evolve into a nation. And who could have performed this terror act, he asked. Only a person who can be unmoved by the cries of a mother or a widow. Is this thinking not as valid today as it was in 1927, when the piece was written?
Read | Jana Gana Mana reminiscent of British rule: Poet Gopal Das 'Neeraj'
His appreciation of Russia did not make Tagore a communist. It was just the thought that a system gave equal opportunities to all was what had enthralled him. And this was because the man was every inch a liberal, always eager to experiment with new things. He said it in the last line of his birthday poem: 'Chiro nutoner dilo dak, pochishe Baisakh' (it is the call of the eternal new, pochishe Baisakh).