The IS may be on its last legs, but the bigger enemy is radical Takfiri ideology
Updated on Sep 25, 2017 01:13 PM IST
Our national security experts have dug up Indian Islamic heritage and Sufi ideology to seek an ideological counter to prevent Muslim youth from getting attracted to the rabid IS narrative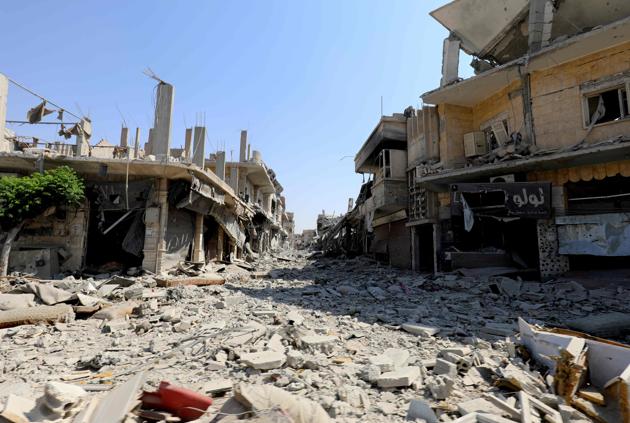 The so-called Islamic State may be on its last legs in the land of Euphrates and Tigris Rivers, but the larger battle to counter its fundamentalist Takfiri ideology that allows Muslims to kill their fellow brethren, looms ahead from Philippines to Bangladesh, the Af-Pak region and Africa.
Even if the best-case scenario of all IS fighters being neutralised in Iraq-Syria plays out, the Sunni group's radical ideology will be used both by religious and political leaders to attain power in terminally weak nation states. The worst- case scenario would be trained IS fighters taking their Islamic jihad to already radicalised state, joining hands with local extremists on ideological platform and seizing political control. The latter is a real-time scenario as Pakistan based terrorist group Lashkar-e-Tayyeba (LeT) — whose cadres have had deep links with first Al Qaida during Afghan war and now Islamic State — has already floated a political party and has plans to rule Islamabad through ballot forced by gun.
While many Islamic experts would argue that LeT and IS or Al Qaida are based on different Ahle-Hadith, Wahabbi and Salafi ideologies respectively, the terrorist groups have been known to mutate for tactical gains and also join hands with Shia extremists citing a larger enemy like US or Israel. A classic example would be how remnants of the Indian Mujahideen group, who followed Ahle-Hadith ideology, first mutated to Anwar-ul-Tauhid, linked to Salafist Al Qaida, in Afghanistan and then mutated to join Wahabi Daesh in Iraq and Syria.
There is now growing evidence to suggest that Shia terrorist groups based in Iran were in cahoots with Al Qaida leadership in the past decade as the larger enemy was US in Afghanistan. For India, the threat comes not only from Pakistan but also Bangladesh as opposition political parties, clerics and terrorists have joined hands to oust Bangladesh's Awami League party headed by Prime Minister Sheikh Hasina. With the spread of IS ideology in Bangladesh, Hasina is under serious threat and Indian intelligence believes there was an attempt on her life as she travelled to Hungary on November 27, 2016. The Boeing 777 plane made an unscheduled landing at Turkmenistan's Ashgabat airport with leakage in fuel and evidence of human intervention in critical parts of the aircraft. If one adds the belligerence of the Jamait-e-Islami, the rise of LeT and Jaish-e-Mohammed and the presence of militant Rohingyas, Bangladesh emerges as the new fundamentalist hotspot.
As the IS black flag is up for India from the Af-Pak region and Bangladesh, national security experts have dug up Indian Islamic heritage to seek an ideological counter to prevent Muslim youth from getting attracted to the rabid IS narrative. For a country with second largest Muslim population, India can take comfort that a minuscule 55 radicals have joined the so-called IS Caliphate in Syria-Iraq and in the Kunar province of Afghanistan. Another 100 Indian Sunni Muslims are under watch as they take the next step towards religious radicalisation. There is now convergence building up within the Indian Sunni Muslim clerics that the answer to "Al Wala Wal Bara" ideology of Takfiri groups like IS, Al Qaida, and LeT lies in Sufi roots of the Indian subcontinent. "Al Wala Wal Bara" means loyalty and disavowal. It essence is that you love all followers of Allah and hate all those who don't. The Indian counter is Sufi concept of "Wahdat-ul-Wajud" or unity of being. Its essence is that if you love the creator then you love all his manifestations.
Siddiq Hasan Khan, a 19th century Bhopal Muslim cleric credited for Ahle-Hadith movement, had challenged the ideological purity of Wahabis, just as Maulana Hussain Ahmed Madani of Deoband had questioned the foundation of Pakistan purely on religious grounds as he laid emphasis on culture/heritage of the subcontinent.
Muslim scholars argue that Indian youth cannot be attracted to so-called Caliphate since Babar declared himself a Mughal Emperor and cut off ties with Khalifa in Baghdad as he refused to call himself a mere Sultan.
Indian national security experts get solace from the fact that while Muhammed ibn Adal Wahab, the founder of ultra conservative Wahabi movement in Sunni Islam, could spread his ideology in West Asia from Saudi Arabia in 18th century, his contemporary Shah Walliullah of Delhi failed in his similar efforts during the Mughal regime.
While it is early days for proponents of "Wahdat-ul-Wajud", the concept is being hotly discussed as a counter to IS ideology from India to West Asia as it is the only viable alternative to "us versus them" option, practiced by followers of Abu Bakr Baghdadi in jihadi attacks in Europe, Africa, US, Russia, Bangladesh and Af-Pak region. Rather than get into the semantics of who is a terrorist or not, the time has come for nations to join hands to counter the scourge as the decimation of IS will see a concomitant rise of Al Qaida and parallel strengthening of Iran-sponsored Shia terrorist groups as a natural reaction.
While the US now recognises the threat faced from IS and Pak-based jihadists, Communist China will have to come to the same conclusion even if it comes the hard way in the restive Xinjiang province since there are many a freelance jihadists outside the control of Pakistan's deep state. Apart from the Af-Pak, Iraq-Syria crescent, the future radical battle zones lie in the poverty ridden, poorly governed yet mineral-rich African continent. The fundamental question is: Does religion radicalise people or people radicalise the religion? The answer is the latter and this needs to be stopped.
shishir.gupta@hindustantimes.com