Naga framework agreement remains an inside job between the signatories
Jul 04, 2016 11:45 AM IST
While the leaders of all Naga groups, even Khaplang, have eulogised Swu and spoken of the nobility of the Naga cause — including legitimate anger at genocide against the Naga people
Isak Chishi Swu was interred on July 2 at his village of Chishilimi, north of Kohima, the capital of Nagaland. Today, the weeklong mourning will formally end for the chairman of the Isak-Muivah faction of National Socialist Council of Nagalim, the largest Naga rebel group, and the largest rebel group in India after Communist Party of India (Maoist).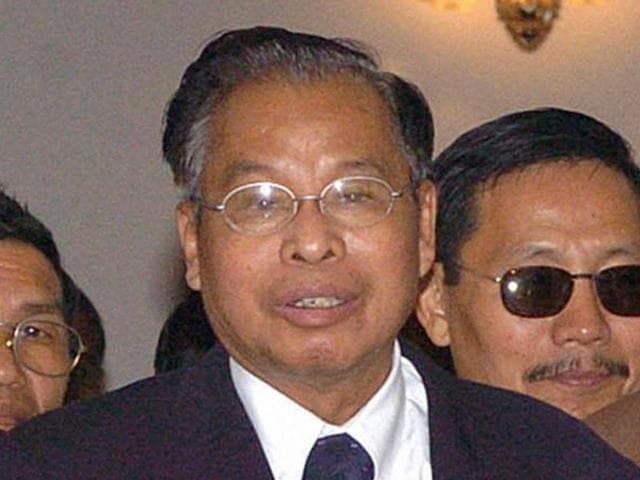 What happens now to the framework agreement for peace that this rebel organisation signed with the Government of India last August?
Several things, and all were in play even before Swu died in a New Delhi hospital on June 28, aged 87, for all purposes chaperoned by the government, with which NSCN (I-M) fought a bitter war till 1997. A ceasefire took hold that year.
Read: Naga leader Isak Chishi Swu dies in Delhi hospital
It has always been an uneasy ceasefire, and an uneasy year since the framework agreement was signed.
The faction chaired by Swu and his colleague and real power centre, Thuingaleng Muivah — the M in I-M — the Ato-kilonser, or prime minister to Swu's Yaruiwo, has continually trained, recruited and rearmed. Its headquarters at Camp Hebron — landmarks of this group that mixes Christianity, socialist ardour, and brute power have biblical references — hosts much of its army and administration, the Government of the People's Republic of Nagalim. It's a short drive southwest of Dimapur, Nagaland's commercial hub.
Read: Naga accord a 'framework agreement', Nagalim issue set aside
Flags here proclaim Nagalim: A light-blue background striped with red, yellow and green, and topped by a white six-pointed star of Bethlehem. Clocks proclaim Nagalim Time. Thus far it's Indian Standard Time, but Nagalim maps an idealistic geography that includes, besides Naga homelands in Myanmar, all of Nagaland, Naga homelands in vast areas of Manipur, and handsome slices of Arunachal Pradesh and Assam. Nagalim remains on the agenda for negotiations.
From here NSCN (I-M) runs a parallel administration from across all Naga areas in India. Personnel intercede in development projects and elections. Such "national workers" monitor the flow of funds that Naga citizens — even government officials — and businesses operating in Nagaland contribute every month, quarter or year. It makes a mockery of the governments of India and Nagaland, and has co-existed because an uneasy peace with occasional skirmishing is seen as better than war.
Read: 'Oil block auction may hit Naga accord': Nagaland CM Zeliang
While Swu increasingly focused on prayer, Muivah focused on building and maintaining the organisation, and appointing loyalists to key posts. It's an organisation with an estimated 5,000 armed cadres, with some numbers in camps in Myanmar — preparatory ground in case the framework peace agreement heads south.
Because it could.
NSCN (I-M) is only one faction. There are breakaways of the original NSCN formed in 1980, and several breakaways of the original NSCN (I-M), besides pale shadows of organisations like the once-overarching Naga National Council led by Angami Zapu Phizo. (That iconic leader in various degrees helmed Naga nationalist interests from 1929 till his death in 1990.)
These factions are in various stages of ceasefire and neutrality with government of India, but are not signatories to NSCN (I-M)'s August 2015 agreement. Certainly not the K or SS Khaplang faction of NSCN — die-hard enemies of I-M — which broke away from a 14-year ceasefire with the government in March 2015. Based in Myanmar, Khaplang read the wind drifting I-M's way and opted to secure his base in Myanmar while still foraying into Nagaland. Till it broke ceasefire, NSCN (K) like all other groups maintained camps designated by government of India. All groups attempt to strenuously mirror the command and control structure of NSCN (I-M). Imagine this crossfire of administration.
Read: Nagaland's troubled timeline: Naga club to peace accord
While the leaders of all groups, even Khaplang, have eulogised Swu and spoken of the nobility of the Naga cause — including legitimate anger at genocide against the Naga people sanctioned by India's government — the sobering truth is that there can be no lasting Naga solution without reconciliation among Naga factions. Or, they are neutralised as to be made toothless.
Leaders and cadres of these rebel groups also need to be 'mainstreamed' within the Naga structure variously in politics, administration, some in paramilitaries, others pensioned off or provided seed money to fund businesses, and younger cadres provided retraining or education. A gesture has been made. On June 15, all legislators of Nagaland offered to resign en masse to pave that way.
The dynamics are further complicated by inevitable leadership struggles in all rebel structures. For instance, Muivah is 82. A power play within NSCN (I-M) has been the talk for at least two years. Disarray may provide plum pickings for India, but if a next-gen leader perceives greater power and influence in a state of continuing conflict, he will choose it.
Moreover, Nagalim is more than Naga perspectives. Take Manipur, particularly the perspective of plains-dwelling Meitei (the Nagas, Kukis and other tribes occupy the hills, 90% of the territory). Many Meitei leaders suspect that an ongoing hills-versus-plains stand-off is pure I-M, and underwritten by the Indian government. This feeling is sharpened by the fact that several I-M leaders, including Muivah, are of Naga tribes in Manipur, and could logically look to secure a power base here. This is plausible if seen through the complex lens of tribalism. Muivah is Tangkhul, a tribe with its homeland in Manipur's Ukhrul district. He is seen by many in Nagaland as an outsider. Swu, who was Sema (or Sumi), from ancestral lands in Zunheboto district in Nagaland, provided Muivah a veneer of acceptability that is now somewhat diminished.
Read: Naga peace accord shows 'arrogance' of Modi govt: Sonia
And finally, the framework agreement remains for all practical purposes an inside job between the signatories. The public and other players remain in the dark. In effect, there is little beyond two signatures and stated intentions to move forward. Nagaland's future, and that of much of its neighbourhood, depends on this rubble-strewn road where all travelers will need to behave like saints.
Sudeep Chakravarti is the author of several books, including Highway 39: Journeys through a Fractured Land, a commentator on issues related to conflict, a columnist, and consultant to think-tanks
He tweets at @chakraview
Exciting news! Mint is now on WhatsApp Channels
Subscribe today by clicking the link and stay updated with the latest financial insights!
Click here!