The National Museum: Gilded threads of gifting and looting
Updated on Jul 24, 2015 09:12 AM IST
Our National Museum should help visitors understand the histories of the objects on display as the Hermitage does.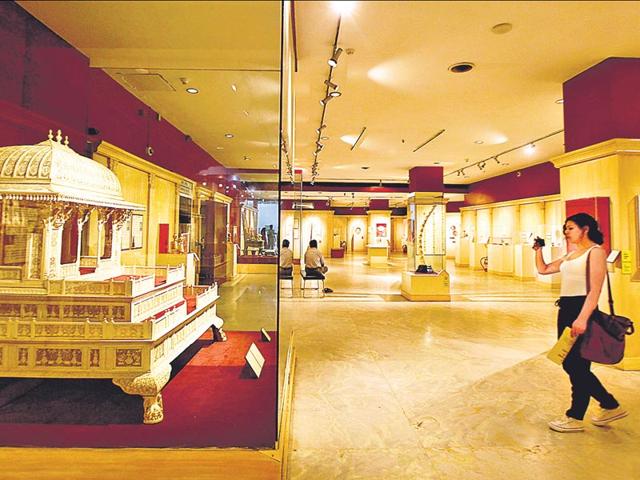 In the big Hermitage State Museum in St Petersburg, visitors do not pay much attention to the small collection of antiquities from India. This is unsurprising since the Hermitage's European treasures have been the subject of wonderful story-telling, about Catherine the Great and her intense urge to collect art. 'It is not love of art' that this 18th century empress of Russia is known to have said about her desire to possess and amass paintings. 'It is voracity. I am a glutton'. The rooms that house her collection and that of her successors are so bursting with camera-wielding visitors that it takes a while to search out the Indian collection among its humungous holdings.
India is showcased at the Hermitage mainly through sculpture from different regions and periods. There are some beautiful images here such as an 18th-century Rama from South India, an 8th-century Yaksha Gomukha with his beloved, an 11th century Avalokiteshwara from East India and a 10th-century lover with his consort. But more than these precious objects, it is something more mundane that strikes you. This is the descriptive label. This explains what the object is and how it became part of the Indian collection here.
These are essential detail: through them, the legacy of looting and gifting by which the museum collection was built becomes common knowledge. One lot of labels, for instance, reveals that the objects till 1945 were part of the collection of a museum in another European nation: the Museum fur Volkerkunde in Berlin (now known as the Ethnologisches Museum). The South Indian standing Rama is one of these, as are several others such as some disembodied fragments of the ancient stone railing of Bodh Gaya. Such antiquities were probably carried back by soldiers of the Red Army, who controlled Berlin in the summer of 1945. In retribution of the brutal destruction by the Germans of the Soviet Union's museums, palaces, churches and libraries, or because of a desire to plunder, Russian soldiers are known to have looted what came in their way. The trainload of trophies that reached back with them included this motley collection of Indian sculpture. How these curios had reached Germany in the first place can only be dug out from the archives there although, I suspect, that the museum's portals contain objects that came as loot and antiquarian hunting in the high noon of trading empires and colonial conquest.
India rid itself of its colonial masters in 1947. Antiquities, though, continued to migrate from Indian shores. Nearly 20 years after Independence, some of these reached Russia — as a gift of the Indian government. These too are displayed in the Hermitage. Among the gifted objects can be counted the Yaksha couple as also reliefs from Halebid and Mathura. Olga Deshpande, who curated the Indian collection, mentioned that these were presented in May 1966 by India's ambassador, Triloki Nath Kaul, This was a couple of months before the then prime minister, Indira Gandhi, visited the Soviet Union, and many years before such government gifts ceased to be made, after the enactment of the 1970s Antiquities and Art Treasures Act and Rules. This explains why Prime Minister Narendra Modi has presented specially commissioned reproductions — not originals — of old manuscripts and objects during state visits. Private gifts also added to the Indian objects in the Hermitage. In the same year that the Indian government gifted objects, a few others were presented by a grand niece of Rabindranath Tagore, Krishna Riboud (so surnamed because she married a Frenchman), and she continued to gift Indian antiquities to this museum till as recently as 1999.
The most wondrous Indian objects, though, are those which can best be described as loot that became presents. These were looted from India in the 18th century and subsequently gifted by the looter king to the Russian royals. This was the Persian conqueror Nadir Shah, who invaded north India in 1739 and carried back treasure that belonged to the Mughals. Soon afterwards, in 1741, he sent several of these as gifts — including a Shah Jahan ring, turban ornaments, and pitchers — to St Petersburg. Displayed in Hermitage's Gold Room, the objects are lavishly decorated with enamel and with diamonds, rubies and emeralds. Many of these gemstones came from different parts of the world through trade, the rubies being of Burmese origin and the emeralds of Colombian vintage. The emeralds may well have reached India through an intermediate Spanish connection, since Colombian emeralds reached Europe from Spain. Such fascinating threads — of trading, gifting and looting — have intersected in the making of the objects of this collection.
Should our own National Museum consider helping visitors understand similar histories? Much of what constitutes its Central Asia collection is a consequence of the work of Aurel Stein, whose archaeological looting was as thorough as his explorations. The northeast India collection, on the other hand, was largely acquired from the anthropologist Verrier Elwin, whose name does not figure at all in the gallery where these are displayed. I can't imagine better surroundings in Delhi than the National Museum for telling tales about how a museum is made, and it would help if the object labels recorded some of them.
(Nayanjot Lahiri Nayanjot Lahiri teaches at the University of Delhi The views expressed are personal)
Close Story
Personalise your news feed. Follow trending topics