The PMJAY scheme has already changed lives
Updated on Oct 22, 2018 01:19 PM IST
A month after the launch, more than 100,000 beneficiaries have been successfully treated and more than ₹150 crore released to the hospitals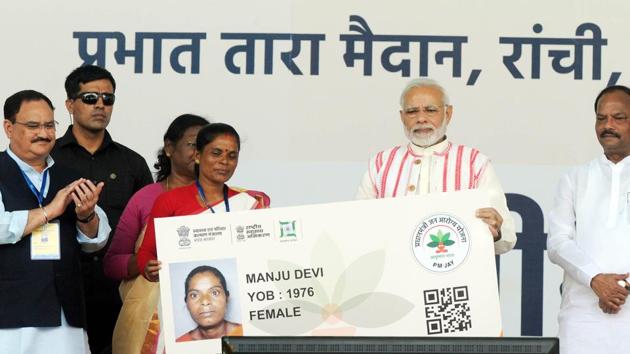 On August 15, Prime Minister Narendra Modi announced that India will end deprivation to quality and equitable health care by launching the Pradhan Mantri Jan Arogya Yojana (PMJAY) to provide health assurance to more than 550 million people and on September 23, the scheme was rolled out. Within six months of Cabinet approval to the roll out, 32 states and UTs joined the Ayushman Bharat movement, irrespective of their ideology, as a shining example of co-operative federalism. As of today, a month after the launch, more than 100,000 beneficiaries across regions, states and territories have been treated in more than 14,000 empanelled hospitals, and more than ₹150 crore released to the hospitals against claims.
The scheme has already changed lives across India. A 40-year-old from Bokaro, Jharkhand, is recovering from paralysis because of a spinal cord lesion, which has been treated. Years of pain ended for an old farmer from the Yavatmal district in Maharashtra after he underwent a free biliary-drainage procedure with stent replacement. A 20-year-old girl from Karimganj, Assam with burns was immediately treated at Silchar hospital. Increasing out-of-pocket expenditure on health pushes 60 million people below the poverty line because of catastrophic health spending, mostly on hospitalisation for secondary and tertiary treatment. These beneficiaries have been spared that. Disease hits the poor the hardest because they cannot afford treatment. By targeting the economically weaker sections, PMJAY has begun filling this gap.
Around 40% of the country's population now get cashless treatment at any public or empanelled private hospital, with the coverage larger than the populations of 27 nations of the European Union put together, or the combined population of the United States, Canada and Mexico. The benefit package of ₹5 lakh per family on a floater basis is close to a 17-time jump over the erstwhile Rashtriya Swasthya Bima Yojna (RSBY) and includes most kinds of hospitalisation across 23 specialties through 1,390 packages, including an 'unspecified package' category that offers the flexibility to include procedures or treatments not included in the approved list of packages.

PMJAY is an entitlement-based scheme with everyone on the deprivation list of the Socio Economic and Caste Census 2011 being eligible from the day of the launch. They do not have to stand in any queue for registration or fill any form for enrolment. The government is contemplating legal action against people posting fake advertisements and messages asking people to share their contact details or deposit money for enrolment. Since many of the beneficiaries are marginalised, the entitlement approach brings with it the unique challenge of reaching and informing each beneficiary of his or her eligibility. The Ayushman Bharat Divas on April 30 to identify and inform the eligible beneficiaries was a start and, since then, nearly 90% of the eligible families have been reached with personalised letters with a family card and QR code from Prime Minister Modi. Beneficiaries can also seek information on the toll-free numbers 14555/1800-111-565 or go online to mera.pmjay.gov.in to confirm their eligibility.
One of its unique features is portability. Any eligible beneficiary of any state can seek treatment in any of the empanelled hospitals in any state. So if an Ayushman Bharat beneficiary from Uttar Pradesh or West Bengal falls sick in Maharashtra, he or she can avail hospitalisation free in any of the empanelled hospitals in Maharashtra. The whole experience is seamless, cashless and paperless, riding over a strong IT system that covers beneficiary identification, hospital empanelment and hospital transaction management. Prominent private sector players are expanding facilities in Tier-2 cities to democratise the reach of health facilities. Increased access is also benefiting the pharmaceutical sector and other ancillary industries linked to health care.
The National Health Policy 2017 commits to raise the percentage spending of GDP on public health to 2.5% and the PMJAY is a major step in the direction. This is just the beginning as India moves closer to Prime Minister Modi's vision of Universal Health Coverage that offers quality health care services to all, irrespective of age, gender or the number of family members, while covering all pre-existing diseases.
JP Nadda is Union minister of health and family welfare
The views expressed are personal
Personalise your news feed. Follow trending topics