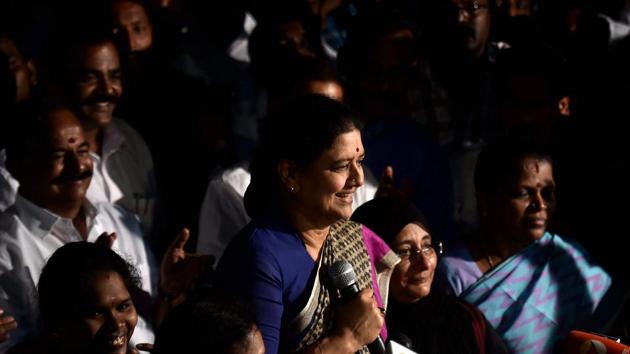 The Tamil Nadu governor should immediately appoint K Palaniswami as CM
India is ranked low in the rule of law global index but today's judgments of Justices PC Ghosh and Amitava Roy will restore people's faith in the majesty of law
By Faizan Mustafa
UPDATED ON FEB 14, 2017 10:53 PM IST
India is ranked low in the rule of law global index but today's judgments of Justices PC Ghosh and Amitava Roy will restore people's faith in the majesty of law. The two have overturned the May 11, 2015, judgment of the Karnataka High Court authored by Justice CR Kumaraswamy. The highest court has restored the conviction order of the trial court dated September 29, 2014.
Due to the high-profile nature of the case, appeals were quickly disposed off. But the original case dates back to 1996 when the DMK government after coming to power filed case against the former AIADMK chief minister J Jayalalithaa for having disproportionate assets to the tune of Rs 66,44,73,573 crore. Thus it is indeed the case of justice delayed but not of justice denied. Due to long delay, the main accused became chief minister thrice and Sasikala was able to make money because of Jayalalithaa but she is the one who will eventually have to pay a much bigger price.
Read: Sasikala DA case: The governor should immediately appoint K Palanisamy CM
BJP leader Subramanian Swamy was leading this battle against corruption. Why he has remained silent about the corruption of BJP leaders such as BS Yeddyurappa is not clear. Swamy relied on the Rajya Sabha replies to demonstrate that from zero income in 1989-90, J Jayalalithaa had amassed Rs 38.21 crore by 1995 though officially as CM she was drawing just the salary of Rs 1 per month. Moreover from her declaration of assets of Rs 1.89 crore in 1990-91, her assets had increased by 21 times in just five years to Rs 38.21 crore and thus these assets were clearly disproportionate to her known sources of income
But the former Tamil Nadu CM J Jayalalithaa's close friend Sasikala, who was wrongfully denied the swearing in as CM by the politically motivated governor, was accused number two in this case. Her husband --- Natarajan --- was small government official. After her conviction and jail term of four years, her political journey too had come to an end as she cannot contest any elections for a further period of six years. It is too long a time for anyone to make a comeback.
Read: Sasikala's conviction shows that those who come to serve should not serve themselves
In 2002 cases were transferred to Karnataka as the main accused J Jayalalithaa was yet again CM. The Supreme Copurt while transferring the matter to the adjoining state did not accept the contention of political vendetta being the primary aim of the motivated case.
Sasikala too had number of properties including Jaya Publications and JJ TV Pvt. Ltd. The charge against her was that she actively aided Jayalalithaa. Sasikala had 32 enterprises in her name. Sasikala's main defence was that she had collected Rs 14.30 crore under a scheme from public and had disclosed all her properties and assets to the income-tax department. She had also asserted that she is not related to properties mentioned by the prosecution. She had bravely answered as many as 1,032 questions put her during trial.
The high court judge in his 918-page order relying on the 1977 Supreme Court order in the Krishnanand Agnihotri case acquitted J Jayalaithaa and three others wherein the apex court had held that for conviction in the disproportionate case, it is necessary that assets acquired should be more than 10% of the known sources of income.
The high court also noted that Rs 18 crore, which had been taken as loan, cannot be shown as income. The high court valued the assets as Rs 37,59,62,466 crore instead of Rs 66 crore and calculated the income as Rs 34,76,65,654 to reach the finding that disproportionate assets are just Rs 2,82,36,812 crore, which in percentage comes to meagre 8.12%.
The Supreme Court in its 570-page order has not accepted this logic and has restored the decision of the lower court. The court held that Sasikala was closely related to J Jayalalithaa and so the conspiracy has been proved.
The governor should now immediately appoint the new leader K Palanisamy CM as he has support of 120 legislators.
Faizan Mustafa is vice-chancellor, NALSAR, University of Law
The views expressed are personal
Close