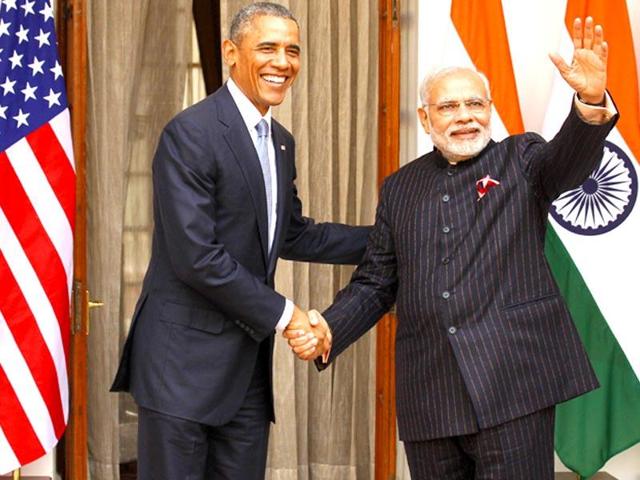 US and India are closer than ever before
Modi is likely to use his forthcoming US visit to address the issue of free movement of IT professionals, showcase the Make in India campaign and promise a sustained focus on reforms
By Mukesh Aghi
UPDATED ON MAY 18, 2016 01:21 AM IST
When Prime Minister Narendra Modi visited Washington DC in 2014, his mandate to govern could not have been stronger, having won the largest electoral victory in India since the early 1980s.
Two years into the job, Modi has amplified his profile at home while expanding his influence among international leaders, the Indian diaspora and his social media followers. During the forthcoming visit to Washington DC, Modi will address the joint US Congress, joining a league of select leaders such as Winston Churchill, Shimon Peres, Angela Merkel and A.B. Vajpayee who have done the same in the past.
This is also the first joint meeting by an Indian leader in a decade and the first in Paul D. Ryan's speakership — a reaffirmation of the fact that relations between the world's oldest democracy and the largest democracy are stronger, more significant and more critical for the global economy than ever before.
Read | Jaishankar heads to Washington to set stage for Modi's US visit
Since the Obama and Modi administrations signed a joint statement during Obama's visit to New Delhi in 2015, several bilateral meetings have taken place with an emphasis on cybersecurity, climate change and defence cooperation. In fact, the US holds more official dialogues with India than with any other country.
Running on a pro-development platform, Modi has been tasked with implementing economic reforms. Investors faced trepidation and uncertainty as they entered the Indian market because of the lack of consistency in implementation of policy frameworks. While different governments have carried on the reform agenda since 1991, Modi's systematic approach to dismantling State control of the economy has become a force to reckon with.
Read | This June, PM Modi may address joint session of the US Congress
Industry remains hopeful for the passage of the Goods and Services Tax (GST), land and labour reforms. The council is buoyed by passage of the bankruptcy Bill, where the BJP does not have a majority and where the Opposition have historically prevented the passage of other economic reforms.
Given these legislative challenges, Modi's administration has incrementally worked on the micro-level reforms to boost investor confidence. Despite the electoral defeat in Bihar, the PM did not stall the reform process and instead raised the FDI norms across 15 major sectors.
Read | Indian, US defence officials hold first maritime security dialogue
The problems in infrastructure and logistics sectors have been longstanding concerns for investors. However, the rate at which long-term projects in roads and railways are now being implemented has dramatically improved. Projects such as the Delhi-Mumbai and Amritsar-Kolkata dedicated freight corridors are predicted to reduce the time taken to transport goods cross country from 14 days to 14 hours. There are diverse investment opportunities to modernise the Indian Railways through assistance from multilateral agencies and joint ventures with states. In a major step toward offering a policy environment that is transparent, predictable and consistent, the governments of India and the US reached an agreement to resolve more than 100 pending transfer pricing cases.
The defence trade between the two countries has grown from a mere $200 million in 2000 to nearly $14 billion today. India and the US are more aligned than ever before on matters of defence cooperation, homeland security, joint training and cybersecurity. The recent introduction of the US-India Defence Cooperation in the US Senate and its companion Bill in the US House of Representatives elevates India as an important partner that can uphold security in Asia and around the world.
The reason behind these developments is clear —Modi's political platform tilts toward the US as a natural partner in the context of defence and security in a way that previous governments have not. He has made Make in India a centerpiece of his policy agenda, and building India's defence industrial base is central to this effort. India will need greater and higher investment to update its military and American defence firms are especially well-suited to this task.
Read | Foreign firms still struggle with red tape for doing business in India
The results of all these efforts are visible. Recently, India substituted China as the world's top destination for capital investments (an estimated $63 billion) with a number of projects announced across sectors such as oil, natural gas and renewable energy. In 2016-17, the US-India Business Council expects an additional inflow of $27 billion by at least 52 US companies. This uptick comes at a time when FDI is on a downward slide globally. Foreign Direct Investment from India to the US is also expected to grow in the future. There is solid interest by Indian investors in the power, steel, pharmaceutical and knowledge industries. This inflow of capital will expand the US economy across a wide variety of fields, creating jobs and bolstering economic growth in both countries.
The PM will likely use the joint meeting to address issues that have not been ironed out — and at times — could not been resolved by the Obama administration: The free movement of professionals — a critical issue for India's $150 billion IT industry. In his meetings with business leaders, a few topics will be of primary importance will be the Make in India campaign, doubling the rate at which jobs can be created for India's young demographic dividend and the promise of sustained focus on economic reforms.
Read | No intolerance, India continuing to attract FDI: Arun Jaitley
As the business community and the US Congress prepare to greet Modi, there is unprecedented bipartisan support that will give the PM the ability to deepen US-India relations in a way that will reverberate around the world.
While all eyes will be fixed on the promise that this relationship has forever held, we must remind ourselves that not all issues ---- trade-related or strategic ---- are easily resolved in democracies. But those who are vested in the relationship agree that the countries are closer than they have ever been to realising their mutual goals of creating a safe, prosperous world for our citizens.
Mukesh Aghi is president, US-India Business Council
The views expressed are personal
Close