Why India must ban highly hazardous pesticides
Anand Zachariah and Michael Eddleston
Mar 12, 2019 06:33 PM IST
The ban of HPP as a public health strategy can reduce deaths in the young and active working population to protect life and contribute to the health of the country.
Pesticide poisoning is the most common method of deliberate self-harm in India. The majority of deaths are due to ingestion of highly hazardous pesticides (HHP). The Government of India banned 18 HHPs in August 2018. Twelve are to be removed immediately; the remaining six will be done away with over a period of two years. The ban follows the 2015 Anupam Verma report that recommended the review of 27 pesticides by 2018. This ban is indeed a welcome step. However, there are 99 pesticides that are banned in other countries but still in extensive use in India.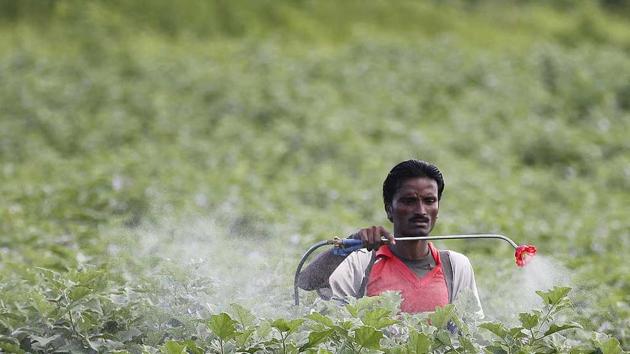 In 2017, activist Kavitha Kuruganti and others launched a PIL in the Supreme Court urging the government to ban HHPs banned in other countries. The government has responded that any negative consequences of pesticide use are due to misuse or indiscriminate use of such products by farmers. It also argued that some HHPs are still used in the high-income countries and that pesticide toxicology findings are location specific, meaning that not all HHPs need to be banned in India.
Stay tuned with breaking news on HT Channel on Facebook.
Join Now
Some high-income countries such as the US use many HHPs. However, in the US only 2% of the population is directly employed in agriculture and the sector is highly mechanised, reducing the contact of farmworkers and farming households with pesticides. This reduced contact between humans and pesticides in US agriculture allows the use of more HHPs. This is the reason for the continued registration of a few hazardous pesticides in the US and other industrialised countries.
In India,a vast number of households are dependent on agriculture. Most of these households are small-land holders, who perform farming without mechanisation. There are many manual operations in agriculture in India, including weeding, harvesting, and pesticide spraying that result in much greater direct contact between pesticides and farmers and labourers. The accidental exposure to pesticides of farmers is due to lack of education, affordable protective equipment, user regulation and enforcement and safe storage.
Recognising this situation across low and middle-income countries, the United Nations' International Code of Conduct on Pesticide Management states that the handling and application of such pesticides that require the use of personal protective equipment that is uncomfortable, expensive or not readily available should be avoided, especially in the case of small-scale users and farm workers in hot climates.
While decisions to use or ban a pesticide is location-specific, the findings from studies of toxicity of specific pesticides even from other settings are useful in assessments of the risks of pesticides to health by national regulatory agencies in India. For example, the USA Environmental Protection Agency's factsheet on monocrotophos reports that this pesticide has been shown to be highly toxic to birds, fish and mammals. They recommend that occupational use requires the wearing of respirators. These findings have resulted in monocrotophos being banned in the US and this is highly relevant to the Indian situation where it a common cause of pesticide poisoning and death.
Progressive judicial action has also been shown to rapidly reduce pesticide poisoning deaths. Endosulfan poisoning has long been a problem in India, with around 30% of poisoned patients dying. A legal case filed by endosulfan-affected communities led to a Supreme Court ban and virtual disappearance of endosulfan poisoning over the last five years. Bans of 15 pesticides by the state of Kerala in 2006 and 2011 has resulted in a remarkable 83% reduction in the number of pesticide suicides each year (from 1,934 in 1995 to 327 in 2015).
For these reasons we advocate the ban of HPP as a public health strategy to reduce deaths in the young and active working population to protect life and contribute to the health of the country.
Anand Zachariah is Professor of Medicine at Christian Medical College, Vellore. Michael Eddleston is professor of clinical toxicology and director, Centre for Pesticide Suicide Prevention, University of Edinburgh
The views expressed are personal