Art with a devotional twist: An exhibition on deities and festivals
Artist Ritu Gupta was inspired by festivals and prayers during her childhood. This is reflected in her works. Her latest exhibition, A Hue of Devotion, will exhibit devotional paintings.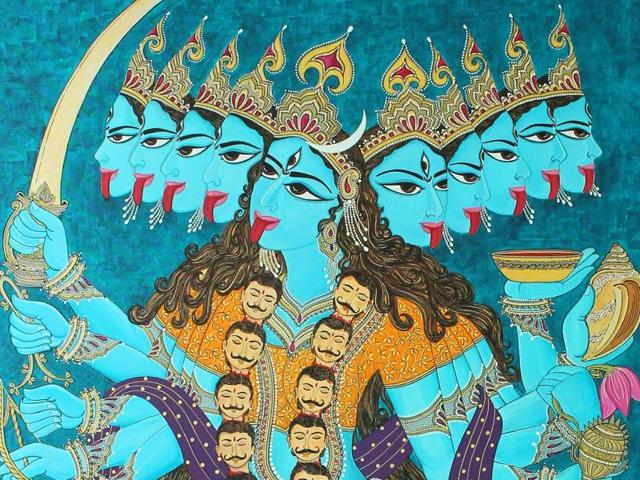 Published on Jul 29, 2016 05:49 PM IST
Festivals and prayers to deities are a part of every child's life when they're growing up. Drawing inspiration from her own childhood memories of these festivals, is artist Ritu Gupta whose latest painting exhibition A Hue of Devotion which will exhibit 50 devotional artworks.
Talking about her exhibition, Gupta says, "I have tried to use a wide palette of colours as I want people to get a positive feeling look at my work. The exhibition is titled A Hue of Devotion because there are 50 paintings that revolve around deities or symbols of deities. Some depictions in my paintings are the nine Goddesses of Navratras, tales on the love of Radha and Krishna, and symbols of deities such as the lotus, shankh or the conch, and bargat ka ped."
Read: Your job is to paint. It should start and end with art. What SH Raza believed
The artist has held several such exhibitions in the past, and some have revolved around Lord Ganesha, Radha and Krishna and Shree Yantra - ancient scriptures of knowledge and wisdom of India. She shares, "My works are a reflection of what I have seen from childhood. As kids, we grow up seeing gods and idols worshipped at festivals. I try to show that. I believe in making spiritual and meaningful art. It should be connected to culture and religion."
Fact File:
What: A Hue of Devotion
Where: India Habitat Centre, Lodhi Road
When: July 29 to August 3
Timings: 10am to 8pm
Nearest Metro Station: Jor Bagh on Yellow Line
Read: 33 masks at this Delhi exhibition are a window to Mexico's rich heritage
Close Story