Culture by the tracks: Make Delhi Metro your art stop
Exhibitions, bookshops, murals -- follow the art and culture trail of the Delhi Metro as you ride the trains and discover your city afresh.
art and culture
Updated: May 14, 2016 18:20 IST
Exhibitions, bookshops, murals — follow the art and culture trail of the Delhi Metro as you ride the trains and discover your city afresh

Take your eyes off your smartphone for a minute. Your city wants to hold a conversation with you and it doesn't want you to step into a museum or a gallery for that. Next time when you enter the prescription grey-and-chrome Delhi Metro stations, pause. Look around.
You may find the replica of a 10th century sculpture at Udyog Bhawan metro station while the art at Mandi House will reveal why Barakhamba Road is called that (yes, there was once a building with 12 pillars).
Through murals and lightboxes, art exhibitions and a museum, the city's favourite mode of transport — which ferries about 2.5 million passengers every day – is inviting you to take a peek at its culture and heritage. Bonus: there are bookshops too.
"The Delhi Metro is like a time machine. You may enter at Gurgaon or Lutyens' Delhi and when you exit at Chawri Bazaar, you are not just at a new station but in a different era," says Delhi Metro Rail Corporation (DMRC) director Anuj Dayal. "We have invited organisations such as Delhi Tourism, Sahitya Akademi and India Habitat Centre, among others, to develop Metro premises as a hub for promotion of art, culture, literature and tourism."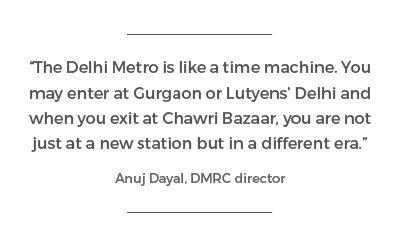 The concept itself has been adopted by mass rapid transit systems across the world with varying degrees of success. Naples in Italy is famed for its 'art stations' which display works of acclaimed names such as Anish Kapoor and Karim Rashid, while Moscow's subway boast of arched columns and romantic murals. Stockholm's Tunnelbana is often called the longest art exhibition in the world.
In Delhi, the tryst with art started in Phase I — the murals at Shahdara, Welcome Pul Bangash, Karol Bagh etc being the context — but the initiative has truly come into its own only recently. "We gave it a break after Phase I but started again with our art initiative around 2012. We have got a good response from commuters," says Dayal.
The Yellow line has emerged as the fulcrum of DMRC's art initiatives. Stations on the line offer space for exhibitions without hindering commuter flow.
This has also encouraged other stakeholders. Bindu Manchanda of INTACH, who has curated the Green Park exhibition, says, "Youngsters are not even aware of the fact that such beautiful monuments are a stone's throw from Hauz Khas Village market. Through our exhibition, we are encouraging them to move beyond the obvious." She takes pride in the fact that youngsters can now be seen standing in front of the heritage map of the area, planning their itinerary for the day.
Similar scenes can be seen at the Mandi House station. People stand and read the legends on the artwork which chronicle the area's journey from a sleepy village to a cultural hub.
The Jor Bagh metro station, a regular venue for exhibitions, currently has a show themed on the gardens in that area. Alka Pandey of India Habitat Centre, which curated the exhibition, calls it "art with public, art with a heart, art for a cause, art for the people." However, like all good things, they need to be cared for. Artist Shubhra Chaturvedi, whose art installations can be seen at Jantar Mantar and Central Secretariat stations, says maintenance is lacking in these initiatives. "For instance for our installation named Illusion at Central Secretariat, the glass broke and was never replaced. The lights were stolen but new ones were not put up."
So this weekend, check out the Yellow line for a glimpse into the city's heritage.

GREEN PARK
If you have done Qutub Minar and Humayun's Tomb, it's time you visited the royal tank of Hauz Khas or the medieval city of Siri. Curated by INTACH, this exhibition is a collection of photographs, line drawings and small installations depicting the area, its monuments and crafts.The exhibition brings to life the bustling spaces within the Hauz Khas and Shahpurjat precincts.
INA
The station has 58 panels of handicrafts and handlooms created by craftsmen across India – from Bihar's Mithila paintings, Tamil Nadu's Tanjore art to Banarasi brocade, Kanjeevaram saris and Phulkari embroidery. The murals and paintings were shortlisted by the Ministry of Textiles and created by National Award-winning craftsmen and painters.
UDYOG BHAWAN
A stone's throw from National Museum, this station has a museum replica corner. There's a first century statuette from Taxila, a 10th century Brahma-Saraswati figurine found in Mathura, among others. The display is a perfect hook to attract people to the museum. We just wish the displays weren't positioned so close to the Sulabh Shauchalya!
RACE COURSE ROAD
This station is home to a unique art gallery of craft maps, such as a shawl map of Srinagar, a map made entirely out of terracotta stars. There are 48 large-sized artistic craft maps covering almost every state: Chhattisgarh, Maharashtra, Tamil Nadu, Haryana and many others. The maps also give information about the haats, art hubs and festivals of each state.
PATEL CHOWK
From its genesis to the Metro becoming Delhi's favourite mode of transport, the Metro Museum documents every major milestone. Did you know it took 32 years from the drawing board to Phase I's rollout? While many metros in Europe, America and Japan have museums, Delhi has only one such museum in an operational Metro station.
KASHMERE GATE
Read as you travel! The National Book Trust (NBT) store (also unfortunately near a toilet) has titles in English, Hindi, Urdu and other Indian languages. NBT also publishes beautifully illustrated books for children. You can get a discount if you own a Metro card.
VISHWAVIDYALAYA
The Sahitya Akademi runs a lovely bookstore at this station with quality books by the best Indian writers in various Indian languages, including Manipuri, Sindhi, Bodo, Dogri, Santhali and even Sanskrit. It attracts both students and teachers who use the Metro to reach Delhi University's North Campus.
GOVINDPURI
Govindpuri Metro station has bold street art by Italian artist Agostino Lacuraci. A girl with long flowing hair, trees, tigers and more are now splashed across the station's exterior. It makes for a perfect background for selfies too!
JANPATH
Art installations here represent Jantar Mantar in sumptuous brown and silver life-size cut-outs. Crossed it a million times without stepping inside the 18th century observatory built by Maharaja Jai Singh II of Jaipur? Time to visit the 13 architectural astronomy instruments.

MANDI HOUSE
It was a sleepy village full of brick kilns when Britishers bought it at the princely sum of `57,000 from the Raja of Mandi. Today, it is a cultural hub. Art installations tell the history of the area with vintage photographs of the people who helped shape it, including India's first Prime Minister Jawaharlal Nehru opening Sapru House, actor Naseeruddin Shah in a 1973 production of Danton's Death and street theatre legend Safdar Hashmi.