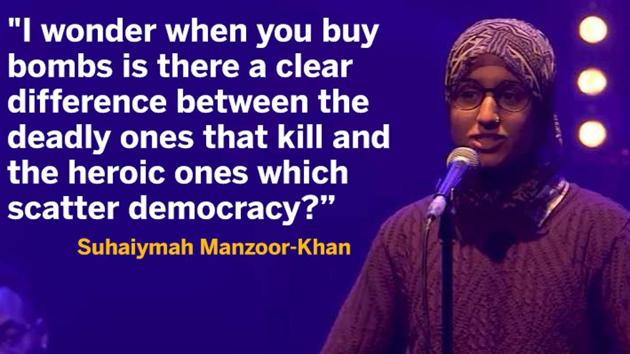 If I need to prove my humanity, I'm not the one who's inhuman: 22-yr-old crushes Islamophobia
A 22-year-old Muslim woman's poem crushing Islamophobia has gone viral.
UPDATED ON JUL 04, 2017 05:37 PM IST
A 22-year-old Muslim woman has found a powerful way to counter Islamophobia - through irony and poetry.
Transform, create, excite, agitate - seems to be the mantra behind this London University student's poem crushing Islamophobia.
Suhaiymah Manzoor-Khan, a third-generation Pakistani migrant to the UK, starts off by telling her audience that, "This will not be a 'Muslims are like us' poem."
The poem, 'This Is Not A Humanising Poem', posted by Roundhouse,a London-based charity, on Facebook has got over 1.3 million views and has been shared 21K times.
"I refuse to be respectable. Instead, love us when we are lazy, love us when we are poor... Love us high as kites, unemployed, joy riding, time wasting, failing at school, love us filthy. Without the right color passports, without the right sounding English," Manzoor-Khan says.
Manzoor-Khan, the second runner-up of the ninth Poetry Slam competition, writes and speaks about politics, race, gender, feminism, Islam, being visibly Muslim, Eurocentric academia, decolonising minds/bodies and more.
The poem throws strong questions at the audience - "Which days of the week might I count as liberal and which moments of forehead to the ground am I conservative? I wonder when you buy bombs is there a clear difference between the deadly ones that kill and the heroic ones which scatter democracy?"
'We don't have to be either Bad Muslims, or Good Muslims - that's not a reflection of our lives'
Q. What inspired you to write this poem?
Manzoor-Khan: After US President Donald Trump's elections, much of what I have written has been about fear and dehumanisation of Muslims globally. I wrote this poem after the recent London Bridge attack in the UK. There seemed to be only two responses to such attacks - either a tarnishing of all Muslims as terrorists and suspects, or, the inverse which is to say "hey, not all Muslims are bad look there's all these good ones who are kind, who protect us. I wanted to escape that dichotomy."
'Performance poetry makes you visible in a way you aren't in written word'
Q. What were your thoughts while penning down and performing 'This Is Not A Humanising Poem'?
Manzoor-Khan: Being up on a stage I know that people have certain expectations and preconceptions since I'm a Muslim woman wearing a hijab. I'm particularly interested in the voyeurism of audiences and very keen to push audiences to be honest with themselves and think about their own positionality in this room, their own expectations and why they like or don't like or expect to hear what they do.
Manzoor-Khan has received an overwhelming amount of kind feedback for her work. "I have also seen negative comments to my writing - the sort of everyday Islamophobia you can expect as a vocal Muslim woman in an increasingly narrowly-defined, racist, police-state such as Britain."
The poem has evoked tremendous response online.
Michelle Delpeche comments, "Congratulations for not apologising. You stood up and I stand with you!"
David Keble, a 68-year-old man, says, "I'm in tears! Thank you for a beautiful and moving poem."
Pat Walsh comments, "Respect such intelligent anger..too rare in poetry. Fantastic poem. Kill stereotyping. Cleanse racist conditioning".
'Women of colour often bear the burden of doing undervalued and unpaid labour,' says Khan's blog titled 'The Brown Hijabi'. A full scholarship student, she has written thought-provoking pieces on patriarchy, feminism, Islam, fear, privilege and racism among other things.
Suhaiymah Manzoor-Khan was born in Bradford, raised and state-schooled in Leeds and graduated from a history degree at Cambridge University.
The 22-year-old ends her poem with, "Is this radical? Am I radical? Because there's no where else left to exist now."
Close