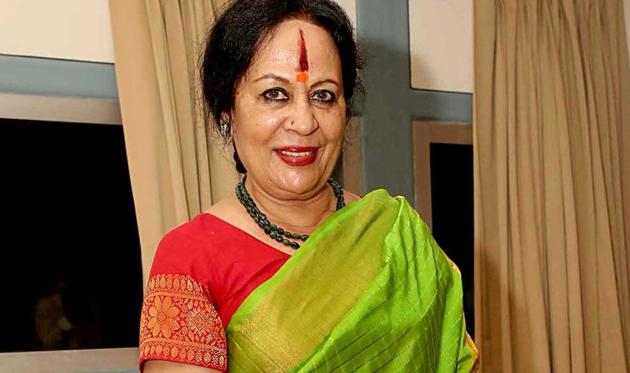 Sonal Mansingh on Rajya Sabha nomination: I didn't think if it should have come earlier
Bharatanatyam and Odissi exponent Sonal Mansingh — who has been nominated to the Rajya Sabha by the President of India — says art is one field where no amount of work is ever enough.
UPDATED ON JUL 19, 2018 05:40 PM IST
For this Padma Vibhushan awardee, who has been dedicated to the world of Indian classical arts for 58 years, it came as no surprise when the President of India nominated her to the Rajya Sabha. Bharatanatyam and Odissi exponent Sonal Mansingh recalls, "The news came on the 14th of July. I don't remember what my first reaction was, but it made me feel good and nice. I was certainly grateful to God, but didn't think if I deserved it or not or if it should have come earlier."
READ | RSS thinker Rakesh Sinha, Dalit leader Ram Shakal among four nominated as Rajya Sabha MPs
The 74-year-old was nominated along with three other prominent personalities namely RSS thinker, Rakesh Sinha; stone artist, Raghunath Mohapatra; and former UP MP and Dalit leader, Ram Shakal.
Mansingh, who started learning Manipuri dance at the age of four, started receiving training in Bharatanatyam by the time she turned seven. Today, she is renowned the world over for her in-depth knowledge of Manipuri and Kuchipudi dance forms (apart from Bharatanatyam and Odissi); using her art form to address social issues through dance ballets; and mentoring the young generation in her school, The Centre for Indian Classical Dances, established in 1977.
There's always something that keeps the veteran busy, yet she is looking forward to the new responsibility that she has been entrusted with. "As and when the session is on, I would like to attend and hear what others have to say. I'm looking forward to the sessions," says Mansingh.
The septuagenarian opines that Indian art and culture is "vast", and to be able to develop it, as one of its representatives in the upper house of the Parliament of India will take time. "Dekhte hain (Let's see)… It is a very big thing, which doesn't happen overnight. There are several things connected. And this is one such field where it's never enough, [no matter] how much we do. So, we will sit, discuss, interact with people and prioritise on what needs to be done," she adds.
READ | Media mainly responsible for youngster's ignorance about classical art: Sonal Mansingh
But, she doesn't deny the fact that the nomination of Indian classical artists, to the Rajya Sabha, has been far and few vis a vis actors from the Indian film industry (to be precise, Bollywood). "What you are saying is right, and a lot of people have also noticed the same. There was Bharatanatyam dancer Rukmini Devi — who was also the first ever woman in Indian history to be nominated as the Rajya Sabha member. And then there was (sitar exponent) Pt Ravi Shankar who was nominated as a member of the Rajya Sabha. There have been many more film actors; but you have to understand that the nominations are from different fields, so can't say who gets selected and why. And, I'm not any party member," she says.
And to those who think that the young generation should also be allowed now to represent their field in the Rajya Sabha, Mansingh says, "This is not for the young artists. To be able to speak coherently and represent the art, you need maturity. Young leaders who are into politics can get elected in the other house, but not in the Rajya Sabha."
Interact with the author at Twitter/@HennaRakheja
Close