Unity in diversity: How Cochin-based band Thaikkudam Bridge made it big
Updated on Oct 31, 2015 02:48 PM IST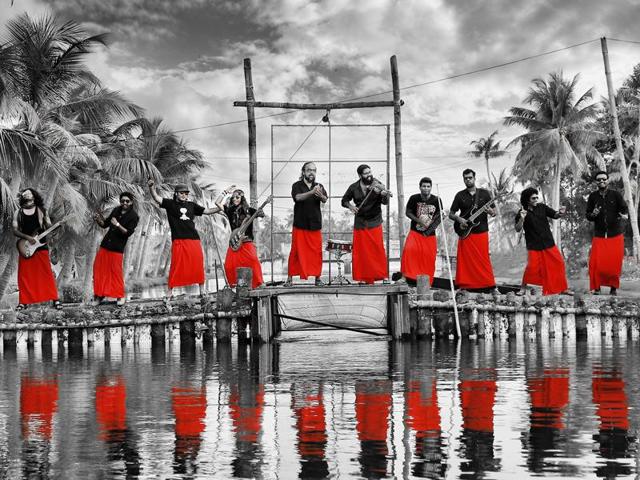 On September 1, 2014, a cover of Metallica's 1992 power ballad, Nothing Else Matters, became a hit on YouTube. It premiered on the Malyalam music channel, KappaTV, and had powerful vocals and headbanging percussion. The original was a slow tempo song that built up to a loud chorus backed with drums and electric guitars. The cover replaced the electric guitar with a violin, creating a haunting and melodious tune. The video has clocked 1,80,000 views on YouTube so far and went viral on Facebook. Sung by Anish Krishnan, the cover was produced by Thaikkudam Bridge, a Cochin-based, multi-genre, multilingual band.
The cover, however, is just one of their productions. Fish Rock, an original, death metal composition, was inspired by the band's love for Fish Fry. It has clocked 3,013,288 views since it was uploaded in August 2014. The song uses colloquial Malayalam references from Cochin, making it an instant hit with the local fan base.
Fish Rock put Thaikkudam Bridge on the map of the indie rock scene in India. Now, they will kick off their national tour in Mumbai on November 8. They will stage some of their celebrated covers and medleys, along with original tracks from their first album, Navarasam.
It began by the bridge
Music producer Govind Menon founded the band in Cochin, Kerala, with his musician cousin Siddharth Menon. Together, they convinced 16 of their friends (with varying, professional backgrounds, and living across the country) to come down to Cochin. A joint passion for producing music and experimenting with genres has been the biggest binding factor for the band so far.
The history of their name is an interesting one. "One of our vocalists, Piyush Kapoor suggested the name during one of our jamming sessions near Thaikkudam Bridge in Cochin. We used it for our first show and the name stuck on," says Mithun Raju, the lead guitarist for the band.
They gained prominence after their big break on Music Mojo, a show on KappaTV. Alongside Fish Rock, the band performed multilingual covers that included Aashiqui 2's (2013) Tum Hi Ho and Jodhaa Akbar's (2008)Khwaja Mere Khwaja.
But what's it like to work with such a huge band? Raju describes it as "amazing". "The best part is that we get to experiment with different genres, styles and languages," he says. With 10 vocalists having an expertise in distinct genres, the band has successfully experimented with rock, sufi, jazz, reggae and Hindustani classical.
No wonder then, that their musical influences are just as diverse as their songs. Musicians such as AR Rahman, Ustad Rashid Ali Khan and MS Baburaj, the legendary Malayalam music director, have left an impression on the members.
And speaking of diversity, the south Indian band has produced a cover of Khel Mandala (from the 2010 Atul Kulkarni starer Natarang), a Marathi song. Though the original version has a folk flavour to it, Thaikkudam Bridge has fused it with an electric guitar, giving it a rather glamorous makeover.
Despite being such a big group, they don't run into creative differences, as one would expect. The members speak highly of each other and consider it their biggest strength. "Esprit de corps (team spirit) definitely works for us; it keeps us grounded and focused on what we want to do," says Raju.
One track mind
Not wanting to limit themselves only to song covers and medleys Thaikkudam Bridge started working on their first original album in earlier this year and released Navarasam, on October 17. The first song from the album, One, hit YouTube on September 29 and saw the views hit a lakh within hours. "We have 6 lakhs and plus followers We are the only music band in the history of south Indian music to have managed such a feat," says Raju proudly.
The line-up of nine songs encompass themes such as political satire, social inequality, and historic stories from the Mughal era. "The album has songs in Malayalam, Hindi and Tamil and will hopefully appeal to a varied section of music lovers," says Raju.
Top five tracks