Asian Games 2018: Srihari Natraj creates national record twice but finishes 6th, Virdhawal Khade 8th
Srihari Natraj created a national record to finish sixth in 200m backstroke while Virdhawal Khade ended last in the 50m butterfly at the Asian Games 2018 on Thursday.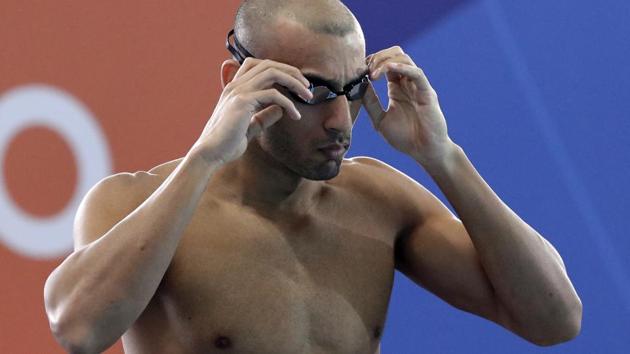 Updated on Aug 23, 2018 08:03 PM IST
Jakarta |
Press Trust of India
Srihari Natraj twice bettered his national record in the 200m backstroke but could finish only sixth in the final while Virdhawal Khade ended last in the 50m butterfly in the swimming competition of the Asian Games 2018 on Thursday.
Natraj moved to the final by improving upon his own national mark with a timing of 2:02.97 and further cut it down to 2:02.83 in the final.
There may not be a medal for young Natraj, a class XII student, but he returns home with three national records.
Apart from 200m backstroke, he also set national records in 50m backstroke (26.19) and 100m backstroke (55.86), which is his pet event also.
"It is encouraging. I now know what I need to do, it was a good learning experience," Natraj, who trains at Ramakrishna Hegde Swimming Pool in Bengaluru, told PTI.
"In the heats, I was slow in the first 100m, here I was much faster in the first 100m. Earlier, I would focus on either speed or stamina but now I have to figure out how to get both. I need to get more serious and look into technical aspect," he said.
READ: Asian Games 2018: Bopanna-Sharan ensure silver in tennis; Raina settles for bronze
"But the most important thing that I have learnt it to forget 'what if'. There is no point in getting tense."
Khade clocked 24.09 to top Heat 2, bettering his own nine-year old national record of 24.14 set at the Asian Championship at Foshan, China, but managed only 24.48 in the final today.
Khade now has created two national records at this edition of the Asian Games as he had bettered his own mark in the men's 50m freestyle -- the event in which he narrowly missed a bronze.
"Everyone can't win. I had had my share of wins to get out of slump. I am one second faster here after one-year training. Hopefully after this year, I will be faster. There is a lot more to come, I can really be faster than this," Khade, who will next compete in the National Championship, said.
Asked if he will quit his job of Tehsildar to pursue swimming full time, Khade said, "If I had won a medal, I would have thought about it, but there are no funds."
Anshul Kothari though continued to struggle in the pool as he crashed out of the men's 50m butterfly. He topped the three-man heat by clocking 25.45 but that was 28th best from among 40 swimmers. He was ousted from men's 50m freestyle earlier.
Khade also had a disappointing result in 100m freestyle as he finished last in his heat and was placed 43rd overall with a timing of 59.11
His compatriot Aaron D'Souza was best in his heat with a timing of 51.50 but that placed him at only 27th.
Also bowing out was Advait Page, who managed 12th position in men's 200m backstroke by clocking 2:06.85.
Close Story
Personalise your news feed. Follow trending topics