Behind BJP's UP poll campaign: Young, tech and media-savvy team manning the war room
Hindustan Times, Lucknow |
Danish Raza and Gaurav Saigal
Feb 05, 2017 08:22 AM IST
New guns in the business of campaign management in UP are bringing in what the old guard lacked: branding, technology, messaging and route optimisation.
Rohit Sharma (name changed) is not authorised to speak to the media. But he does tell, on condition of anonymity that he once belonged to the team of poll strategist Prashant Kishor, credited with crafting Prime Minister Narendra Modi's landslide victory in 2014.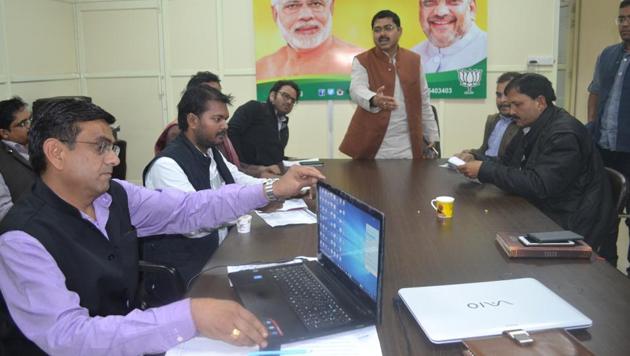 Sharma has since parted ways with Kishor and finds himself in an opposite camp. As Kishor toils round-the-clock to ensure a Congress victory in Uttar Pradesh, Sharma is a critical member in the election war room of the Bharatiya Janata Party (BJP) operating out of the capital's crowded Hazratganj neighbourhood.
"I always felt inclined towards the BJP," points out Sharma as he and several other core war-room members pore over details of the BJP's campaign plan for the state's seven-phase polls beginning on February 11. Ironically, at least five of the 80 members driving the BJP poll strategy are protégés of Kishor.
They are members of the consultancy firm, Association of Brilliant Minds, and follow a 'no media interaction' policy. But Sharma confides the five men have brought in expertise which the party's old guard lacked: branding, technology, messaging and route optimisation.
Besides them, there are another 75 men and women crowding the war room. Their average age is 28. About eight of them hold the fort in the war room while the others keep travelling across constituencies.
The team's core functions are data crunching, seat analysis, digital media and operations.
Read | Modi and a tricky caste arithmetic: BJP's one-and-a-half dishes on offer in UP
"Optimisation is one of our focus areas. For example, if the party wants to win 250 seats, we would suggest that it concentrate on around 350 seats instead of all 403 seats. This way, the party could optimise its resources and manpower," said a team member requesting anonymity.
Tried and tested party men complement the tech-savvy young members of the war room.
JPS Rathore , the BJP state vice-president, is the head of the poll management team. He says the party is focusing on upper castes, non-Yadav OBC and non-Jatav SC communities. Rathore believes the absence of a CM-face will not adversely affect the BJP's fortunes in the state. "We lost even after projecting a face in Delhi (Kiran Bedi)," he reminds.
Govind Shukla, a 50-year-old party man, is the publicity in-charge. For him, the strategy is two pronged: Attack the ruling Samajwadi Party in a big way on host of issues including law and order and farmers' woes, and give out BJP promises in small doses.
Read | UP elections: BJP needs poll victory for NDA candidate to become next President
For Shukla, the party's trump card is a combination of several things: the party symbol, PM Modi and known faces in the state leadership. Some 400 vans are criss-crossing the state beaming audio-visual campaign kits to deliver the party's message at the doorstep of voters.
The election war room has an IT cell, headed by Sanjai Rai, a former ABVP national secretary, who takes pride in the party's online presence. "Please mention reach and not likes because likes can be promoted or bought," he points out, emphasising the BJP's Facebook page has a reach of more than one crore.
The cell sends out at least four WhatsApp messages to seven mobile numbers ever day, which Rai says get multiplied and eventually reach more than 5 lakh people. The cell also seeks to ensure that at least two hashtags trend every week. Rai is confident that the war room will facilitate BJP's victory in the electoral battle.
Also read | UP election 2017 may see the dawn of a brave new world
Follow
Karnataka election
news, exit polls, election schedule and results on Hindustan Times