Priyanka Gandhi on Cong poll trail in UP for first time, will join Rahul in Rae Bareli
Hindustan Times, New Delhi/Lucknow |
Aurangzeb Naqshbandi and Umesh Raghuvanshi
Feb 17, 2017 01:56 PM IST
Priyanka will accompany brother and Congress vice-president Rahul Gandhi to Rae Bareli on Friday.
Congress president Sonia Gandhi's daughter Priyanka Gandhi Vadra will hit the poll trail in Uttar Pradesh for the first time on Friday.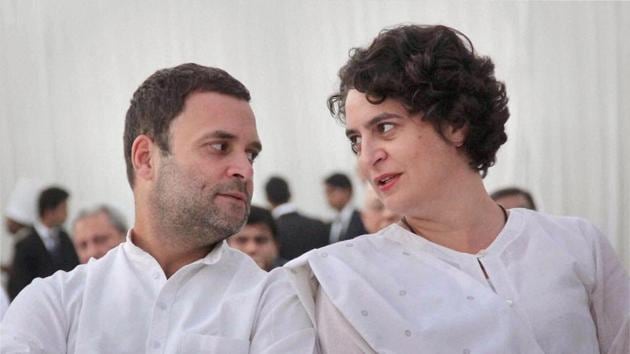 Priyanka, who was instrumental in the party joining hands with the ruling Samajwadi Party, will accompany brother and Congress vice-president Rahul Gandhi to Rae Bareli where he is expected to address two rallies.
"Priyanka will be present on the dais as Rahul addresses two public rallies in favour of Congress candidates," a senior Congress leader said over the phone.
The first public meeting is to be held at Government Inter College Ground at Rae Bareli and the second at Baburiya Ground in Maharajganj.
Rae Bareli is the Lok Sabha constituency of Sonia Gandhi and accounts for five assembly seats. It votes on February 23, the fourth of the seven-phases of polling in the state.
Sonia, who has stayed away from campaigning so far, is expected to address a public meeting in Rae Bareli on February 20.
The Gandhi siblings had in the previous elections, too, campaigned jointly in the family pocket borough of Rae Bareli and Amethi.
The last they campaigned together was during the 2014 Lok Sabha election in Amethi, a seat Rahul went on to win. Amethi votes in the fifth phase on February 27 and, like Rae Bareli, has five assembly seats.
"Although she (Priyanka) is likely to leave after Friday's campaign with her brother, we will request Priyanka to give more time to the two Lok Sabha constituencies in coming days," a party leader said in Lucknow.
Priyanka, the leader said, could join Rahul again when he visits Amethi next week.
The 45-year-old prefers to remain in the background and whenever she has stepped out, Priyanka has largely confined herself to Amethi and Rae Bareli.
The alliance with the SP after days of hard bargaining was perhaps the first time Priyanka had played a role in negotiating a tie-up.
For SP, it is the first time that it has joined hands with a national party.
The SP is contesting 298 of the 403 seats while the Congress, relegated to the margins of the state politics, will fight from the remaining 105 constituencies.
There is a growing clamour within the Congress for a bigger organisational role for her but Priyanka has not shown any interest in joining active politics.
Despite the alliance, the Congress and SP have both fielded candidates in Rae Bareli's Unchahar and Sareni seats and Amethi and Gauriganj segments in what they say is a friendly contest.