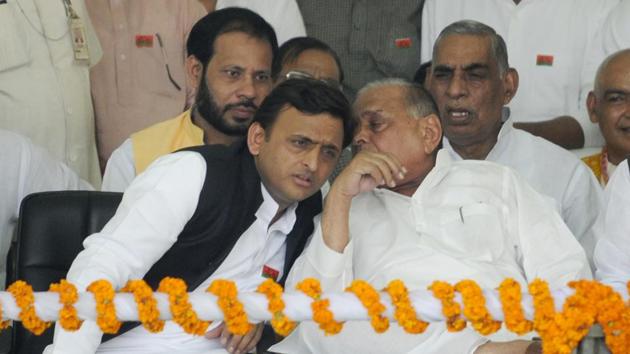 Uncertainty, confusion in SP as Akhilesh and Shivpal fight over candidates' list
Chief minister Akhilesh Yadav has summoned a meeting of his core group at his official residence 5, Kalidas Marg. He is likely to release his second parallel list of candidates anytime.
UPDATED ON JAN 04, 2017 02:27 PM IST
Samajwadi Party (SP) state president Shivpal Yadav on Friday declared two more candidates and changed one for next year's Uttar Pradesh assembly elections, adding to the heightened tension in the ongoing Yadav family feud.
The two seats on which Shivpal announced the candidates were Bhojipura (Bareilly) and Syedraja (Chandauli). The ticket for Syedraja went to Manoj Kumar Singh and the Bhojipura seat to Shazil Islam.
Mohammand Fakrae Ahmed Shobi who was announced the candidate for the Badaun seat (Badaun) has been replaced by Abid Raza.
Chief minister Akhilesh Yadav has summoned a meeting of his core group at his official residence 5, Kalidas Marg. He is likely to release his second parallel list of candidates anytime.
Read | Akhilesh sacks Shivpal loyalists, Yadav pari-war heats up over candidates list
At the same time, the party is likely to announce names of the contestants on the remaining 8 of the total 403 UP assembly seats.
Uncertainty, confusion, and tension is palpable outside the CM's residence and the party office. Amid the power tussle, the SP office is also hosting a national meeting of its youth outfit - Yuvjan Sabha to be addressed by Shivpal.
In an apparent attempt to deliver a body blow to the chief minister's camp, Shivpal had released the second list of 68 candidates late on Thursday minutes after Akhilesh's parallel list of 235 seats was out. He released the names through emails to the media and on his official Twitter account.
The miffed chief minister came out with his own list of 235 Samajwadi Party candidates for next year's assembly polls late on Thursday, triggering speculation of a split in the party besieged by a bitter family feud.
The move is viewed as a tit-for-tat response from the 43-year-old son to party patriarch Mulayam Singh Yadav, who declared candidates for 325 of the 403 assembly seats the day before and ruled out projecting Akhilesh as the candidate for the chief minister's post.
Read | Yadav family feud: Akhilesh meets SP MLAs, speaks to Mulayam; suspense over next step
The state's youngest chief minister has been engaged in an intense power struggle with the ruling family's elders, especially uncle Shivpal, who enjoys the backing of his brother Mulayam. Mulayam had announced the first list of 325 candidates on Wednesday.
Shivpal's list has names of Akhilesh's closest associates Abhishek Mishra, the minister and Lucknow North MLA, as well as that of Yasar Shah. Mishra and Shah now have a difficult choice to make - whether go to the Shivpal camp for the SP's authorised ticket or stay with the chief minister. Both attended the meeting that Akhilesh held at his residence on Thursday.
Sangram Singh, the fence sitter in the Yadav family feud, is now on the horns of a dilemma as Shivpal has given him his Ataroliya (Azamgarh) seat.
At the same time, the ticket to Gulfam Mallik not only comes as a surprise but is being considered as a slap in the face of one of Akhilesh's favourite minister Pawan Pandey whom Shivpal-Mulayam have denied ticket. Gulfam, the brother of MLC Ashu Mallik has been given Budhana (Muzaffarnagar) seat.
Pawan Pandey had reportedly bashed up Ashu Mallik at the chief minister's residence on October 24. Ashu had filed an FIR against Pawan Pandey. Shivpal expelled Pawan Pandey from the party two days after the incident and sent party's recommendation to Akhilesh to sack Pawan from the ministry.
Akhilesh defied Shivpal and retained Pawan Pandey as the minister even though he is not a Samajwadi Party member anymore.
Shivpal announced Yasar Shah as a candidate from Matera (Bahraich) and Abhishek Mishra as Lucknow North. Apart from this, cricketer Jyoti Yadav gets Allahabad west ticket, Bachai Saroj his Lalganj seat, Chandra Rawat her Mohanlalganj seat and Shankhlal Manjhi gets is Kateri (Ambedkarnagar) seat.
Banshidhar Baudh, one of the poorest of legislators in the country, gets his Balah (Bahraich) seat. Not only is he a non-controversial man, but is a favourite in both the camps.
Read | As Yadav family feud erupts again, only a miracle can help SP win Uttar Pradesh
Close