Love and Relationship Horoscope for January 11, 2023
Jan 11, 2023 06:00 AM IST
Horoscope Today 11 January, 2023:Find the love daily astrological prediction for Aries, Libra, Capricorn, Pisces, and other zodiac signs for January 11.
Aries: Maintain a serene demeanour today when you talk to your significant other and enjoy the day together. There is a very thin line that separates being pushy from being outspoken about your opinions. Take care not to appear to be overly aggressive toward your partner, since this might provoke an unfavourable response from them. Maintain self-control and make decisions that are in your best interests.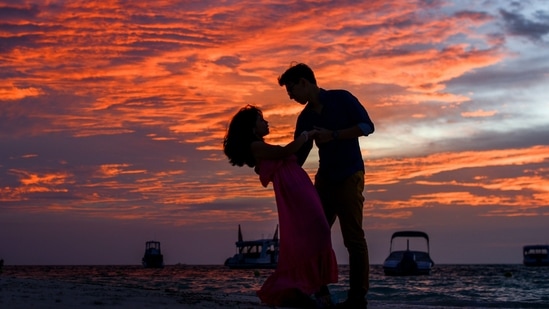 Taurus: If you and your partner have been putting off a conversation about money, now is the moment to have it. If you are serious about making changes to the way you handle money at home and balancing the household finances, you may establish a strategy to do so. Today is a great time to talk about paying off debt and putting money away. Set aside some time to talk about your financial future.
Gemini: Make today more exciting by trying something new in your relationship. It makes no difference how long you have been dating or engaged to your present partner. What matters is how you can make it more robust and interesting. Including some excitement and new experiences will help you make memories that will last a lifetime. Here is a fantastic situation, so take use of it.
Cancer: Take advantage of the fact that your significant other is likely to be emotionally available today by sharing some of your sentiments with them. If you can maintain your empathy and compassion, your partner will enjoy time with you even more than before. Good communication skills include attentive listening, therefore practise this skill often and encourage your lover to speak.
Leo: A relationship might lose its spark if the two partners constantly bicker about nothing. Keep your cool today so that you don't disrupt the peace in your relationship. If you and your partner are having a heated conversation, try to hold back from being too aggressive. If you're feeling anxious, try some yoga or meditation. In order to solve difficulties, be an attentive listener.
Virgo: It's possible that if you and your partner are both very logical, it might damage the emotional foundation of your relationship. Strict attempts may or may not succeed in convincing your partner. They may think you are shirking your obligations. If your loved one is feeling grumpy, try using some imagination. Treat each other with respect, and commit to being reliable and helpful.
Libra: Those who are suitable for you will be drawn to your sunny disposition today. You have developed a natural sense of humour that has everyone in chuckles. Without even trying, you appear to be drawing in the attention of a potential romantic partner with your effortless elegance. These times are great for you and your relationships, so have fun and take advantage of them.
Scorpio: It's possible that an argument with your significant other is to blame for how you feel right now. It is not a horrible idea to take some time to think over the disagreement on your own, since doing so can help you view things in a more objective light. Don't worry yourself much about the state of your relationship; before you know it, everything will be back to normal.
Sagittarius: Don't draw any hasty conclusions about your partner's intentions right now. It's possible that you've seen some odd behaviour from your significant other and that they're keeping something from you. There is absolutely no need for alarm. They are keeping it a secret since they don't want to put any pressure on you to assist when they are really in need of your support.
Capricorn: Put on your thinking gear and do an assessment of the current status of your love connection. Right now is the time to evaluate your existing relationship with that particular someone and make any required alterations to it. You need to set aside some time so that you may discuss your worries with them. It won't be too much longer until everything is back to how it was before.
Aquarius: You need to start advocating for yourself. Because you fear disturbing the status quo, you typically give in to other people's demands. Your partner doesn't try to be rude towards you or withhold information from you, but at times they can be a bit self-centred. Maybe you can learn something from this and give more time to yourself and your feelings.
Pisces: Get away from your commitments for while if you're feeling burned out from behaving in a certain typical manner in your love life. The idea is not to break away from your connection, you just need a vacation from the burdensome relationships in your life right now. Taking some time away from your difficulties to relax and have a nice time might help you come up with a workable solution.
----------------------
Neeraj Dhankher
(Vedic Astrologer, Founder - Astro Zindagi)
Email: info@astrozindagi.in, neeraj@astrozindagi.in
Url: www.astrozindagi.in
Contact: Noida: +919910094779