Love and Relationship Horoscope for January 24, 2023: Know what you desire
Jan 24, 2023 06:00 AM IST
Horoscope Today 24 January, 2023: Planetary positions says a great day at love for these sun signs. Find the love daily astrological prediction for Aries, Libra, Capricorn, Pisces, and other zodiac signs for January 24.
Aries: Don't let today's emotions cloud your judgement; instead, think rationally. Avoid setting high expectations for the day, as it's possible that others won't share your emotions. You may be feeling scattered in your thoughts and unable to concentrate. The more you try to resolve things, the worse it will get. Don't invite disappointment upon oneself and stay away from emotional matters.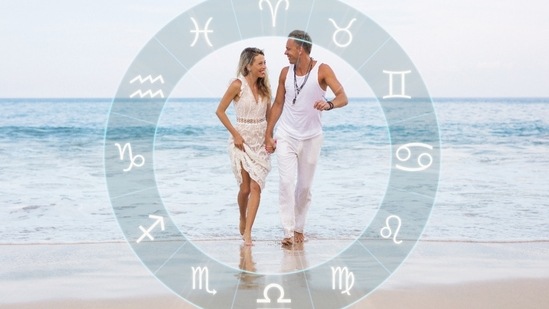 Taurus: Consider the future of your possible partnership and make some concrete preparations. Regardless of the specifics, get up and chase your dreams. If you are serious about having a relationship with this individual, you need to be inspired to take action now. Let them know what you feel about them and allow them room to respond in some time. Things will change soon.
Gemini: It's probable that you'll have a conversation with someone today whose firm beliefs and convictions you'll respect. The deeper your relationship, the more interested you will be in them. Instead of reacting out of anxiety and fear by running away, take things slowly and cautiously and get to know this individual. Open the door to romance and you will not regret.
Cancer: Romance may not be happening for you right away if you are seeking it. You might not have the intense emotional connection you're hoping for. But that doesn't mean it can stop you from having a good time at whatever gathering you go to. Even while true love might not come twirling, you can still have fun and enjoy your time with some light-hearted flirtation.
Leo: It's important to communicate your demands and desires in the existing connection. It takes courage to speak up to others about your flaws, especially if you have been harmed in the past. But you should give your partner a shot by letting down your guard and allowing them to get close to you. Reveal as much information as you are safe sharing and as makes sense.
Virgo: Relax your sense of duty for a moment. When it comes to interpersonal interactions, you're often fairly level-headed and realistic. However, you may fail to produce truly memorable romantic encounters at times. It's a lovely day for a romantic encounter. Put aside your worries about work and the rest of your obligations. Have fun being passionately close to one another.
Libra: If you put in as much effort as you have, your relationship can go far. However, today, you and your companion may be surprised by some unexpected information about their past or present. Having a candid conversation about this might shed light on the situation and show you that things aren't as awful as they seem to be at first. Give them a patient hearing.
Scorpio: You must know exactly what it is you desire and then express it. An argument with your significant other could be inescapable today. Instead of assuming that the other person understands your position, take the time to speak it out and clarify yours. Both of you will be open to the other's perspectives, which will ultimately result in deeper mutual appreciation and mutual peace.
Sagittarius: Be kind and give your partner and your relationship the space they need. You seem like the type who would like using social media to broadcast their private lives to the world. However, your significant other might not be very enthusiastic about it and could have some doubts. Set aside a special moment for the two of you to share something intimate.
Capricorn: Your renewed drive will come from experiencing the positive effects of your efforts on the intimacy between you and your companion. As a result, you'll have a higher chance of understanding this person and fostering a fulfilling romantic relationship. You're heading in the right direction, so keep going! Remember the fundamentals of romance, and your romantic life will flourish.
Aquarius: Feel confident in your own judgement when it comes to your romantic relationships. Insecurities will cause you to feel like taking steps back in your partnership. It's possible that you've had a bad encounter in the past that is making you doubt yourself. Rather than let things remain as they are, perhaps it would be wiser to take decisive action.
Pisces: Today is a good day to treat yourself romantically, since love is definitely in the radar. Be open to how and where you may find love. Interestingly, what begins as a friend helping you out with your job might end up being something more if you do not over-analyse the situations. Do not immediately write off this potential romantic partnership and follow up on this prospect.
----------------------
By: Neeraj Dhankher
(Vedic Astrologer, Founder - Astro Zindagi)
Email: info@astrozindagi.in, neeraj@astrozindagi.in
Url: www.astrozindagi.in
Contact: Noida: +919910094779
"Exciting news! Hindustan Times is now on WhatsApp Channels
Subscribe today by clicking the link and stay updated with the latest news!"
Click here!