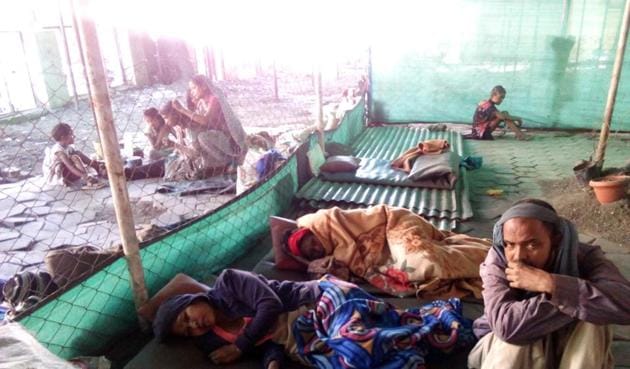 Destitute take shelter on rat-infested Hamidia hospital premises in Bhopal
Under a small, dark and dingy shade within the Hamidia hospital premises in Bhopal, a number of patients lay with rats scurrying and ants crawling around them.
PUBLISHED ON DEC 23, 2016 12:19 PM IST
Under a small, dark and dingy shade within the Hamidia hospital premises in Bhopal, a number of patients lay with rats scurrying and ants crawling around them.
These are patients who have undergone treatment at the hospital and have nowhere else to go so they are forced to stay put within the hospital premises.
The pathetic situation prevailing at the hospital premises came to light after rodents gnawed on a dead body of an old woman recently. Though the incident took place 12 days back, but came to light on Wednesday after reports in a section of media.
This was the third such incident in the state, including two earlier ones reported from Bhopal and Indore.
The 60-year-old woman Gulab Bai was infested by rats after her death. She along with a number of other destitute people was staying under a shed erected by Share and Care, a not-for profit organization within the hospital premises. The hospital is a teaching hospital of Gandhi Medical College, Bhopal.
Before her body could be cremated by another NGO, rats infested her body, nibbled at the dead skin, face, neck and other parts and gorged out her eyes.
When HT visited the hospital on Thursday, hapless patients were seen lying around with rats scurrying and ants crawling around them.
The Share and Care NGO that operates out of the makeshift shed, cares and treats patients with their limited resources. Presently, 18 patients who have no attendants are being treated at the makeshift facility.
Despite making a number of arrangements with limited resources, we cannot get rid of the ants and rats at the shade, says Syed Sohail Hussain, founder of Share and Care Society.
"We were allotted the small space in 2011 by the then state home minister Babulal Gaur. As we do not get any aids or funds from anyone, we have to spend from our own pocket," he tells Hindustan Times.
"The day this happened (rodents gnawing at the dead body) we brought rat killers bars and sprays but unfortunately the old woman died that very day at 10 pm."
He further says that volunteers and patients complain that leftover food dumped by the hospital authorities, is responsible for increasing number of rats and rodents within the premises.
Only proper flooring and cleanliness can help patients, says A Khan, a volunteer. "We tried shifting patients on the bed but most of them are old and they fell down from their beds and got injured so we are forced to keep them on floor, on mattresses," he says.
Shortage of doctors and nurses was the reason why these patients couldn't be attended in the hospital, says Hussain.
"The hospital administration has been very supportive but due to shortage of healthcare staff to take care of these patients who do not have any family members or attendants, we have also brought the issue to notice of minister of state for health and medical education Sharad Jain, who assured us that things will get better soon but unfortunately situations have not improved."
Minister Jain says that he will take action. "The incident was very heart rending. Proper facilities will be provided for these patients."
Meanwhile, Union minister of state for health and family welfare Faggan Singh Kulaste on Thursday said that it was not possible for the healthcare authorities to keep watch on the movements of rats.
Kulaste, responding to a query from local media persons in Mandla on the incident in which rats gnawed at the dead body of a woman with the Hamidia Hospital premises, said steps will be taken to control rats in hospitals.
He, however, added that "it was a crime to kill rats and no one has control over rodents".
The Madhya Pradesh government has constituted a three-member committee headed by additional chief secretary of the state medical education department Prabhanshu Kamal to look into the incident.
Previous cases
On January 2, 2016, a 65-year-old woman Jadia Bai's body was nibbled by rats in the mortuary of the BHEL-run Kasturba Hospital in Bhopal.
On June 7, 2016, a newborn girl died at the MY district hospital in Indore, allegedly due to the negligence of doctors, and then her body was attacked by swarms of ants
Close