Development sinking in illegal sand mining quagmire
Nov 27, 2018 10:29 PM IST
Rampant illegal sand mining along the banks of Chambal river in Morena has kept development at bay in these areas and is turning out to be a major election issue
A muddy road, with deep pits on both sides which makes it impossible for any other vehicle other than a tractor to enter two villages- Malhar ka Pura and Beelpur, 30 km from Morena district. Majority of houses are kutccha with no electricity, villagers are mostly illiterate, and have not received benefit of government schemes likes Ujjawala Yojana – that provides free gas connections to poor or the PM Housing scheme.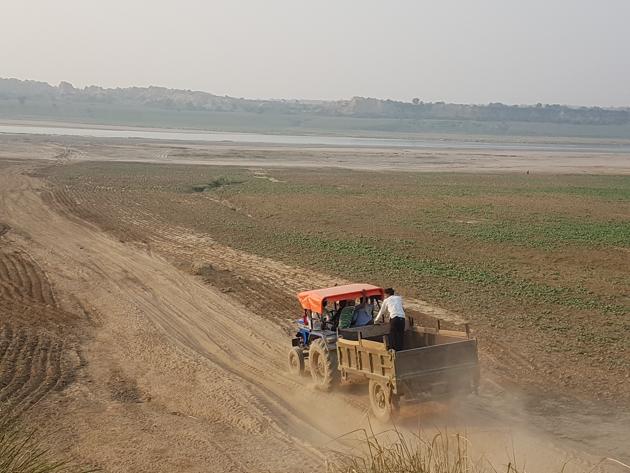 These undeveloped villages are a centre of power, terror and money of the district and illegally mined sand worth Rs 3.5 to 4 million daily, says locals.
These are not only two villages in the district but there are more than 40 undeveloped villages, located on the banks of Chambal river, where the only thing that functions smoothly is illegal sand mining and in return they get no development. The 140 other villages are affected indirectly.
Rampant illegal sand mining along the banks of Chambal river in Morena has kept development at bay in these areas and is turning out to be a major election issue.
"The party candidates change every election but not our condition. The authorities are terror stricken by the sand mining mafia and hence they choose to overlook our plight. As in the last two elections, we want a solution to the problem related to illegal sand mining," said Ramvillas Verma, a resident of Malhar Ka Pura.
All six Assembly constituencies of Morena are affected by illegal sand mining for the past one decade. "While the mafia wants support or non-interference from local politicians, people want an effective check on illegal mining and required development in the area. The candidates come up with assurances to deal with this problem in every election but later there is hardly any action," said Raghu Thakur, a social activist-turned-politician.
Illegal sand mining was not an issue till 2003 election but it was in 2006 that the Supreme Court imposed a ban on sand mining in Chambal River to protect flora and fauna in the region. After a complete ban, the mafia became active in the area.
"In 2008, the first election after the ban, out of six seats BJP had won in 2003 it could retain only two seats while Congress and Bahujan Samaj Party won two seats each. The politicians realised that illegal sand mining was a big issue and that people had punished the BJP for failing to provide any solution," said Sudhir Sapra, a Chambal region based social activist.
"Even after the death of an IPS officer in March 2012 and several attacks on forest officials, no tough action was taken against mafia for illegal mining. In 2013, it again became a big issue and BJP promised to legalise some mining as a result of which BJP won four seats and BSP won 2 seats," said Sapra.
Even after death of IPS Narendra Kumar, the attack on police and forest officials continued in the district. In April 2015, a constable Dharmendra Chouhan was crushed to death in Noorbad area of Morena when he tried to stop a dumper carrying illegally quarried sand. In September this year, a forest officer was mowed down by a tractor trolley laden with illegally mined sand in Morena, as per police.
Deshraj Verma, 23, who works as labourer to load illegally mined sand on trolleys said, "Here we see the development of mafias only. They have patronage from the politicians."
A local community leader Ramkumar Sikarawar said, "The youngsters neither get quality education nor do they have any job opportunity. So what will they do? They have to become a part of the illegal mining racket."
Congress candidate from Sumaoli, Endal Singh Kansana said, "BJP is responsible for apathy of the common people. Everybody knows who are people who are providing patronage to the mafia. Congress would work to eradicate the root cause of illegal sand mining."
BSP candidate from Ambah constituency, Satyaprakash Sakhwar said, "Development is the only way to resolve the problem."
However, for the BJP it's not an issue.
BJP candidate from Dimani constituency, Shivmangal Singh said, "BJP has done so much work for the development of people and Chambal Expressway is one of the major announcements which will change the face of the area. Illegal sand mining is not at all an issue in the area."
As per police sources, in 2018, more than 200 people were booked in different cases related to illegal sand mining.
Morena superintendent of police, Amit Sanghi said, "Allegations against police are baseless. We have seized many tractors and dumpers laden with illegally mined sand but police and forest officials have their own limits."
"Here most of the villages are involved in it as people don't have any other means of livelihood. They are united. Whenever we stop a tractor or take any action against any of the accused, they attack police personnel and forest officials. The drivers are trained in a way that they have to drive the tractor recklessly. They are not concerned about the life of anybody," said Sanghi.