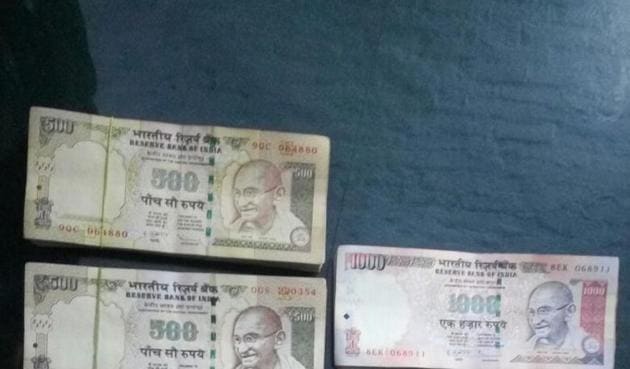 Undeclared income of
₹

80 crore dug out in MP, Chhattisgarh

Since November-8 demonetization of old Rs 500 and Rs 1,000 currency notes, income tax department's crackdowns on black money hoarders in Madhya Pradesh and Chhattisgarh have led to the unearthing of undeclared income of Rs 80 crore.

PUBLISHED ON DEC 24, 2016 09:47 AM IST
Since November-8 demonetization of old Rs 500 and Rs 1,000 currency notes, income tax (I-T) department's crackdowns on black money hoarders in Madhya Pradesh and Chhattisgarh have led to the unearthing of undeclared income of Rs 80 crore.
According to I-T principal director (investigation) of MP and Chhattisgarh RK Paliwal, as many as 84 search and survey actions and seizure of unaccounted cash through intercepts by police led to surrender of this huge undisclosed income in just over a month, which is equivalent to 35% of the Rs 229 crore surrendered during I-T department's searches at 15 business establishments in both states between April 1 and November 7 this year.
Out of these 84 actions, eight matters of suspected money laundering (in Bhopal and Indore) were referred to the enforcement directorate for further action, added Paliwal.
A total of 11 business groups were searched after demonetization and it led to the seizure of Rs 1.78 crore cash in old and existing currency notes and jewellery worth Rs 51 lakh.
Besides, at least 49 business establishments were surveyed in different cities of the two states leading to seizure of undeclared income of Rs 52 crore. Those business establishments included 24 jewelry houses (eight each in Bhopal and Indore), nine builders and 16 other businesses, including caterers, private hospitals and even grocery traders.
The I-T department also seized Rs 9.39 crore, including Rs 2.17 crore in Rs 500 and Rs 2000 new currency notes after getting tip-offs from state police, special task force team and intelligence agencies through timely intercepts.
Meanwhile, a day-long I-T department's search at the house and office of one private money lender, Anil Kumar Motwani, in Raipur on Thursday led to the surrender of undisclosed income of Rs 10 crore, besides the seizure of Rs 70 lakh, including Rs 43 lakh in Rs 500 and Rs 2000 new currency notes.
Close