A Shaandaar story: When Shahid Kapoor made Alia Bhatt cry
Oct 05, 2015 09:52 AM IST
As Alia Bhatt and Shahid Kapoor launched Shaam Shaandaar, their upcoming film's title track, they were full of praise for each other. Alia revealed that there was a moment while shooting Shaandaar when Shahid actually made her cry.
Alia Bhatt and Shahid Kapoor are part of a mutual admiration society. The Shaandaar actors came together on Wednesday at Shahid's alma mater, Mumbai's Mithibai College, to launch Shaam Shaandaar -- the film's title track -- and couldn't stop praising each other. "We really wanted to release the title track with you guys. We really pushed for it. Shaandaar is for you, we want you to have fun. I want you to be dancing with your girlfriends, boyfriends, chacha-chachis, mama-mamis, kaka-kakis, grandfathers, and grandmothers. Just take it, play it again and again and dance," said Alia, about the track at the college's festival, Kshitij.
The song was also released on digital platforms in the evening and already started getting discussed by the netizens, and garnering views. "I was actually crying. Honestly, I don't feel I can match up to him. The idea is not to match up to him but have fun with him. When he dances, he dances with joy, and tells you, ', don't concentrate on the steps, think about the mood'. When he does it, it doesn't look too technical, but is technically beautiful and his overall body language is so vibrant and electrifying, which translates on screen," said Alia about the challenge of matching up to 'dancing star' Shahid.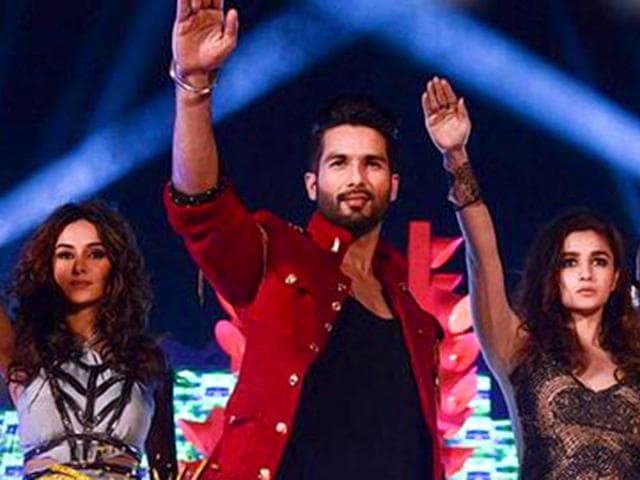 The first song of the film, Gulaabo, also showcased energetic dance moves and Shaam Shaandaar is dominated by Shahid's flexible dance. The song has been rendered and composed by Amit Trivedi.
"While doing this song, there was a major wardrobe issue as one of the steps required Alia to squat and do the step. She couldn't do it as the outfit chosen for her wasn't appropriate for it. So, she went to her van, opened her bag of clothes, came out with a pair of shorts and asked if she could do the song in them, which helped us shoot that day itself. So, she's a very professional girl and I thought that was very cute," revealed Shahid.
Shaandaar directed by Vikas Bahl is releasing on October 22.
Read: