Akshay Kumar: Comedy is in my blood and entertainment is my calling card
Updated on Sep 24, 2017 06:22 PM IST
Actor Akshay Kumar who has done films of different genres says it's comedy that is most difficult to pull off, because if you can't make people laugh, it can spell a tragic end to an actor's career.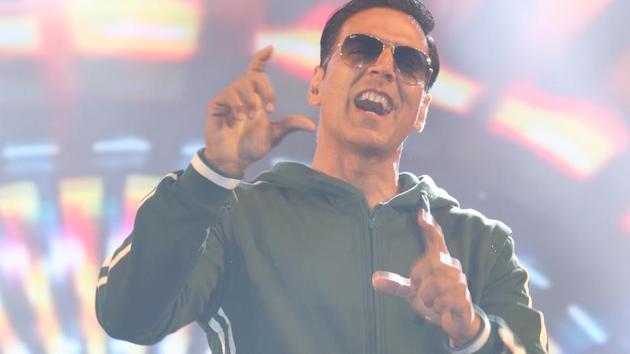 Hindustan Times |
, New Delhi
Monika Rawal Kukreja
Actor Akshay Kumar is among those very few Bollywood actors who has tried his hand at almost all possible genres in filmmaking. From romance to action to thriller and comedy, Bollywood's Khiladi Kumar has been there and done that.
Asked which genre he finds the hardest to enact, and pat comes the reply — comedy. "You can impress someone with stunts, effects and a hot body and you can make them cry just by crying yourself, but to make someone laugh out loud in a theatre full of strangers with your comedy timing, your one liners and your facial expressions, your slapstick energy, is not only extremely difficult and it's also painfully embarrassing if you fail," says Akshay.
The reason Akshay respects the comedy genre the most because "it has the biggest effect if you succeed, but it has the most tragic career changing consequences if you don't make anyone laugh."
As for other genres, Akshay feels that they all have a certain type of fan following. "So one always knows when making an action movie that it's not always going to be everyone's cup of tea, but if you can't make everyone laugh, that's it, you're doomed, banished to the serious couch and never to be invited to the party again," he laughs.
Presently shooting for his next film, Gold, in Amritsar, the actor also visited Golden Temple and called the experience 'surreal'. He says, "I couldn't help myself, it was 3am, I had been shooting nights and I wanted to just quietly go and gaze at the temple, thank the Gods for all they have given me and my family, and just listen to the holy chants and watch its beauty reflect in the sacred water." Speaking about the film he says, "To work on a film shot around the time of the World War, during Gandhi's fight for freedom and independence, whilst taking India to the Olympics is pretty much a movie of a life time, there are no best bits, just great opportunities."
Looking at the recent lineup of films, Akshay has mostly been doing intense roles in films such as Airlift, Baby, Holiday, Rustom and Toilet: Ek Prem Katha all with a strong message. Prod him if the audience will ever see him doing an out-and-out comedy anytime soon, the actor quips, "My audience will never have to fear about me not doing an out-and-out comedy, it's in my blood. I'll never be able to stay away from my comfort zone or my buddies for too long!! Entertainment is my calling card, in fact is that my phone ringing right now with a new script, oooooh you are going to have to wait & see!!"
Talking about whether comedians get their dues in films and on TV, Akshay was recently quoted in several interviews stating that TV actors should be paid more than film actors. However, Akshay says he 'never' said such a thing.
He clarifies, "But they sure as hell should get paid an actor's wage — big screen or little screen — it doesn't matter. Entertainment is the greatest form of medicine this country has to offer, it should be respected accordingly."
The actor adds, "[Also] comedians have pressure that no other actor will ever understand unless forced to be funny, and only then can an actor prove their true versatility. So I don't believe comedians in India are given their dues be it money, status or recognition. Take Russell Peters for example, if he was just an Indian comedian, the world would barely know his name and he wouldn't have half the riches he has today. I feel that it's about time comedians get to enjoy a solo spot focused only on them, a microphone and their gift to make people laugh!"
Follow @htshowbiz for more