Amitabh Bachchan lauds daughter Shweta's article, says she is the best
Amitabh Bachchan is proud of daughter Shweta Bachchan Nanda and her new article on life after her kids, Navya Naveli and Agstya, left home.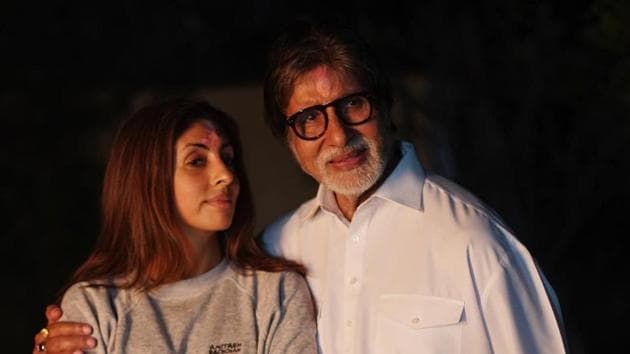 Updated on May 10, 2018 02:05 PM IST
Amitabh Bachchan has always been proud of his two kids, daughter Shweta Bachchan Nanda and son Abhishek Bachchan, and never lets go of an opportunity to share it with the world. The actor shared a recent magazine article written by his daughter on parenting and praised her writing skills.
"My daughter the BEST .. writes a brilliant piece for the Vogue .. love you Mama ..," he wrote on Twitter with a picture with Abhishek and Sweta from Sonam Kapoor's wedding on Tuesday.
In the article, written for Vogue magazine, Shweta talks about the emptiness she felt in her life when her two kids left home to study abroad. The article titled 'Shweta Bachchan Nanda pens her experience of coping with an empty nest,' also talks about finding a new purpose at 40 when your entire life has been caring for your children.
She talked about how she cried when she her kids, daughter Navya and son Agstya, joined school away from home. "I remember reaching my hotel room, empty of everything that was child-related. I sat in the bathroom and wept," she wrote.
She wrote how she would miss her kids and their daily lives when they were not around. "For me it was the absence of their footsteps on the staircase when they came back from school. How they would fake-faint on the sofa, muddy and sweaty, heavy backpacks full to bursting still on, and I would scream at them for dirtying the upholstery and send them to wash up... Now, life moments comprised rushed FaceTime calls, pixelated and halting as they ran off, laughing, with their friends for class with a breezy 'chat later'," she wrote.
Shweta was recently seen at Sonam's wedding reception which was also attended by her brother Abhishek and sister-in-law Aishwarya Rai.
Follow @htshowbiz for more
Close Story